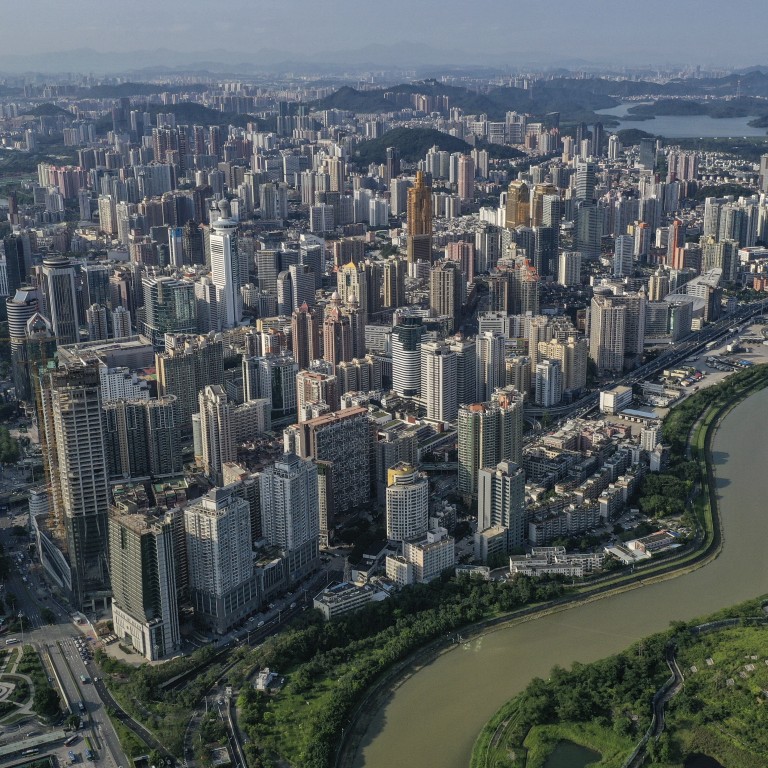 Shenzhen needs to attract overseas talent to fuel Greater Bay Area's hi-tech ambitions
A new government plan will have Shenzhen implement flexible policies to attract highly skilled talent from around the world
China is addressing a potential hurdle to creating a global technology and innovation powerhouse in the Greater Bay Area by wooing talent – sourced from overseas and across the country – to work in Shenzhen, the country's hi-tech capital.
That strategy forms
part of a detailed plan unveiled on Sunday by Beijing
, which has called for wide-ranging reforms to be implemented in Shenzhen that will make the southern coastal city a leader in terms of innovation, public service and environmental protection by 2025.
It also outlined a range of hi-tech development initiatives, including the establishment of a comprehensive national science centre, strengthened basic scientific research, and flexible policies to attract and retain highly skilled talent from overseas.
"Policies to attract talent is an important wind vane [for the rest of China]," said Dong Xiaoying, a professor at Peking University's Guanghua School of Management.
Shenzhen, which borders Hong Kong to the south, will set up talent acquisition and immigration processes that will cater to highly skilled overseas workers. Hong Kong and Macau residents who work in Shenzhen, for example, would be given "citizen treatment" to enjoy local social welfare benefits.
The latest initiative has come months after Beijing unveiled its Greater Area Bay blueprint, which aims to transform 11 cities in southern China – led by Hong Kong, Macau, Shenzhen and Guangzhou – into a combined economic powerhouse.
It would also help Shenzhen – the original site for China's reform and opening-up experiment 40 years ago – become a global "benchmark" for competitiveness, innovation and influence by the middle of the century, according to Beijing's plan.
"There has been a fierce competition globally to attract talent in fields such as artificial intelligence," Peking University's Dong said. "Shenzhen's goal to build a better environment in terms of legal structure, culture and people's well-being would help it woo the best talent across the world."
The plan for Shenzhen has signalled its rising status in the Greater Bay Area, as government planners turn to major mainland cities to drive the region's development amid China's ongoing trade and tech war with the United States.
Over the past 40 years, Shenzhen has been transformed from a sleepy fishing village to a city of more than 12 million people, where the hi-tech sector accounts for more than a third of its gross domestic product. It is home to many hi-tech start-ups, electronics contract manufacturers and major firms such as internet giant Tencent Holdings, drone market leader DJI, car and battery producer BYD, and telecommunications gear maker ZTE Corp.
The city is also the headquarters of Huawei Technologies, the world's largest telecoms equipment supplier, which has been caught in the middle of the US-China trade war as well as blacklisted by Washington from buying American technologies.
The trade tensions with Washington have prompted Beijing to rally its major hi-tech companies, top scientists and engineers to help
accelerate development of core technologies
, move the country up the industrial value chain and lessen reliance on technology suppliers based overseas.
"The proposed science centre in Shenzhen shows that Beijing has hand-picked the city as base for national development in this field," said Liu Guohong, a director at think tank China Development Institute. "The Chinese government has emphasised the importance of basic science research, especially in light of the trade war with the US."
Shenzhen, however, is lacking in the number of major institutions of higher education to help nurture more skilled native talent.
In the Greater Bay Area, Hong Kong is home to three of the world's top 100 universities. Beijing is home to two of the country's top universities, which also rank among the top 50 internationally. The capital has also established a cluster of around 90 universities.
By comparison, Shenzhen University, located in the city's Nanshan district, is ranked between 601st to 800th globally, according to The Times Higher Education World University Rankings.
In Beijing's latest plan, Shenzhen will also allow foreigners with permanent residence in China to set up tech companies and serve as legal representatives in scientific institutions. Still, only a small group of foreigners have attained a Chinese green card, which requires an applicant to make "major and extraordinary contributions" to the country.
A People's Daily report in 2017 said China approved 7,356 green cards from 2004 – when it introduced permanent residence – until 2013.
"Shenzhen has long been an immigrant city, but largely comprises talent from across China," said Hou Songtao, a partner at the Guangdong Yandao Law Firm. "The acquisition of international talent is necessary to help raise the city's status to a higher level."
Shenzhen has spent 1.12 billion yuan in subsidies and funding, as well as recruited about 3,264 people as of March last year, under the city's so-called Peacock Plan – a recruitment effort set up in 2011 to attract overseas hi-tech industry experts and academics, according to state media.
That programme offers one-off subsidies, ranging from 800,000 yuan (US$113,488) to 1.5 million yuan, in addition to welfare packages covering family members, rental allowances and medical care. More than 96 per cent of the talents recruited under the Peacock Plan holds a doctorate, and 94 per cent are Chinese returnees.
Shenzhen has also pledged to extend tax breaks to top overseas and local talent, which could be as low as 15 per cent of a person's annual income compared with as high as 45 per cent previously, under China's progressive taxation system.
To date, the city has been helping develop at least 10 laboratories in collaboration with Nobel laureates involved in natural sciences. Nine of these have been completed as of June this year.
Shenzhen's hi-tech companies are also sparing no efforts in wooing talent with high pay. Last month, Huawei announced plans to lure gifted new recruits with "top-notch" salaries.
The firm will hire 20 to 30 top talents from around the world this year in a bid to build up its "combat capabilities", according to a widely-circulated email signed by company founder and chief executive Ren Zhengfei.
The stakes are high for Huawei to bolster its operations because the US trade ban was earlier estimated to wipe out US$30 billion of sales growth.
"In the future, basic science research will heavily rely on enterprises," said Liu of the China Development Institute. "Shenzhen has less universities and institutions compared with Beijing and Shanghai, but it has thousands of tech companies that can help drive basic science research."
Research and development accounted for 4.2 per cent of Shenzhen's GDP in 2018, according to government estimates.
"Traditionally, Shenzhen is not the strongest in basic scientific research, but it can be a pioneer in emerging technologies of strategic significance, which is what Huawei and ZTE have done in 5G research and development," said Dong of Peking University.
Additional reporting by Tracy Qu and Minghe Hu
For more insights into China tech, join our Facebook group, subscribe to our Inside China Tech podcast, and download the comprehensive 2019 China Internet Report. Also roam China Tech City, an interactive digital map at our sister site Abacus.