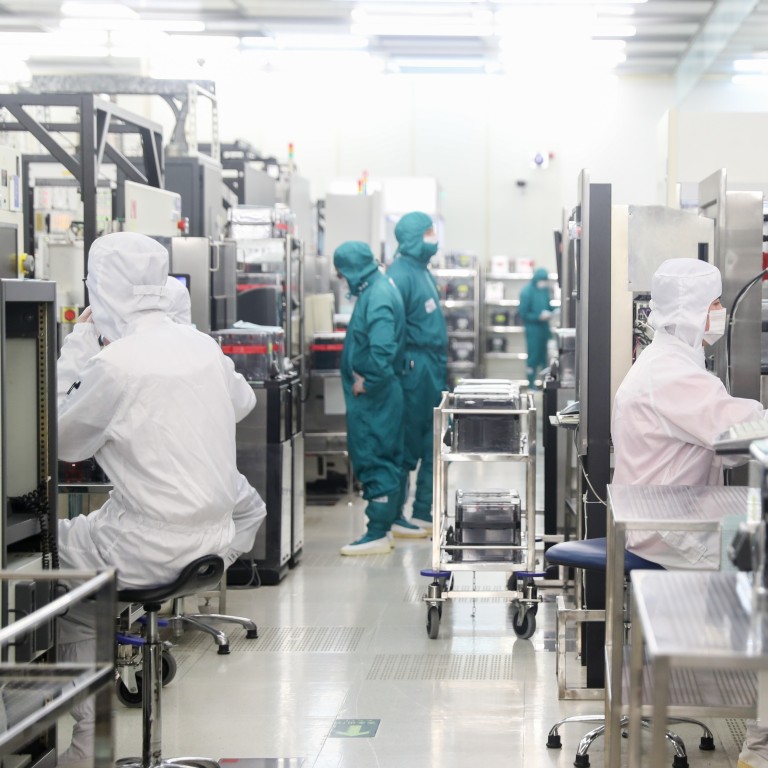 China unveils major tax incentive policy to encourage innovation in domestic semiconductor industry
For chip design, packaging, testing and relevant equipment, materials and software enterprises, the first two years of profits will be tax exempt
Shanghai's STAR market has been the preferred venue for China's chip makers, with SMIC raising 53 billion yuan (US$7.58 billion) in July
Beijing has introduced new tax incentives for domestic semiconductor players in the latest effort to boost an industry that has become a key battleground in the tech war between China and the US.
Under the new policy introduced by the State Council, qualifying integrated circuit (IC) projects and enterprises that have operated for more than 15 years will be exempt from corporate income tax for up to 10 years if they employ the 28-nanometre process or more advanced nodes, while projects from 65nm to 28nm will get five years tax free and a 50 per cent discount on the corporate rate for the subsequent five years.
The preferential period starts from the first profit-making year for IC manufacturing enterprises according to an official central government document published online on Tuesday.
For chip design, packaging, testing and relevant equipment, materials and software enterprises, the first two years of profits will be exempt from corporate income tax and companies will receive a 50 per cent discount on the statutory tax rate of 25 per cent over the next three years.
"Frankly, this will be of some help [for the domestic semiconductor industry], but [the assistance] is not necessarily huge," said Sheng Linghai, an analyst at Gartner.
Sheng said most Chinese semiconductor foundries generate most of their revenue from products at 55 nanometre and above so the favourable policies will be of more direct help to the established operations like Semiconductor Manufacturing International Corporation (SMIC) and Shanghai-based Huahong, the only two foundries that can produce chips using the 28nm processing node.
"These tax incentives are relatively higher than those [given] to ordinary manufacturing industries," said Martin Ngai, EY Greater China TMT tax leader. "It shows the Chinese government is willing to support the growth in high-tech industries such as semiconductors and software."
The current state-of-the-art 7nm process, capable of packing 6.9 billion transistors onto a smartphone processor chip, can only be made by overseas foundries such as TSMC and Samsung Electronics. US chip giant Intel last month announced that its own 7nm process was about 12 months late.
Semiconductors are the backbone technology of the information age. These tiny electronic devices, usually smaller than a postage stamp, power the modern economy by acting as data-processing brains for products from smartphones to cars and spacecraft.
China lags the US in advanced semiconductor technologies, including chip design and manufacturing. Amid a protracted tech war that is expanding from 5G and chips to the internet, Beijing has doubled down on efforts to channel more funds and state support into the vital sector in the hopes of narrowing the gap between the two countries.
Last Friday SMIC announced plans to build a US$7.6 billion foundry in Beijing, focusing on the 28nm process and more advanced nodes, with the aim of producing about 100,000 12-inch wafers per month.
In 2014, the central government set up the China National Integrated Circuit Industry Investment Fund with the goal of helping the country become more self-sufficient in making the chips used by the country's vast manufacturing supply chain. The fund raised 138.7 billion yuan (US$21.8 billion) in its first financing round in 2014, and completed the second round of US$29 billion last year.
A Shanghai-based analyst, who requested anonymity due to the sensitive nature of the topic, said that while government financial support – including tax breaks, subsidies and direct investments from government-backed industry funds – has been abundant over the past 10 years, the effort has failed to yield a strong domestic semiconductor industry. He said China needs to allow more freedom of thought to drive innovation in industries as complex as semiconductors.
The country also aims to broaden financing channels for semiconductor companies, vowing support for qualified IC and software companies to list publicly and raise funds at home and abroad, the document said.
Shanghai's STAR market has been the preferred venue for China's chip makers, with SMIC raising 53 billion yuan (US$7.58 billion) in July and AI chip maker Cambricon Technologies raising 2.58 billion yuan in its IPO the same month
The government said it would like to see global cooperation within the industry, encouraging international enterprises to build research and development centres in China and cooperation between domestic and overseas companies.
However, cooperation with foreign chip makers has not always had a good track record in the past.
In May, US-based GlobalFoundries halted operations at a joint venture chip factory in Chengdu, dealing a blow to China's bid to own a bigger slice of the global semiconductor market. When the project was unveiled three years ago, it was hailed as one of China's major foreign invested semiconductor projects.
This article appeared in the South China Morning Post print edition as: China's Chip firms get boost from new tax breaks