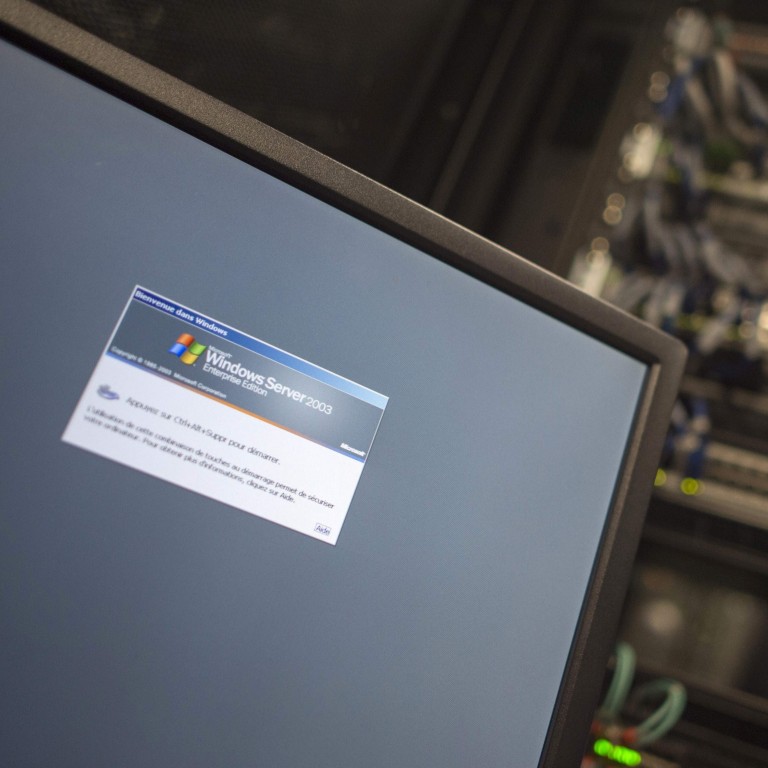 China calls the US an 'empire of hacking' following NSA advisory accusing Chinese hackers of exploiting cybersecurity bugs
The NSA published a list of 25 common software vulnerabilities that it says Chinese state-backed hackers could use to access sensitive data
China's Ministry of Foreign Affairs hit back, calling the accusations ironic and citing the Prism surveillance programme
After the US National Security Agency
released a cybersecurity advisory
this week warning of certain vulnerabilities exploited by Chinese state-backed hackers, China's Foreign Ministry hit back. The US is an "empire of hacking", ministry spokesman Zhao Lijian said during a press conference on Wednesday, citing surveillance programmes unveiled by leaks from former NSA contractor Edward Snowden in 2013.
"It is indeed ironic news that the US National Security Agency, as the main implementer of the Prism programme and the world's largest cyber espionage agency, publicly accuses other countries of cyber espionage," Zhao said.
Prism was one of the surveillance programmes leaked by Snowden, exposing how the NSA collected internet communications from technology companies like Google, Facebook and Microsoft. Zhao also accused the US of occupying a leading position in software and hardware, giving the country a "natural advantage" in exploiting vulnerabilities.
The NSA advisory, published on Tuesday, details 25 cyber vulnerabilities that have been "recently leveraged, or scanned-for, by Chinese state-sponsored cyber actors". The list includes vulnerabilities that are already publicly known, such as bugs in software like Microsoft Corp.'s Windows or Citrix Systems, and they are directly accessible from the internet.
The report recommends that US government officials protect their systems against these common vulnerabilities that state-backed hackers could use to steal intellectual property and economic, political, and military information.
The advisory joins a similar report from the US Cybersecurity and Infrastructure Security Agency. The report published by CISA in September notes that hackers affiliated with China's Ministry of State Security are using readily available exploits to target US government agency networks.
The NSA report says China-backed actors are using the same process for planning to exploit a computer network as "any sophisticated cyber actor", starting with identifying the target.
Cybersecurity threats have
been on the rise
this year as a result of an increase in remote work during the Covid-19 pandemic, and they are not just coming from state-backed actors. Some hacking groups acting independently are after financial gain. One common mode of attack is the use of ransomware, which encrypts a user's data and demands a ransom to have it returned.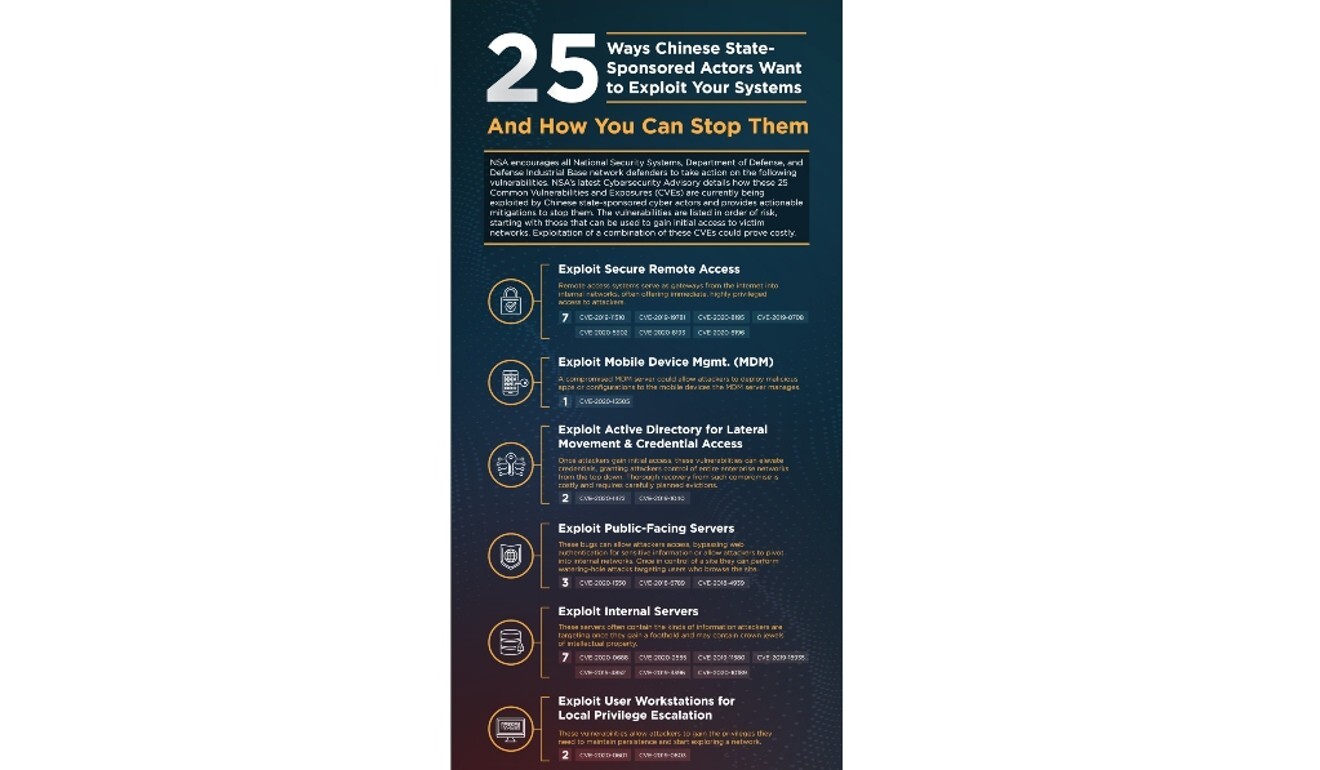 Accusations of cybercrimes have been heating up between the US and China as ongoing tensions take a toll on major Chinese tech firms like Huawei and ByteDance, the owner of TikTok.
In March this year, Chinese cybersecurity firm
Qihoo 360 accused the CIA
of an 11-year-long hacking campaign that focused on China's airline industry, among other targets. And a report from cybersecurity company Symantic last year revealed that China had
stolen NSA hacking tools in 2016
and used them to attack American allies.
Other cybersecurity issues have also been a source of contention on both sides.
The Chinese government recently took issue with the US government's "Clean Network" programme. The initiative aims to restrict the international expansion of Chinese apps, cloud services and undersea cable networks, which the US says pose a threat to security and data privacy.
Zhao has also accused the US of "double standards" for seeking back door access to certain communication apps. The Five Eyes group – Australia, Britain, Canada, New Zealand and the US – joined by India and Japan
signed a letter
raising concerns about the increased use of end-to-end encryption in apps like
Signal
and WhatsApp. This poses "significant challenges to public safety", the letter contends, arguing that developers should provide a means for law enforcement to access that data.
In September, China's foreign ministry unveiled a new Global Initiative on Data Security that opposes the abuse of information systems for mass surveillance and unauthorised collection of personal information from other states.
"The Chinese government has never asked Chinese companies to install back doors and provide overseas data to the government," Zhao said.
This article appeared in the South China Morning Post print edition as: US an 'empire of hacking', Beijing says