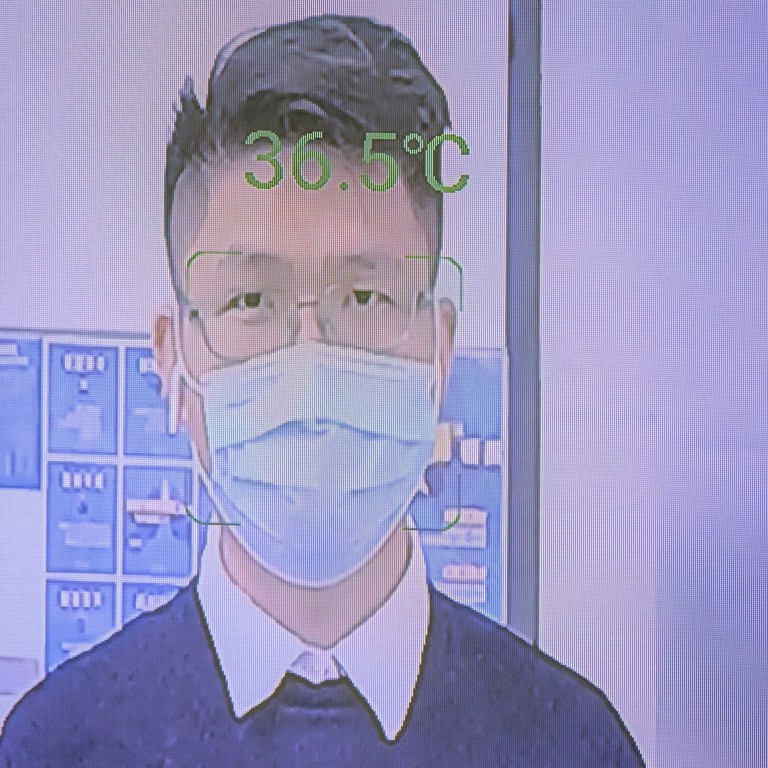 Explainer

|
What is facial recognition, and why is it more relevant than ever during the coronavirus pandemic?
Facial recognition software has been increasingly deployed by countries to secure access and improve surveillance, especially during the pandemic
But the technology is controversial, not just because data leaks are common, but also because of its potential to exacerbate racial or gender biases
China may already have been home to
most of the world's most monitored cities
before the coronavirus pandemic, but surveillance technologies, and in particular facial recognition software, have seen a
new surge in popularity
as governments scramble for ways to identify potential cases and maintain security while reducing human-to-human contact.
Around the world, the artificial intelligence-based technology has been increasingly deployed by law enforcement and border control to secure access and improve surveillance.
Here's a summary of what we know about facial recognition technology.
How does facial recognition work?
Facial recognition systems involve the identification of people from a database of images, including still photographs and video. Deep learning – a subset of artificial intelligence – speeds up a system's face-scanning capabilities, as it learns more about the data it is processing. Such systems require vast amounts of information to become faster and more accurate.
Essentially, these systems generate a so-called "unique face print" for each subject by reading and measuring dozens to thousands of "nodal points", including the distance between eyes, the width of a person's nose and depth of the eye socket. With a network of surveillance cameras, recognition systems process a wider range of features, including subjects' height, age and colour of clothes.
What is it used for?
Law enforcement agencies worldwide have used facial recognition to identify and track down suspects, although the technology is generally less widely deployed elsewhere in the world than in China.
Why is it more relevant than ever amid the pandemic?
When the world's most populous country went into lockdown earlier this year due to the coronavirus pandemic, facial recognition software became a crucial way to identify people without in-person contact.
Why is facial recognition controversial?
A large part of the problem is that facial recognition is a comparatively new field, and regulation on who has the right to collect and store images of people and how securely they are being kept has not yet caught up with the technology, which is so inexpensive that it is being used by gyms, restaurants, supermarkets and amusement parks.
Like all AI technologies, the accuracy of facial recognition relies heavily on the data it is trained on, and this data is likely to be skewed depending on where it is collected from.
A US study published last December tested facial recognition algorithms from 99 developers worldwide and found they generally returned a high number of false positives, wrongly considering photos of two different individuals to show the same person, for East Asian people.
However, for a number of algorithms developed in China – including those by leading facial recognition start-ups Megvii and Yitu Technology – this effect was reversed, showing fewer false positives for East Asian faces than Caucasians in some cases, according to the study by the National Institute of Standards and Technology (NIST).
Chinese AI companies including Hikvision, Megvii, SenseTime and Yitu were identified in an April 2019 report by The New York Times for offering features that allowed Uygur Muslims to be identified through facial recognition. SenseTime and Megvii have denied ethnic profiling. Hikvision started phasing out minority recognition in 2018, the Times reported, citing people familiar with the matter.
And while researchers have been discussing possible biases in AI technology for some time, the issue took on a greater significance in the US in the wake of the Black Lives Matter protests this year, with fears that such technology could be used to discriminate against ethnic minorities prompting some big tech firms to pause selling police their facial recognition systems or stop producing them entirely.
So what's being done about these issues?
Amid growing pressure, authorities and companies worldwide are working on setting standards and drawing up rules.
Other companies that have joined the chorus include SenseTime, another major Chinese AI company, which took the lead of a national standardisation group for facial recognition technology last fall as well as Xiaomi and iFlyTek, which were part of this group.
If I wear a mask, can I still be identified?
Yes, although this wasn't always the case.
Previously, Chinese AI companies focused their research on voluntary and face-front recognition in applications that demanded high accuracy.
Baidu also released what it said was the first free open-source face scan software to identify people who were not wearing protective masks, which could be used to send an alert if someone entered an office or a public space without a mask.
Although the pandemic has provided the impetus for a wider roll-out of facial recognition products able to identify partially covered faces, the technology is not exactly new.
As far back as 2017, Stanford University postdoctoral fellow Amarjot Singh and his team published research on an algorithm that could recognise people wearing eyeglasses, fake beards, scarves and hard hats by locating key points on the face around only the eyes and nose.
Are there other ways to fool facial recognition?
While tech companies and researchers are constantly working to improve the accuracy of facial recognition, the technology is not perfect (yet) and privacy-conscious individuals are still finding ways to avoid being identified and tracked against their wishes.
If you still want photos of your real face on social media but are concerned about your online privacy, University of Chicago researchers may have just the thing.
What's next for facial recognition?
Despite growing concern over privacy and security, facial recognition is likely to grow in popularity across the world.
The industry is projected to see a compound annual growth rate of 14.3 per cent from 2019 to 2028, with the Asia-Pacific region becoming the fastest-growing as well as the largest market globally over the coming year, online platform Research And Markets estimated in a September report.
Companies and authorities are also increasingly combining facial recognition with other technologies to create advanced surveillance systems that can identify people even if their faces cannot be seen.