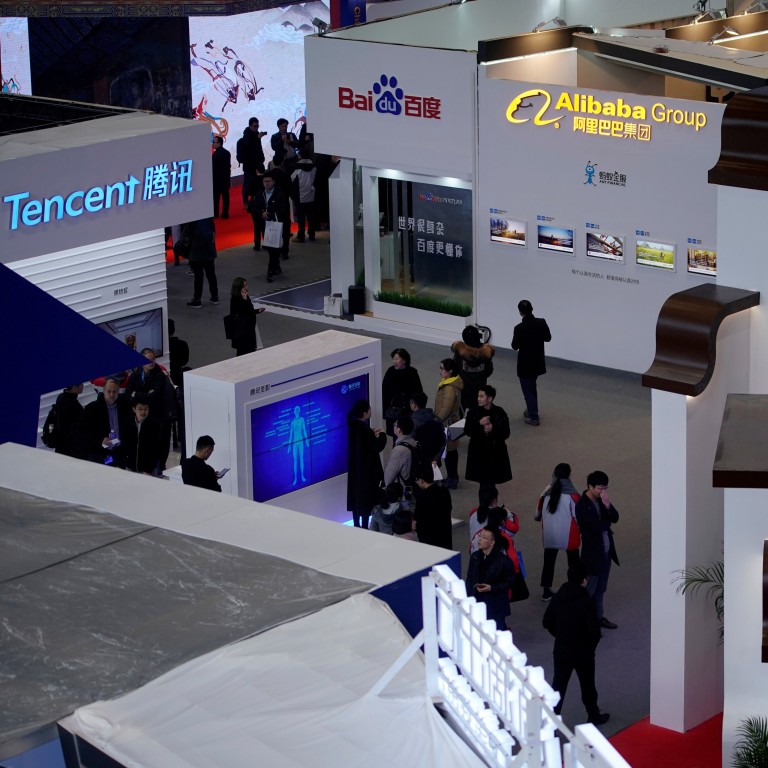 China's market regulator flexes muscles, signalling Wild West era of unchecked Big Tech growth is over
Latest move follows the issuance of new draft rules by the State Administration for Market Regulation (SAMR) in November
Clampdown comes after China's tech giants have taken the country from a technology backwater to one where digital innovation is leading the way
China's market regulator flexed its muscles this week, slapping fines of 500,000 yuan (US$76,300) each on Alibaba Group Holding, Tencent Holdings-backed China Literature and Shenzhen Hive Box for not properly reporting past acquisitions for clearance.
"The internet industry is not outside of antitrust law," SAMR said in a statement on Monday. "Although the fines are relatively small, the punishment signals to society that we are tightening up antitrust regulation in the internet space."
The latest move follows the issuance of new draft rules by the State Administration for Market Regulation (SAMR) in November, aimed at stopping monopolistic practices, protecting fair market competition and safeguarding consumer interests in the internet space. The new rules from China's bureau for regulating monopolies were open to public feedback until the end of last month, with the final version yet to be released.
The cases involve Alibaba's past equity investments in major Chinese mall operator Intime, China Literature's acquisition of film studio New Classics Media and SF Express-backed Shenzhen Hive Box's acquisition of a smart locker rival in May. Although the companies failed to seek regulatory clearance, the deals were not deemed to be "excluding or restricting market competition," so a fine, rather than break-up, was ordered, SAMR said.
Meanwhile, SAMR said it was also reviewing Huya's US$6 billion deal to acquire game-streaming rival DouYu International Holdings, announced in October. Tencent owns more than a third of both DouYu and Huya and has majority voting power. The merger would further cement the tech giant's leadership in esports and gaming.
Alibaba and Tencent did not immediately respond to requests for comment on this story.
The clampdown comes as China's tech giants have, over the past three decades, taken the country from a technology backwater to a nation where digital innovation is leading the economic way, from mobile payments to online shopping, to transport, dating and facial recognition. The fuel behind this engine is big data and the algorithms which help to parse it – giving China's companies more power to customise and tailor their offerings.
But regulation is catching up, and Beijing is signalling that the previous "Wild West" era is over. China's tighter regime comes amid wider reviews of big tech in the US and Europe to better regulate the grip companies such as Amazon, Facebook and Google have on economies and peoples' lives.
"There have actually been many drawbacks with the development of internet platforms in China," said Dong Yizhi, a lawyer at Shanghai-based Joint-Win Partners. "These cannot be solved purely through self-monitoring … it needs a higher level of regulation."
"For companies, the most important thing will be to adjust [their business] structure [to see] if they can adapt to the new round of supervision and policy guidance. The road ahead will be difficult," added Dong.
Beijing is showing its hand at a time when the country's top tech platforms are used by millions of people every day for daily essentials, from food delivery to health care, meaning that they are now a central plank in overall economic direction.
In 2019, the combined revenue of China's five top internet companies accounted for nearly 50 per cent of the 3.5 trillion yuan total revenue made by the 100 biggest tech companies in the country, according to a report by the non-governmental Internet Society of China. This in a country with the highest mobile internet penetration in the world.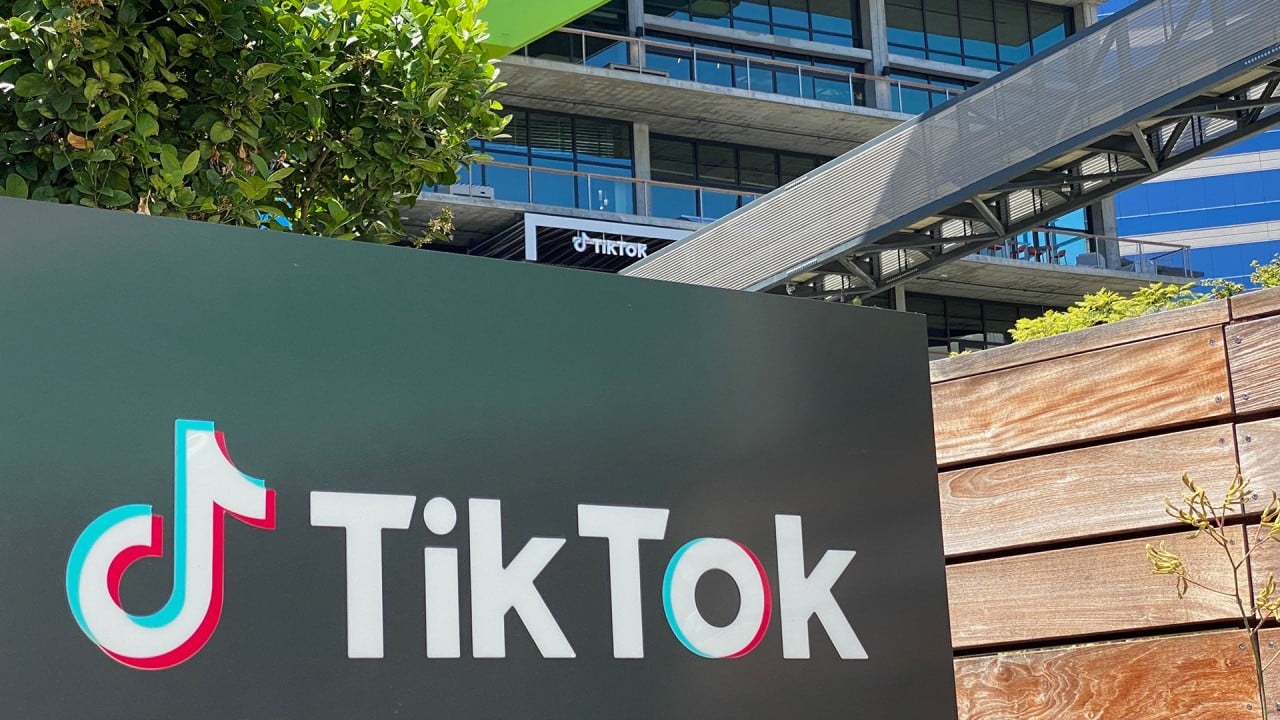 06:02
Global expansion of TikTok and other Chinese tech companies is likely, only not in the West
Global expansion of TikTok and other Chinese tech companies is likely, only not in the West
"In the past, our platform economy was not developed to this level, and we didn't need such [detailed antitrust] rules. But now it's time," said Mei Xinyu, a researcher at China's Ministry of Commerce.
Pressure to do something about the growing influence of big tech in China has been growing for a while. China
last year warned
e-commerce platforms like Alibaba and JD.com to end monopolistic practices, such as requiring merchants to sign exclusive agreements that prevent them from selling their products on rival platforms, an activity known as "pick one of two".
The draft rules flag problems such as abuse of market dominance to treat consumers differently, based on a profile derived from big-data analysis of their ability to pay, consumption and user habits. SAMR also pointed out in its Monday statement that the three cases involved VIE (variable interest entity) structures and added it was the first time that they have slapped fines on deals involving VIE structures.
VIE structures typically involve contractual arrangements where an offshore holding company controls and receives the economic benefits of a Chinese onshore operating entity. It is often used in industries that are deemed sensitive, such as energy, technology and telecommunications.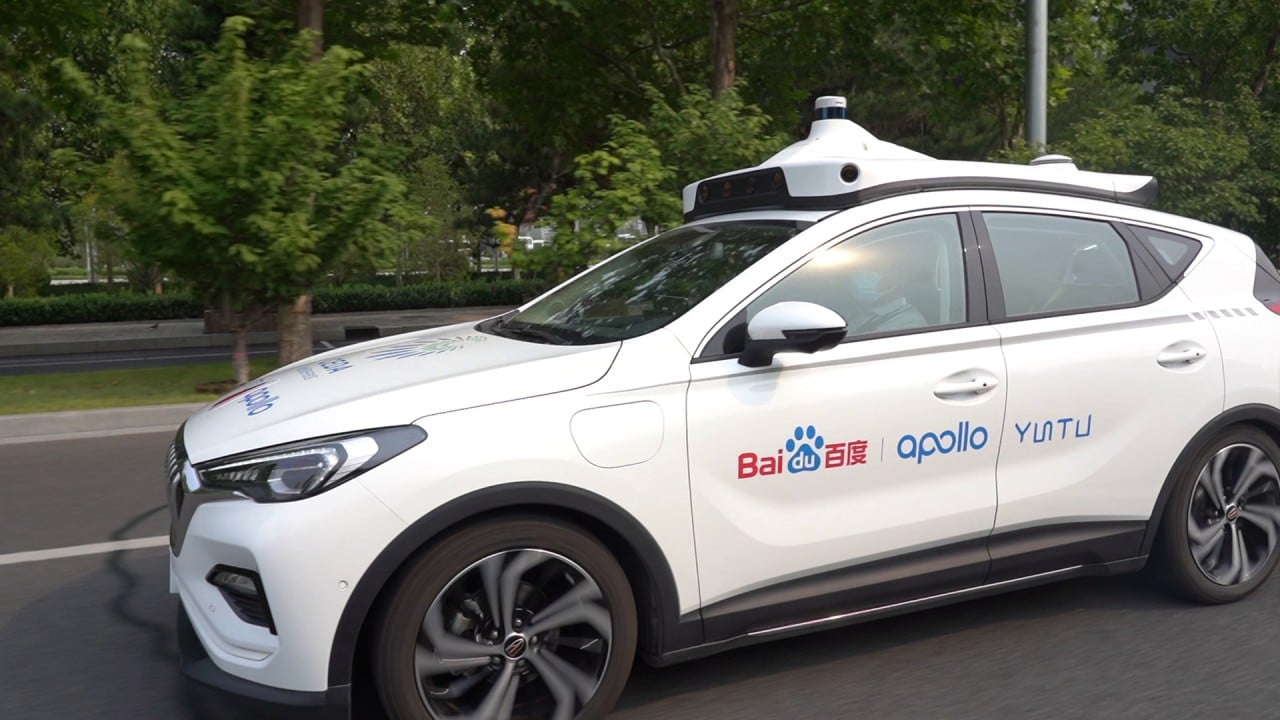 04:07
China's automated driving technology speeds ahead with research by search engine giant Baidu
China's automated driving technology speeds ahead with research by search engine giant Baidu
"We believe that through the investigation and punishment of these cases, operators can more clearly realise that the VIE structure is not an excuse for internet companies to avoid monopoly regulation," SAMR said.
A Beijing-based lawyer, who requested anonymity due to the sensitive nature of the topic, said the VIE structure – widely used by Chinese tech companies including Alibaba, Tencent, JD.com and Meituan – is a major challenge for antitrust regulation in China's internet sector. Previously, the Ministry of Commerce did not review M&A cases involving companies with such a structure, so many deals went through without being referred for antitrust review.
"In general, people have had a wait-and-see stance regarding [antitrust rules] for companies that have adopted VIE structures … now it looks like the boots have landed," said the Beijing-based lawyer.
She said it is very clear that the government will clarify monopoly behaviour in this area when the new draft rules are finalised. "[What we don't know] is just how [China] is going to do it, or which company will become the bird taking the first shot."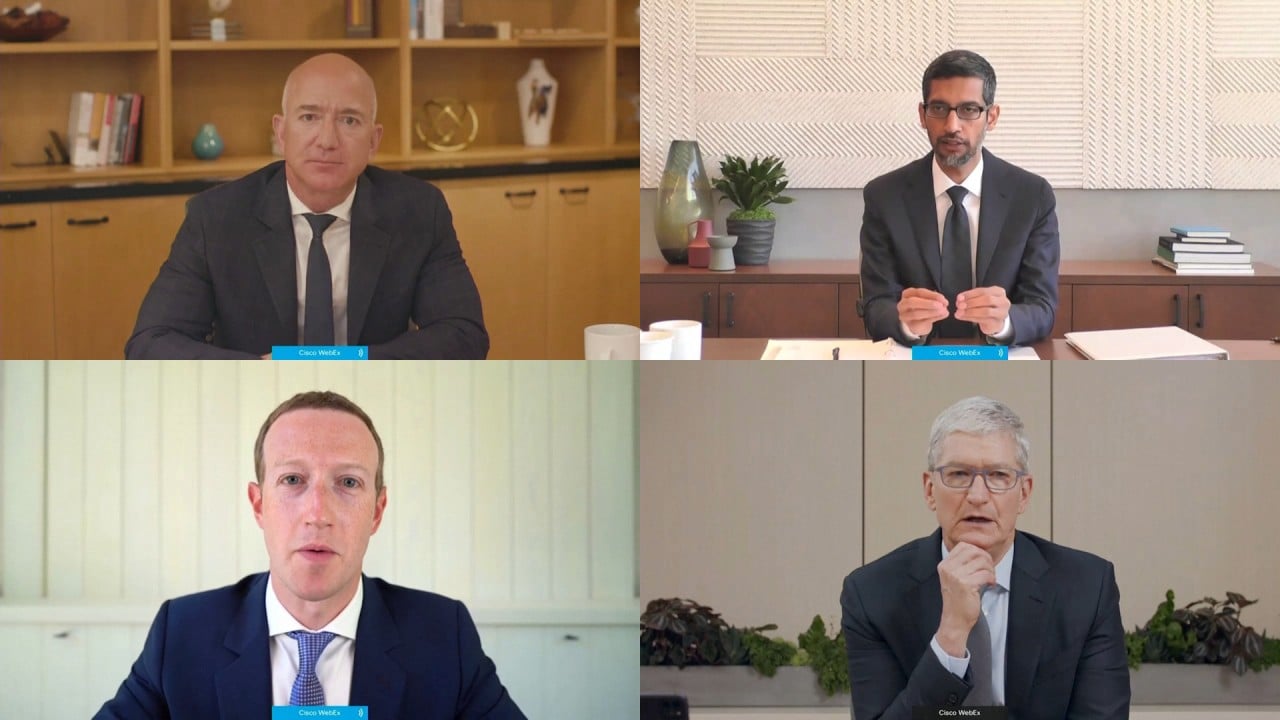 02:06
Facebook, Amazon, Google and Apple respond to Congress about whether China steals US technology
Facebook, Amazon, Google and Apple respond to Congress about whether China steals US technology
But stronger regulation of big tech and how it uses customer data, is now a global challenge with implications for consumers and investors.
Tech giants could face fines of up to 10 per cent of their annual revenue for violating new EU rules, according to a December Reuters report, citing an unnamed source. Known as the Digital Markets Act, the rules will identify a list of "dos and don'ts" for tech companies to ensure a level playing field for rivals and users.
Meanwhile, the chief executives of Facebook, Amazon, Google and Apple have had to rebut a range of accusations from US lawmakers this year that they have stifled competition. The Federal Trade Commission this month sued Facebook, alleging that the company has illegally maintained its personal social networking monopoly through a years-long course of anticompetitive conduct.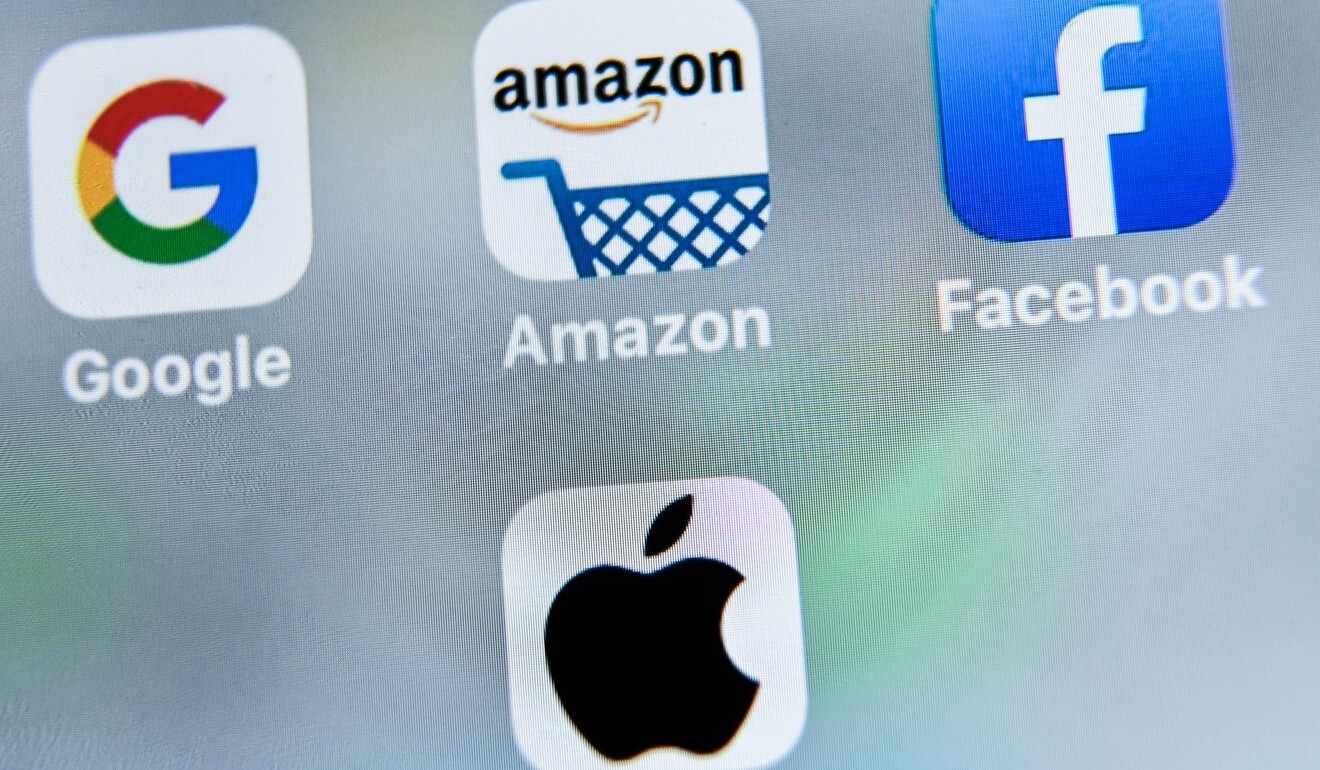 Facebook said it planned to vigorously defend itself against the accusations.
"I think in a global context, many governments are tightening up antitrust regulation. China is indeed a bit behind many other western countries because of some unique circumstances in the country," said the Beijing-based lawyer who requested anonymity. "Looking at the big trend, the [Chinese] government is definitely going to … keep pace with the US and Europe."
Some analysts see China's tighter industry regulation as a positive step.
"The sprawling business expansion of China's big tech giants is getting in the way of innovation," said Kering Wang, a blockchain entrepreneur and an investor in the blockchain and proptech space. "No matter what you try to start on now, you find that BAT (Baidu, Alibaba and Tencent) and other big tech companies like Xiaomi are standing in your way."
"With abundant resources and an army of engineers, they can always beat you to the market," said Wang, adding that Chinese tech companies tend to become huge platforms spread across different industries because of the easy scalability of digital technologies.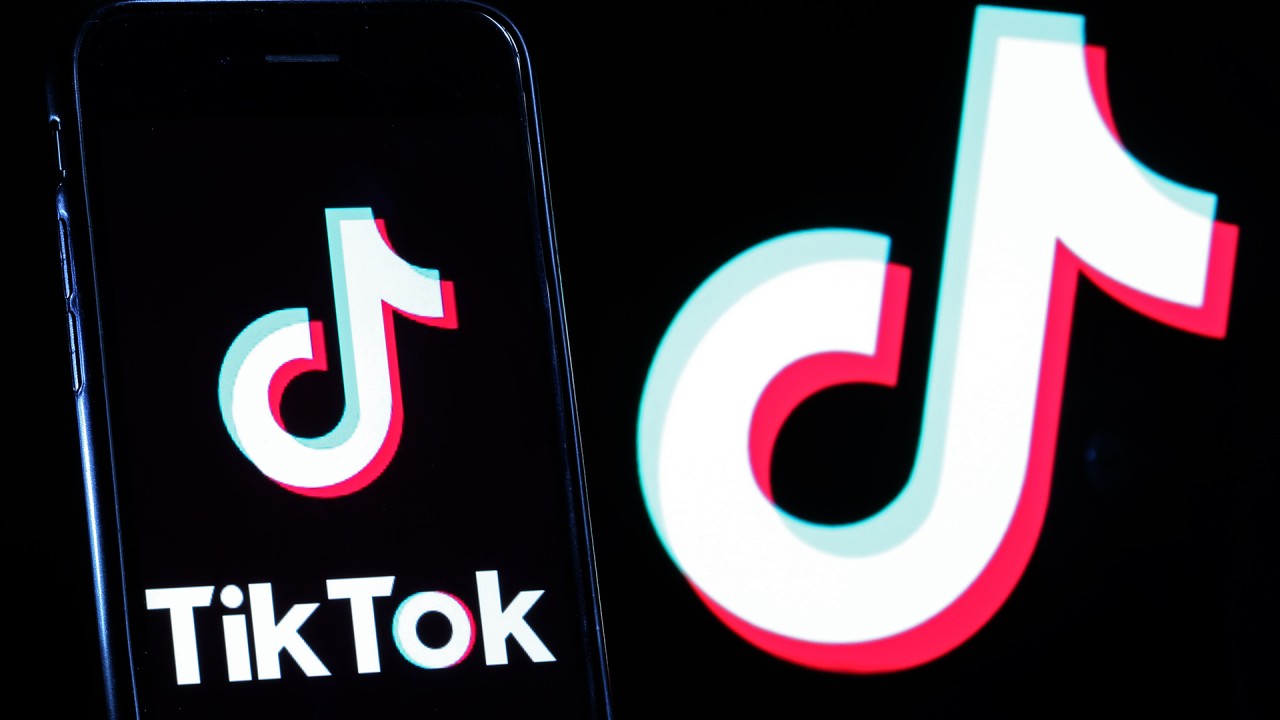 01:41
Pakistan bans TikTok over 'immoral and indecent' videos
Pakistan bans TikTok over 'immoral and indecent' videos
But they are mostly innovators in business models rather than innovators in "core technologies", such as semiconductors or emissions reduction, much-needed technologies for China's next phase of economic development, added Wang.
"[An end result] where only one or two super platforms occupy all market share is … cruel market competition," said Zhang Xi, a researcher with the Peking University Finance Law Research Center. "It's like an Olympic Games where there is only bronze, silver and gold and none of the other competitors survive."
However, others have warned that regulators will need to be careful not to open the door to heavy-handed oversight.
Morgan Stanley said in a research note last month that "competition has already intensified in recent years, with incumbents [such as Alibaba and Tencent] losing market share to 'disruptors' [such as Pinduoduo and ByteDance], so the consequences will likely be less meaningful given reduced dominance across segments compared to a few years ago."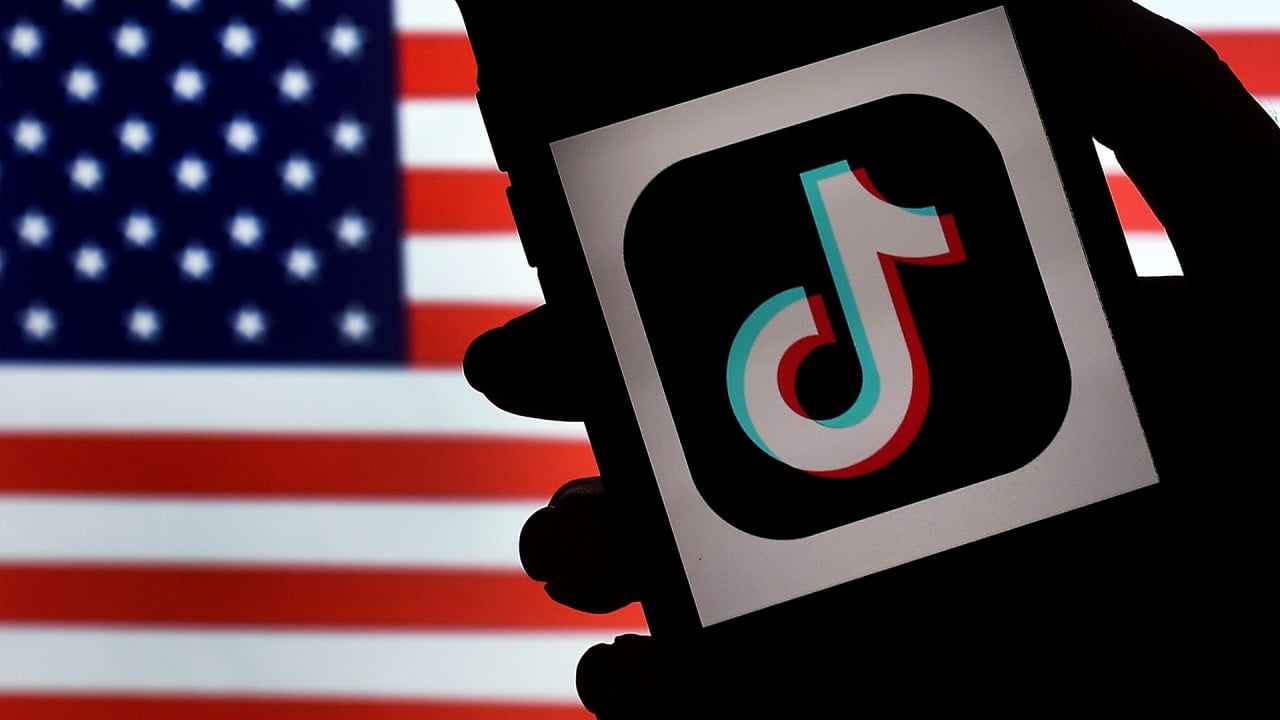 03:07
Stop offering 'untrusted' Chinese apps like TikTok and WeChat, Washington urges US tech companies
Stop offering 'untrusted' Chinese apps like TikTok and WeChat, Washington urges US tech companies
Mei Xinyu said that while the new antitrust rules would be good for consumers, he is concerned they contain some vague terms, which could put some "unreasonable restrictions" on innovation.
It is a common practice for start-ups to "burn money" at an early stage, he said. "If [the government] takes the initiative to include them in anti-monopoly practices, then I'm afraid that the market will not be able to grow."
"With fast-growth industries, if we want to have a healthy competitive environment, it is more important to lower the barriers to entry for new competitors and investors, rather than rely on government [regulation]," said Mei.
Alibaba is the owner of the South China Morning Post.
Additional reporting by Jane Zhang and Yujie Xue