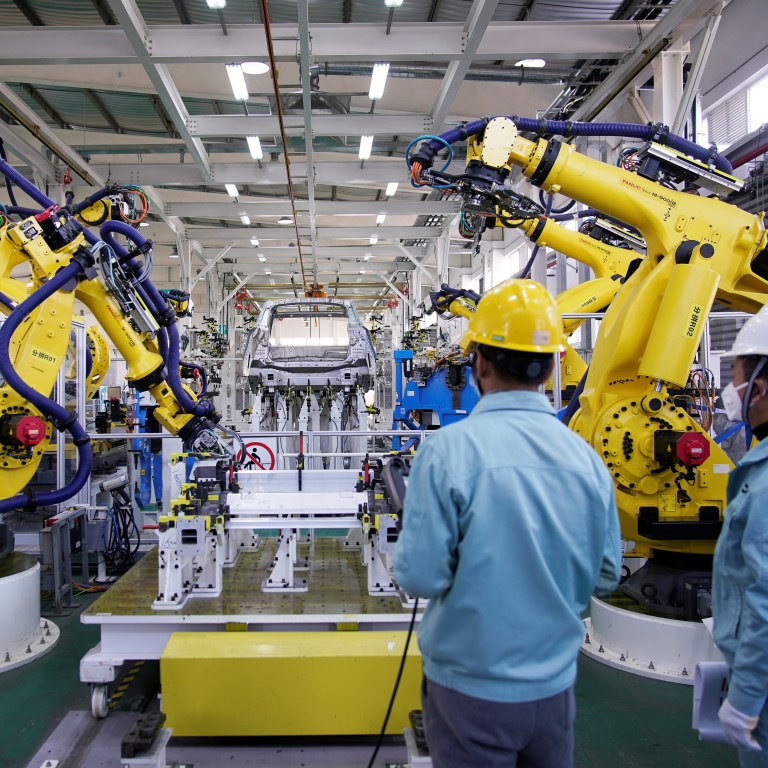 China's 'two sessions' 2021: Beijing zeroes in on eight core areas for country to become manufacturing superpower
The renewed focus on advanced manufacturing forms an integral part of China's 14th five-year plan
The strategy would help offset rising production costs, reduce reliance on foreign technologies and enhance competitiveness against the US
China unveiled on Friday a comprehensive plan to upgrade its manufacturing capabilities by 2025 via eight priority areas, sharpening its global competitiveness amid a broad
trade
and
tech
dispute with the United States.
The plan, which was introduced at the annual meeting of top legislative body the
National People's Congress
(NPC), is focused on rare earth and special materials,
robotics
, aircraft engines,
new energy vehicles
and smart cars, high-end medical equipment and innovative medicine such as vaccines, agricultural machinery, major equipment used in shipbuilding, aviation and
high-speed rail
, and industrial applications of China's
Beidou global navigation satellite system
.
"We must keep the share of manufacturing stable in the overall economy and enhance China's competitive advantages in this sector," the government said in the 142-page 14th five-year plan, which is set to be endorsed by the NPC's nearly 3,000 delegates.
02:18
Two Sessions 2020: China sets no GDP target, defence spending growth slows
Two Sessions 2020: China sets no GDP target, defence spending growth slows
The renewed focus on advanced manufacturing, years after Beijing played down its
"Made in China 2025"
strategy amid complaints from Washington and Brussels, reflects the Chinese government's determination to pursue a hi-tech transformation of this sector. That would help offset rising production costs, strengthen the country's position in global supply chains, reduce reliance on foreign technologies and enhance its competitiveness against the US.
China will fix its weak links in key components, software, materials and fundamental systems over the next five years, according to the new five-year plan. It said the country will develop an industrial value chain that is "more innovative, secure and with higher value added", helping enhance competitiveness in "high-speed rail, electrical equipment, new energy and shipbuilding". It also indicated that "key parts of the value chain" must remain within China.
Advanced manufacturing, which covers various aspects, from scientific research to production, provides China with the foundation to foster innovation and cut reliance on foreign technologies, according to industry experts.
"Advanced manufacturing's impact on China's economic growth covers not only employment, but also the development of supply chains," said Guo Wanda, executive vice-president of Shenzhen-based think tank China Development Institute.
The draft plan presented to the NPC also expects "nascent industries" to add significant economic value and account for 17 per cent of the country's GDP from 2021-2025 period. It also pushed for a faster roll-out of 5G mobile networks to increase user penetration up to 56 per cent in the same five-year period.