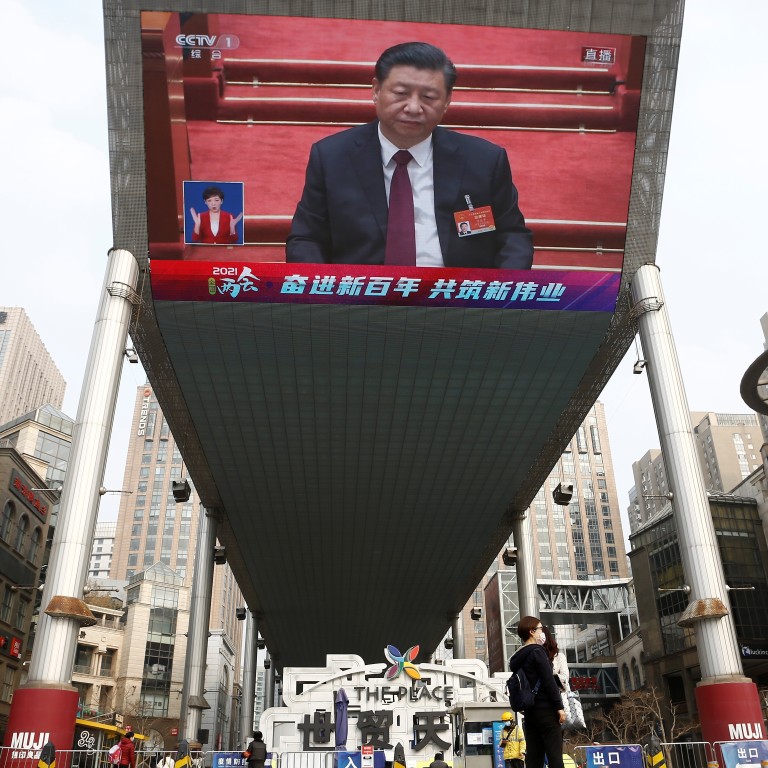 After China's 'two sessions', Xi Jinping affirms national goals for innovation, Big Tech, and the environment
Following the approval of a new five-year plan, Xi Jinping again emphasised the need for the 'healthy development' of Big Tech platforms
A day later, a party-affiliated journal republished a 2018 speech by Xi that called for developing cutting-edge tech like AI, blockchain and quantum computing
Days after China's top legislature approved the the latest five-year plan. President Xi Jinping is making sure that cadres support the country's efforts to become a self-sufficient technology leader, while cracking down on the excesses of Big Tech.
On Tuesday, party-affiliated journal 
Qiushi
 republished a
2018 speech by Xi
that highlighted the need for China to become a "global centre for science and innovation", emphasising the development of cutting-edge technologies like artificial intelligence (AI),
blockchain
and quantum information processing. Xi also said China should pay special attention to areas like
advanced manufacturing
and
clean energy
.
"Areas including advanced chips, basic algorithms and materials are still at an extruding choke point," Xi said in the speech he delivered nearly three years ago. "The condition of key core technologies inferior to others hasn't been transformed."
The republication of the speech comes a day after Xi chaired a meeting of the Communist Party's Central Financial and Economic Affairs Commission, where he reiterated the necessity of "promoting the healthy development" of China's platform economy, an umbrella term that encompasses most of China's internet giants, including Tencent Honldings, JD.com, Meituan, Didi Chuxing, Pinduoduo, ByteDance and Alibaba Group Holding, the parent company of the South China Morning Post.
Monday's comments signalled a continued focus on the development of domestic platforms. The country has ramped up antitrust investigations in recent months in a bid to curb the influence of large tech firms in the economy.
Xi also used the meeting to call attention to the country's environmental goals. The latest five-year plan aims to have China reach peak carbon output by 2030 and carbon neutrality by 2060.
The republication also comes just after last week's conclusion of China's "two sessions", the country's largest annual political gathering, which put a heavy
emphasis on research and development
.
Xi's message in his 2018 speech aligns with the 14th five-year plan that was ratified on Thursday by the National People's Congress (NPC). The plan highlights the need to reform incentives for basic research and create better guidelines and guardrails for developing China's digital economy. It also contains plans for China to become a leader in advanced manufacturing by integrating technologies such as AI, 5G, and big data.
Technological self-sufficiency is another theme that has loomed large in China in recent years. Xi emphasised it in the 2018 speech, delivered to more than 1,300 scientists, engineers and government officials. It was also a
big theme at the two sessions
, where the government promised more support for state-owned enterprises.
China's self-sufficiency goals gained more expediency over the last few years as Washington took a more confrontational stance towards Beijing under former US president Donald Trump. China cannot buy, ask for or beg for core technologies from other countries, Xi said in his 2018 speech.
Since Trump entered office in 2017, the US government has relied on a combination of sanctions, tariffs and blacklists in hopes of winning concessions from China on a variety of issues, including trade, national security and human rights.
Since taking office in January, US President Joe Biden has chosen a slew of China specialists for key positions in his administration, signalling a shift in resources that would continue Washington's tougher approach towards Beijing in a renewed "pivot to Asia". US Secretary of State Antony Blinken will hold talks with top Chinese officials this week in Anchorage, Alaska, in a meeting that will address a range of issues, including those for which the two sides have "deep disagreements".