Hydropower plants go on sale in China amid mining crackdown and bitcoin slump
After cryptocurrency mining rig sales, small hydropower stations are now for sale on e-commerce site Xianyu
Prices of small hydropower stations have dropped amid crackdown, as bitcoin miners head for the exits in China
China's swift and sweeping crackdown on bitcoin mining has pushed owners of small hydroelectric power plants to offload their assets now that demand for cheap power is drying up.
The number of advertisements on Xianyu, a popular second-hand e-commerce platform, for small scale hydro plants with capacity of around 50 megawatts, has increased since the mining crackdown
began in May.
Some plants are in southwestern Sichuan province, an area in China with abundant water resources that can provide cheap electricity and where 26 bitcoin mining operations were ordered to shut down last week.
"You can secretly mine cryptocurrency if you buy a hydropower station," promised one of the sellers on the Alibaba Group Holding-owned platform, when contacted by a South China Morning Post reporter. Alibaba also owns the SCMP.
Two sellers who responded to inquiries said their listings were unrelated to the recent crackdown.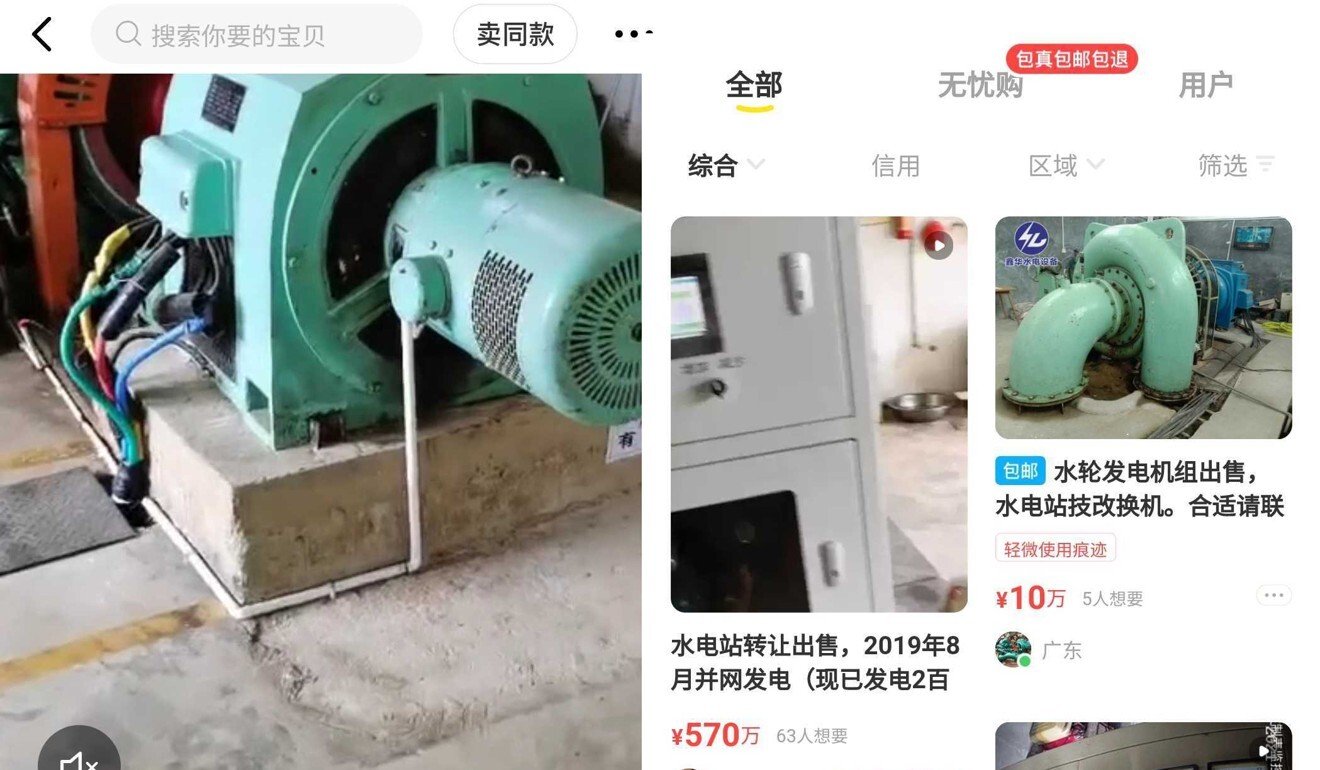 Three others confirmed that more power stations are on the market because of the crackdown and one noted that prices for the hydro plants had gone down recently.
Small-scale hydropower stations have
become widespread
across water-rich provinces with local governments providing support for both private and public operations. The projects aim to electrify hard-to-reach rural areas, with officials citing benefits such as poverty alleviation, energy conservation and flood control.
Definitions vary, but hydro plants with a capacity of up to 50 megawatts are
considered small
, especially compared to massive projects such as the Three Gorges Dam which has a capacity of 22,500 megawatts. Areas such as the Yangtze River Economic Belt, which spans nine Chinese provinces, had more than 25,000 such small hydropower stations by the end of 2020, according to state-owned industry media
China Energy News.
Some plants, however, have caused
ecological damage
and authorities in some provinces have ordered regular rectifications and closures. Around 20,000 plants were ordered to be rectified in the Yangtze River Economic Belt by 2020.
One seller suggested that the reason why some hydropower stations have turned to mining cryptocurrency is that they have not received permission from government authorities and environmental protection agencies to connect to the power grid.
The Chinese government started tightening the screws on the mining industry in May as it ratchets up pressure on activities that may damage its broader
carbon neutrality goals
. In recent years, mining operations have sprouted up not only in hydropower-rich Sichuan but also in other areas with cheap electricity, such as Inner Mongolia and
Xinjiang
.
Beijing, meanwhile, has always taken a hard line against cryptocurrencies, regarding them as volatile, speculative and potentially destabilising. After reaching nearly US$64,000 by April 2021, bitcoin dropped sharply and was trading around US$34,000 on Monday.
Chinese miners have either suspended operations entirely or are making plans to move to North America or Central Asia, impacting bitcoin mining productivity worldwide.
Bitmain Technology Holding, one of the world's largest bitcoin mining machine makers, last week announced it would suspend global mining rig sales after second-hand hardware flooded the market.
Prices of
graphic cards,
one of the critical components in mining operations, have also plummeted from their peak in early May before the clean-up started. Graphic cards are used to provide extra processing power for hashing, the complex computations used to create more digital currency and verify transactions on blockchain.
BTCChina, which ran the first bitcoin exchange in China, said it has "completely exited from bitcoin-related businesses" in response to the Chinese government's tougher policies, and sold its stake in Singapore-registered bitcoin exchange ZG.com last week.