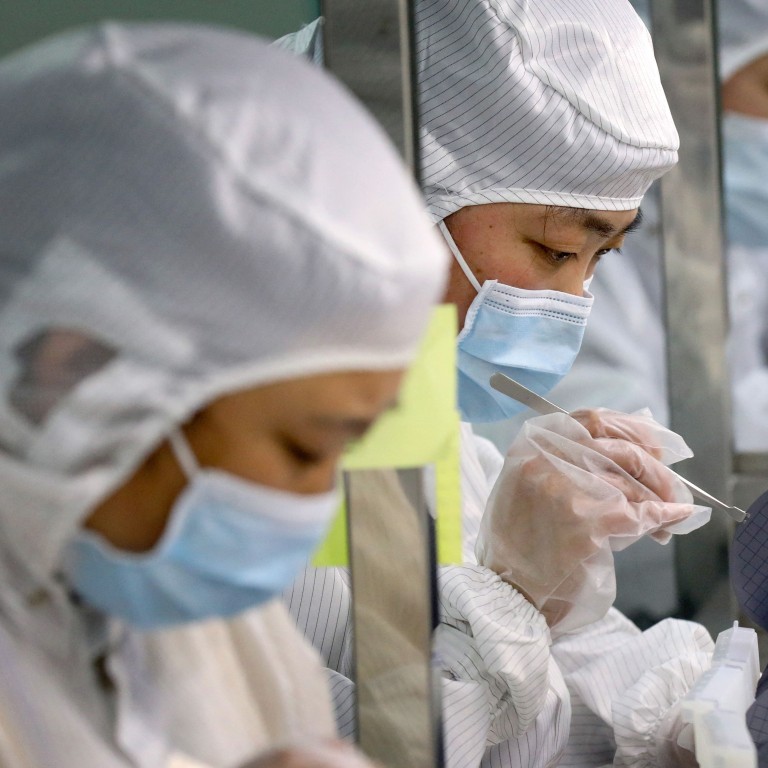 US-China tech war: China's investment binge on chip sector unabated as US commerce secretary urges lawmakers to approve funds for similar purpose
US Commerce Secretary Gina Raimondo urged approval for US$52 billion in funding for semiconductors as supply chain crunch continues
China pushes ahead with its chip sector investments, with latest figures showing local firms received US$6.2 billion in venture capital in January-May period
Investors from China's public and private sector are pouring money into the country's semiconductor industry in a bid to deliver on Beijing's goal of self sufficiency, while the US commerce secretary has urged American lawmakers to quickly approve funding for its own semiconductor industry.
During the first five months of this year, 164 Chinese firms in the chip sector received 40 billion yuan (US$6.2 billion) of private equity investment, an amount close to the full-year figure for 2020, according to a report released by law firm Katten Muchin Rosenman and semiconductor industry consultants JW Insights.
Chinese semiconductor firms raised a total of 140 billion yuan last year, with funding coming from the government, venture capital, debt financing and initial public offerings, according to the report. This included the 45.6 billion yuan raised in a Shanghai listing by the country's leading chip maker Semiconductor Manufacturing International Corporation (SMIC).
Although there are no official government figures tracking China's semiconductor investments, it is clear that the country is in the middle of an unprecedented chip-spending frenzy.
New integrated circuit (IC) projects are mushrooming in China, fuelled by a mix of public and private funding. The southern Chinese city of Guangzhou, for instance, gave the green light to funding for seven IC-related projects on Monday alone, including a "flip chip ball grid array" packaging plant by Shennan Circuits Company.
China's massive spending on chip-related projects, despite the risk of waste and failed projects, comes as Beijing is determined to increase the nation's self-reliance in semiconductors amid fierce technology rivalry with the US.
The Chinese government has been showering its chip sector with favourable policies, including tax cuts and subsidies, to encourage investment.
Meanwhile, the US has been pushing for more investment in the sector too, with US Commerce Secretary Gina Raimondo urging US lawmakers on Monday to move ahead with a US$52 billion allocation for the semiconductor industry, part of the sweeping US Innovation and Competition Act passed by the Senate earlier this month.
Raimondo appealed for the chip funding to be finalised before the US Congress goes into recess in August, as chip shortages continue to affect global supply chains, Reuters reported.
The US$52 billion initiative aims to boost American chip manufacturing capacity, as Washington seeks to reverse what it sees as the country's dangerous reliance on Chinese supply chains.
This article appeared in the South China Morning Post print edition as: China and US race to invest billions in their chip sectors