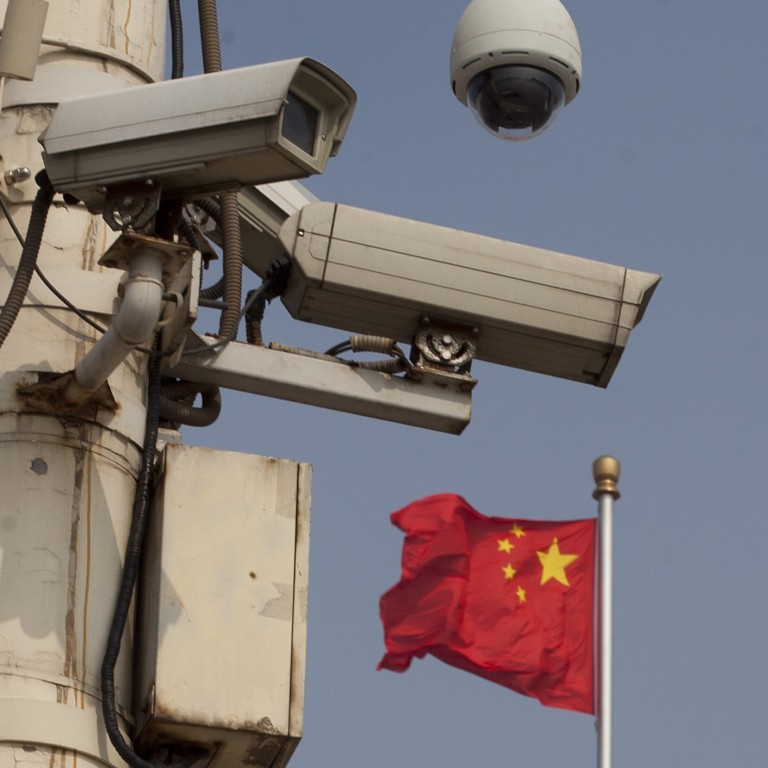 China's tech hub Shenzhen looks to restrict surveillance cameras in public spaces
Surveillance cameras in areas such as hotel rooms, hospital wards, dormitories, public bathrooms, and fitting rooms will be banned when the law passes
Draft law aims to better regulate public surveillance while also protecting the privacy and property rights of citizens
China's southern tech hub Shenzhen is discussing a law to regulate the scope of surveillance camera installations in public areas and the management of captured footage, making it the first region to address the issue in a country where facial recognition-enabled cameras are widely used.
Surveillance cameras in areas such as hotel rooms, hospital wards, dormitories, public bathrooms, and fitting rooms will be banned when the law passes, according to the latest draft of the law released for public opinions by the Shenzhen Municipal People's Congress on Monday.
The law, first outlined in draft form in March, gives a detailed list of locations and classifies them accordingly. For example, airports, subway stations, banks, museums, and malls are considered "important public spaces and facilities that involve public safety", and are required to install surveillance systems.
On the other hand, places like hospital wards, fitting rooms, and public nursing rooms are considered "facilities and areas that could breach the privacy of citizens", and are banned from installing surveillance cameras.
Areas not in either of these categories must only install surveillance systems to meet security needs, according to the draft law.
"There are some problems that stand out in the current planning, construction, and management of the city. For example, the scope of surveillance system installations and the parties responsible are not clear," a statement by the Shenzhen People's Congress said. "Some facilities should have installed systems but haven't and vice versa leading to problems of redundant installation."
The draft law aims to better regulate public surveillance while also protecting the privacy and property rights of citizens, according to the statement. The moves come as Beijing pushes to curtail the reach of technology amid increased digitalisation of the economy. For example, Beijing is also trying to establish
a data governance regime
that strikes a balance between strong government control, a healthy market for data and protection of consumer privacy.
The surveillance law also lists policies to regulate the management of footage collected by cameras. For example, groups or individuals responsible for maintaining the surveillance systems should not sell, modify, or spread the footage captured. When public authorities need to retrieve or copy certain surveillance footage for security purposes, there should always be more than two staff in attendance and strict registration procedures should be followed.
The law also outlines the legal responsibilities and behaviour required for publicly disseminating sensitive personal information without anonymisation. Any organisation found to be in violation of the rules could be fined between 200,000 yuan (US$31,000) and 1 million yuan, while individuals directly responsible for breaches could be fined between 10,000 yuan and 100,000 yuan.
If the law passes, Shenzhen will be the first region in China to introduce specific policies targeting the application of surveillance systems in the world's second-largest market for video surveillance cameras, just behind North America, according to a July report by research firm IDC.
Surveillance cameras, usually equipped with facial recognition technology, are widely used on streets, in shopping malls, and even in schools in China. The coronavirus pandemic accelerated this trend as local governments scrambled for ways to identify potential cases and maintain security. But the public has become increasingly concerned about privacy invasion.
Last November, a court in Zhejiang province issued a ruling in China's first facial recognition lawsuit, ordering a safari park in Hangzhou to delete the facial recognition data of a law professor who was visiting the park. Several Chinese cities, including Tianjin and Nanjing in eastern Jiangsu province, also issued policies in December aimed at tightening the regulation of personal information collection.
China's latest Personal Information Security Specifications, which took effect last October, provides more detailed rules on the collection and use of personal biometric information, including facial data. The country's first Civil Code, which took effect at the start of this year, also cover the handling of biometric data under provisions for the protection of personal privacy rights.
This article appeared in the South China Morning Post print edition as: Shenzhen readies law on use of surveillance cameras in public areas