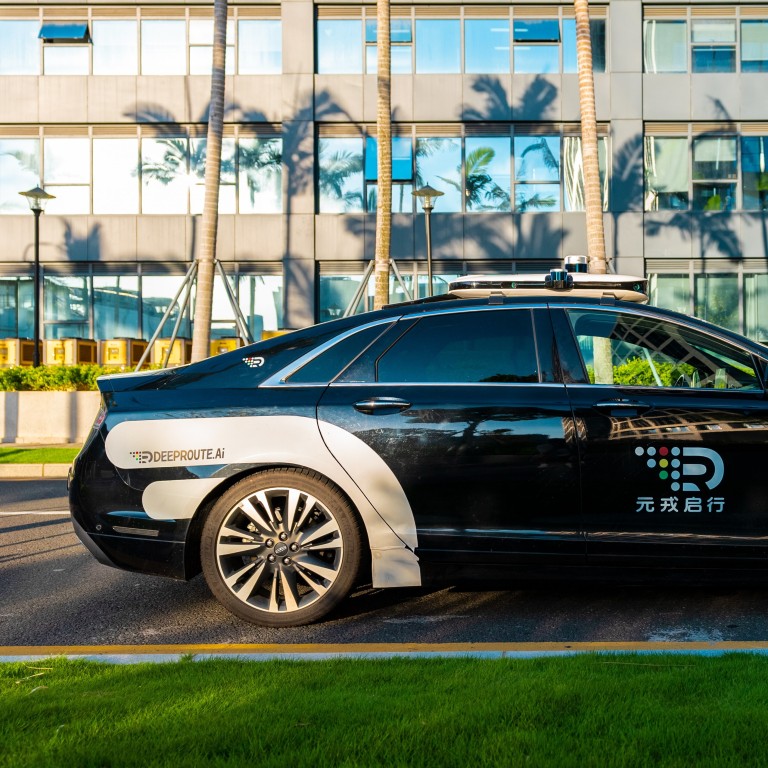 Shenzhen emerges as China's robotaxi capital as DeepRoute.ai opens public trials in tech hub
Self-driving start-up DeepRoute.ai, which was created in 2019, on Monday launched its robotaxi service to Shenzhen residents
The local legislature in Shenzhen is currently reviewing a draft of regulations on intelligent and connected vehicles
China's southern tech hub Shenzhen is emerging as the country's autonomous driving capital, backed by a growing fleet of robotaxis and an army of about 800 start-ups in the field – all blessed by a supportive government that is drafting local regulations for self-driving cars.
Self-driving start-up DeepRoute.ai, which was created in 2019, on Monday launched its robotaxi service to Shenzhen residents. A fleet of 20 self-driving cabs with safety drivers will start to take adult passengers, who have made online appointments, around the central business district in Futian.
DeepRoute.ai said in a statement that its service has received a permit to run trials, making it the first company to officially run a public robotaxi program in the city.
The company said its driverless taxi service is free of charge and open to adult users who apply for an invitation code. It has set up 100 designated pick-up and drop-off points, which includes landmarks in the area and vaccination centres, covering 124 miles of roads in Futian.
A South China Morning Post reporter applied for the service on Monday but had not received a code by 6pm. A company spokeswoman said the invite code could take up to seven working days to arrive and the company will gradually expand the number of users as it grows its fleet.
Chinese self-driving start-up AutoX announced in January 2021 that it had opened fully driverless robotaxi services to the public in the Pingshan area of Shenzhen. However, the trial sparked controversy and created headlines after the local Shenzhen government said it had not granted a permit to AutoX run a driverless service.
The local legislature in Shenzhen is currently reviewing a draft of regulations on intelligent and connected vehicles. The draft regulations are expected to cover the whole chain of autonomous driving development from road testing, operation permits, traffic accidents, handling of accidents and violations to dealing with legal liability.
Shenzhen's rules "will undoubtedly directly drive China's legislation in the field of autonomous cars", according to an April note by law firm King & Wood Mallesons.
"Shenzhen is clearly vying to be the first location in China where autonomous cars may realise commercialisation," lawyers Mark Schaub and Atticus Zhao wrote in the note.
China has about 4,000 companies connected to the autonomous driving sector, about 20 per cent of which are based in Shenzhen, according to Chinese corporate registration statistics on Tianyancha, a Chinese corporate registry data provider.
In Beijing, Chinese search and artificial intelligence giant Baidu launched a public robotaxi service last year, and started China's first paid robotaxi service in May in an enclosed area that will be one of the venues for the 2022 Winter Olympics. The service does not extend to the public streets of Beijing.
Xuan Liu, partner and vice-president at DeepRoute.ai, said the company has tested its self-driving vehicles in Shenzhen for more than two years, and plans to expand its operations gradually.