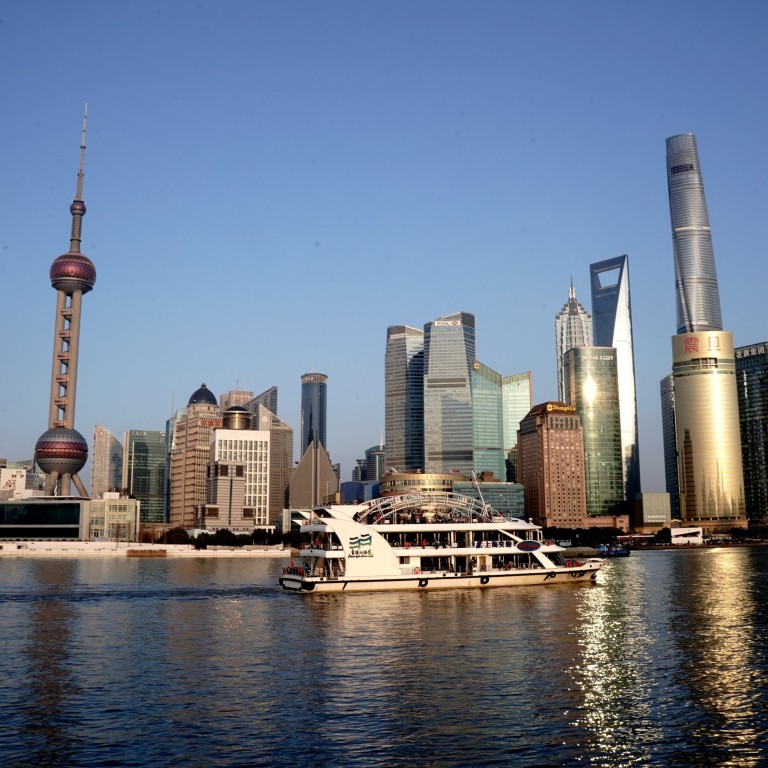 Shanghai wants to lead world in semiconductors, AI and electric cars, but plan to boost economy is light on detail
Companies are taking a wait-and-see approach to Shanghai's plan to supercharge strategic emerging industries, which does not have a budget attached to it
Plans for company perks look similar to those in other cities, but Shanghai remains a national leader in target industries
Shanghai is looking to take a greater role in China's drive towards technological self-sufficiency, but a new plan unveiled last Wednesday to spur development of emerging industries has scant details, leaving companies waiting to see how serious the city is about its hi-tech ambitions.
"The city's initiatives are digitalising and installing the future tools of industry and communications," said Cameron Johnson, an adjunct faculty instructor at New York University and partner at Shanghai-based management consultancy Tidal Wave Solutions. "This will contribute to the development of its smart cities initiatives [and] industrial integration."
Big on vision, but light on detail, the plan is a bid to boost GDP by attracting more hi-tech companies to complement the central government's own technological ambitions. Companies, however, are waiting to see exactly what kinds of incentives are on offer.
"What the professionals in the industry really care about is how much money the government or the state-owned enterprises can put on the table," said Bai Lei, a salesman at a Shanghai-based chip designer. Without knowing that, few companies in the semiconductor industry are giving the plan serious attention, he added.
According to a document the city published online, Shanghai plans to have its cutting-edge industries contribute to more than 20 per cent of its GDP by 2025, when it hopes to be home to more than 26,000 hi-tech companies. Such industries already made up 18.9 per cent of GDP in 2020, the document says.
The document also suggests the city has a strong lead in the country's hi-tech industries. The scale of its semiconductor industry – which include two of the country's largest, Semiconductor Manufacturing International Corporation (SMIC) and Shanghai Huahong Grace Semiconductor Manufacturing – accounted for 20 per cent of the country's total, according to the document, and the city is home to 1,150 "key AI companies".
Semiconductors have been a particular area of concern amid US sanctions that barred companies like SMIC from procuring chips produced using US-origin technology. This has led the central government to call on companies to help fortify the domestic chip industry, and Shanghai has responded.
The plan mentions integrated circuits 40 times, just four fewer mentions than AI. The Shanghai government hopes to support its chip giants with stable revenues large enough for them to join the ranks of leading global rivals.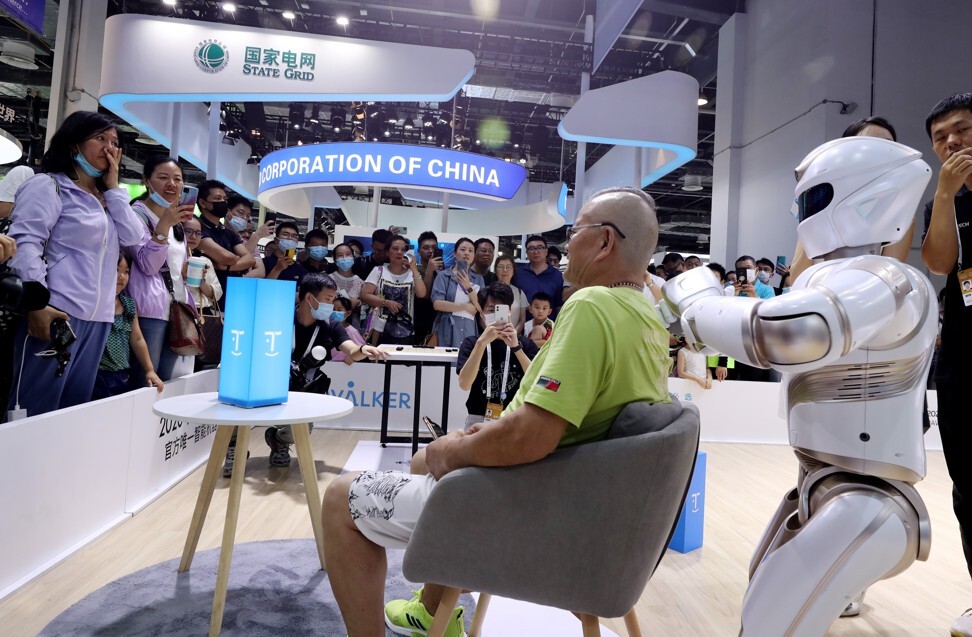 AI has also been a hot topic in Shanghai in recent years. The municipal government started the
World Artificial Intelligence Conference
with a number of national ministries and industry groups. At the
fourth annual conference
, which concluded earlier this month, the city's top official Li Qiang said Shanghai will become an AI "highland" with global influence.
The city already has multiple policies in place to support the industry. The Zhangjiang Hi-Tech Park, for example, issues grants to fast-growing AI companies worth up to 10 per cent of their annual research and development costs if R&D exceeds 5 million yuan (US$772,800) per year. Shanghai also initiated an "AI industry investment fund" that will eventually grow to 100 billion yuan.
The city is emphasising the growth of its EV industry, as well, which had output worth 66.4 billion yuan in 2020, according to the city's bureau of statistics. Shanghai hopes output will quintuple to more than 350 billion yuan by 2025.
"As one of China's manufacturing hubs for vehicles, Shanghai will play a pioneering role in EV development and sales," said Gao Shen, an independent analyst in Shanghai. "The growth of Shanghai's EV industry is set to outpace the national average. More importantly, city officials are expecting a group of national or international industry leaders to help buoy the local economy."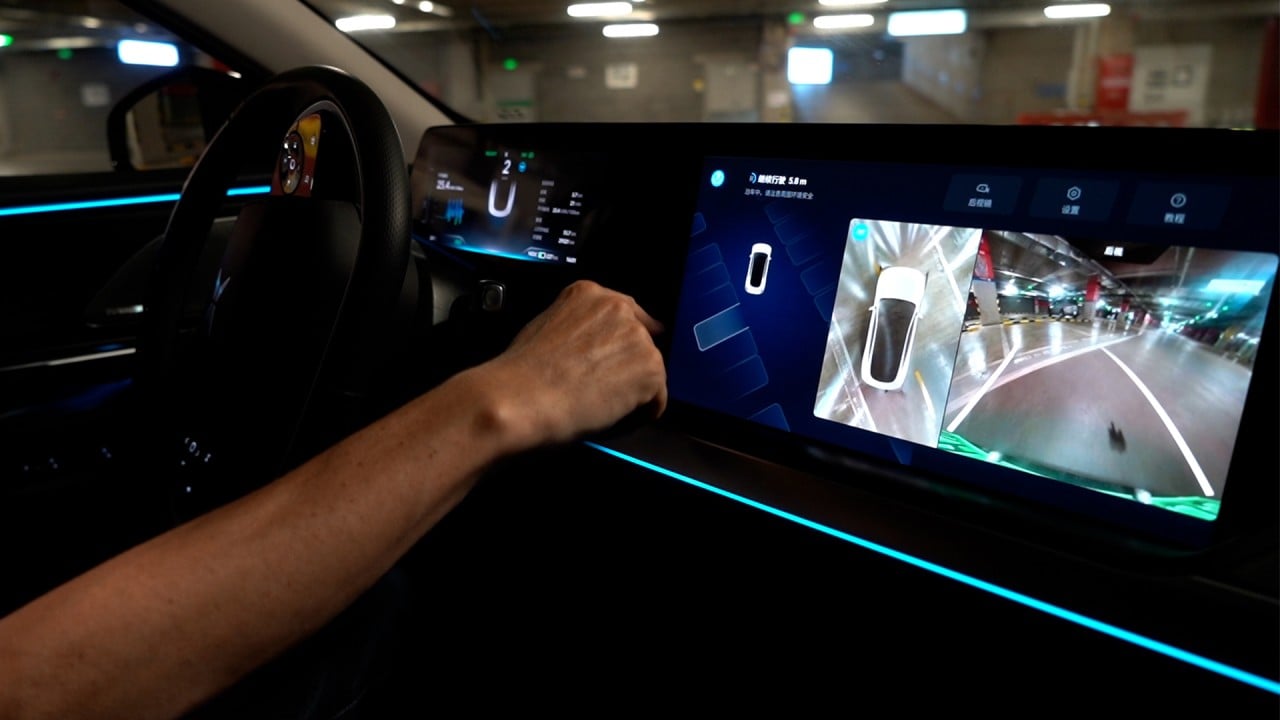 02:18
Chinese XPeng electric car can drive and park by itself
Chinese XPeng electric car can drive and park by itself
Shanghai is home to a raft of leading domestic car companies, including SAIC Motor, the mainland's bellwether smart EV start-up
NIO
, and Jidu Auto, the electric vehicle venture formed by
Baidu
and
Geely
. The local industry is also attracting international investment. Tesla's first Gigafactory outside the US is located in Shanghai, and General Motors and Volkswagen both have ventures based there.
Shanghai wants high-end equipment manufacturing to reach 300 billion yuan by 2025, pushing ahead of the country's southern manufacturing hub of Shenzhen.
"Shanghai has always been an important manufacturing centre," said Victor Gao, a chair professor at Soochow University. "Shanghai's strategy is to leverage its very strong manufacturing base and upgrade it into the digital economy."
"While there might be a few initiatives that overlap [between Shanghai and Shenzhen], they are actually complementary and give breathing room for each city to grow and develop world-leading technological ecosystems," said Tidal Wave Solutions' Johnson.
Still, for Shanghai's vision to become a reality, it needs to convince businesses to invest more in the city.
Henry Hu, a sales director at a six-year-old robotics and automation start-up with R&D offices in Beijing and manufacturing in Shandong province, said his company is looking to expand to other cities, but it is prioritising places that offer more generous benefits.
"Shanghai's plan looks very similar to what other local governments have proposed," Hu said. "We will wait and see."
Additional reporting by Che Pan and Cissy Zhou
This article appeared in the South China Morning Post print edition as: Shanghai sets out its vision of hi-tech future