Stocks
Get more with myNEWS
A personalised news feed of stories that matter to you
Learn more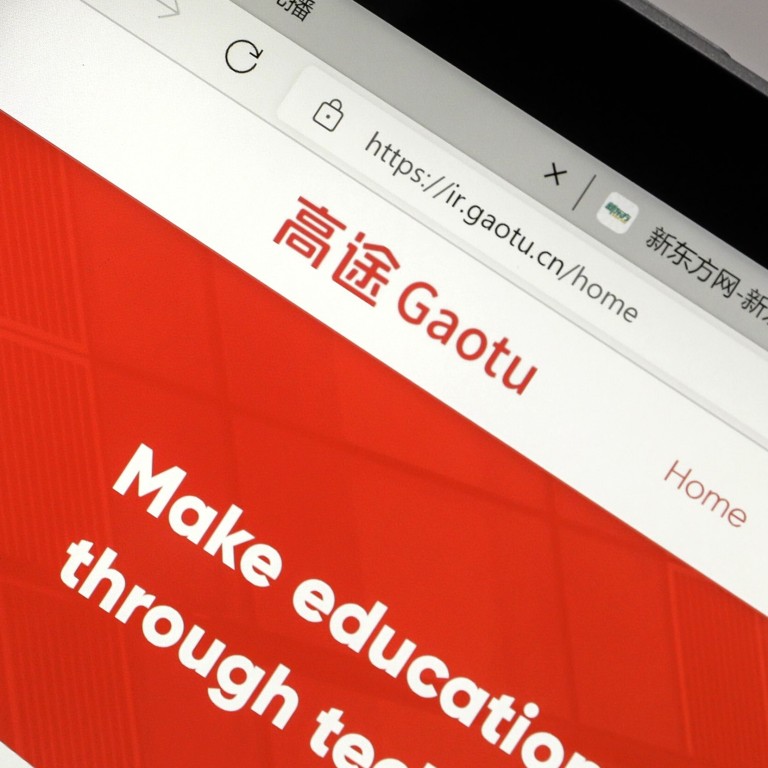 Chinese tech stocks: Gaotu serves as a cautionary tale in Beijing's private education crackdown
The stock price for Gaotu, formerly GSX Techedu, has dropped this year to US$2.50 from US$149 amid controversies, fines and new regulations
Beijing's ban on profits for K-12 private online tutoring firms has upended the industry, causing a sell-off that has spread to other Chinese tech stocks
Gaotu Group, a Beijing-based education and training firm, has seen its New York stock price plummet to US$2.50 from US$149 in the span of just six months, exemplifying the vulnerability of Chinese stocks to regulatory risks in the wake of the latest crackdown that has upended the country's private tutoring market.
Gaotu, formerly GSX Techedu, was among the hardest hit in a
regulatory overhaul initiated last week by Beijing
, which has banned profits at tutoring firms catering to schoolchildren, along with other Chinese education stocks such as TAL Education Group and New Oriental Education & Technology Group.
The policy change from China's Ministry of Education has negated the industry's business model and destroyed prospects for future profits, triggering panic selling from investors.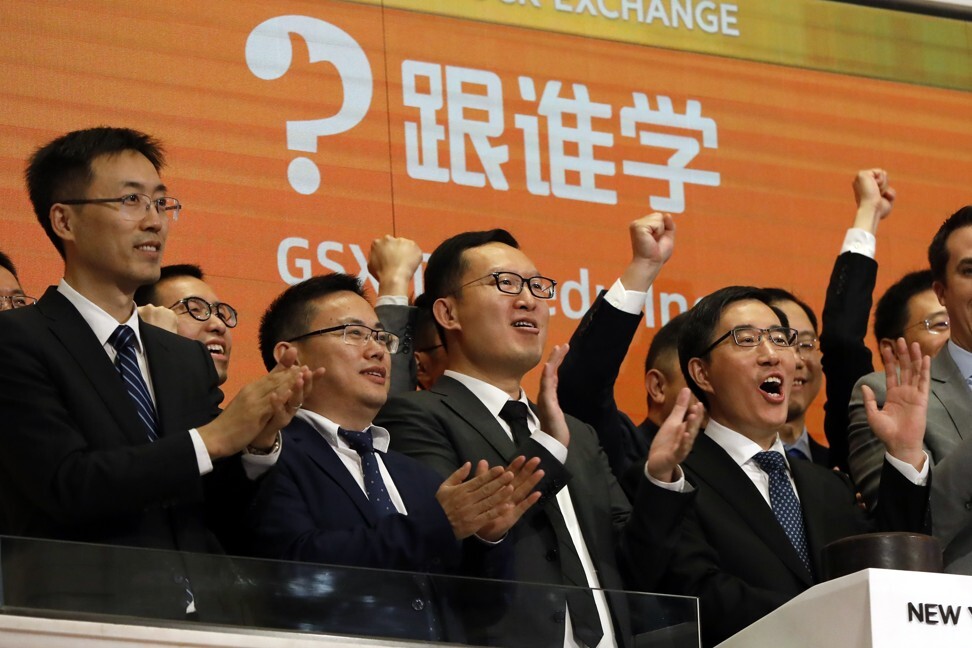 The sell-off also spread to other Chinese technology stocks. In Hong Kong, stocks sank to an eight-month low on Tuesday, with Tencent and Meituan, two of the exchange's biggest tech stocks, losing roughly 18 per cent and 30 per cent of their value, respectively, from their closing prices on Thursday after news of the policy change broke the following day.
Investors continued to dump their holdings on Monday and Tuesday to avoid the growing risks from China's regulatory rampage.
Ernan Cui, an analyst with research firm Gavekal, wrote in a note that China's government has now shown that "it is not afraid to simply shut down a large and profitable industry in order to achieve its social and political goals".
"That's a lesson with sobering implications for all of the internet firms that in recent months have been dealing with stepped-up official scrutiny over antitrust and cybersecurity," Cui wrote.
Catherine Lim, an analyst at Bloomberg Intelligence, said Gaotu's business model "will undergo a complete overhaul without the means to make money in the foreseeable future".
For now, the industry has no remedy on the horizon and little chance for recourse. After the government published the policy change, Gaotu issued a statement praising the determination of Chinese authorities to ease homework and after-school study hours for students.
"As a social education institution, Gaotu resolutely adheres to the 'double reduction' order, and it dedicates itself to helping families, schools and the government in forming synergy in an effort to cultivate well-rounded contributors and successors to the socialist cause, and we will become a healthy complement to socialist education," the company said a statement.
GSX, started by Chinese entrepreneur Larry Chen in 2014, has gone through highs and lows since its US$200 million initial public offering on the New York Stock Exchange in June 2019.
Its prospectus showed a booming business in a promising market: Gaotu posted a profit of about 20 million yuan (US$2.9 million) in 2018, up 307 per cent from the previous year. Profits jumped another 432 per cent in 2019, the company reported.
The industry's current trouble also presents a new type of challenge to a company that has survived two stock routs this year. Starting in February, short sellers including Citron Research and Muddy Waters accused Gaotu of accounting fraud, which the company denied. Gaotu weathered another sell-off as part of the
holdings of collapsed investment house Archegos Capital Management
, the family office of Tiger Asia Management founder Bill Hwang Sung-kook
However, none of these events inflicted the kind of damage the company has now sustained from Beijing's latest policy shift.
Wang Teng, a former government relations executive at Gaotu, was quoted by Chinese online media outlet Rancaijing as saying that he decided to quit his job after he foresaw a regulatory storm brewing that "could change the sky of the whole industry".
After working at Gaotu for three years, he continued buying the company's stock since May, according to Rancaijing, resulting in the loss of 95 per cent of his investments, which included money he was saving for his wedding.
Even before Beijing completely banned profit in K-12 private tutoring, authorities had been tightening their grip on the market.
As a result, Gaotu has been pivoting towards adult education, forming Gaotu Academy specifically to deliver adult courses. Revenue from such courses rose to 123 million yuan (US$18.9 million) in the first quarter, accounting for 6 per cent of the company's total revenue.
This article appeared in the South China Morning Post print edition as: Education company's fall amid crackdown