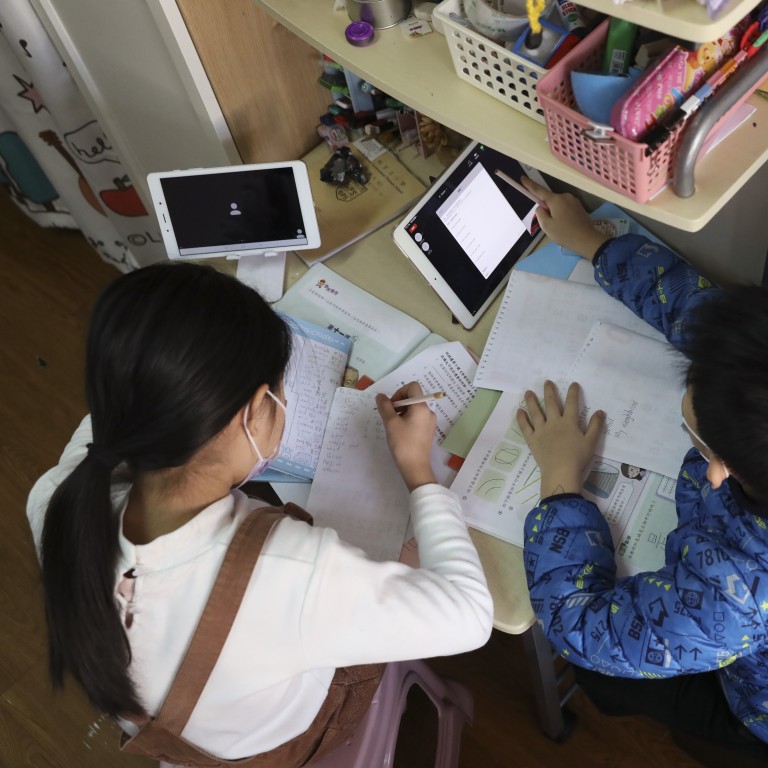 China's private education industry scrambles for pivot now that class has been dismissed
The pain for those who work in the industry has been harsh as online education was one of many industries that boomed during the pandemic
Beijing's education overhaul has sent dozens of publicly-listed stocks tumbling and come as a shock for thousands of teachers and students
Just hours before Jessica was fired last Friday she was holding an online course with her students.
The English teacher, who worked for Shanghai-based Zhangmen Education Inc, had heard rumours about impending lay-offs after Beijing published a policy late July to ban profits in the off-campus tutoring industry for primary and secondary school students, but the speed of her dismissal still came as a surprise.
Jessica, who requested that her surname be withheld for this article, gave two courses as usual on Friday but sensed during her lunch break that something was about to happen after she saw many colleagues speaking in hushed tones. In the event, she was sacked in around 10 minutes.
"No compensation, no official announcements or any response from the management," said Jessica. "No one cared about the remaining courses and how to deal with the students. Many departments were dismissed in an instant, leaving behind a mess."
Jessica is among many teachers to lose their jobs after the latest crackdown by Beijing on private tutoring, as the country's leadership takes a hard line on profiting from education. The pain for those who work in the industry has been harsh though, as online education was one of many industries that boomed during the pandemic and associated lockdowns.
In the first 10 months of 2020, the number of online education enterprises in China increased by 82,000, accounting for 17.3 per cent of the entire education industry, according to a February report published by the China Internet Network Information Centre, an agency under the Ministry of Industry and Information Technology.
The online education industry also disclosed a total of 89 financing deals, with the total amount raised amounting to 38.8 billion yuan (US$6 billion) between January and the end of November 2020, as private venture investors rushed into the sector.
Zhangmen was once a promising employer. Located in Hailun Center in Hongkou district in Shanghai, Zhangmen's headquarters occupied five floors of the building. Focusing on providing personalised online courses to students from kindergarten to high school, the company had over 45,000 tutors across China as of the end of March. The number of paying students for its online one-on-one after-school tutoring services reached over 544,000 in 2020.
The company raised a total of US$41.7 million in a US initial public offering on June 8. But everything has now changed after Beijing cut the ground from beneath the industry overnight.
Profits have been banned, foreign teachers are prohibited and companies that operate online education platforms will no longer be allowed to raise capital, according to China's new rules released in July.
Ernan Cui, China consumer analyst at Gavekal, wrote in a note that China's government has shown that "it is not afraid to simply shut down a large and profitable industry in order to achieve its social and political goals".
Many companies have been affected. Beijing-based Gaotu Group, formerly known as GSX Techedu, has also informed employees of imminent lay-offs.
"There is only one core motivation of us making such a difficult decision, and that is to survive," Gaotu's founder Chen Xiangdong said in an internal letter on Friday night. "If we do not reform and make changes, do not make adjustments and narrow our focus, we will speed up our end. If our reforms and changes can quickly be put in place, then the cash on our balance sheet will be enough for us to live for three to five years."
The authenticity of the letter was confirmed by a Gaotu employee who declined to be named due to the sensitivity of the matter. The employee added that New York-listed Gaotu will close 10 out of its 13 education centres across the country. Another New York-listed education company, TAL education, is also going to cut jobs, according to a report by Chinese media outlet Latepost.
Zhangmen, Gaotu and TAL did not immediately reply to a request for comment on Monday.
While Beijing's education overhaul has sent dozens of publicly-listed stocks tumbling in Shanghai, Hong Kong and New York – with an estimated 76 per cent collapse in China's private tutoring market according to analysts at Goldman Sachs – it also has devastating ramifications for hundreds of thousands of teachers and students in China.
"The move will drive out many for-profit education providers but will do little to ease the burdens on children and the anxieties of their parents," said Christina Zhu, an economist at Moody's Analytics. "The entrenched belief that getting a good university degree is the only route to success will keep pushing parents to seek tutoring resources, as long as the system for assessment of academic performance and college admission remains unchanged."
For 39-year old Ding Xiaojuan, who works at a senior high school with her husband in Enshi in central China's Hubei province, Beijing's overhaul has been a setback. Ding is a biology teacher and her husband a maths teacher and they are very happy to pay for online courses for their 11 year-old son. Their son, who is in sixth grade, has been taking Chinese courses on Xueersi Peiyou, an online tutoring platform under TAL for three years now, and the annual expense runs at about 5,000 yuan.
"It's totally affordable for a common family in a small city," Ding said. "The biggest advantage is that the teachers are really good and many of them graduated from Peking University and even have PhD degrees. We cannot have such good teachers in a small city like Enshi."
A number of Chinese firms have pledged to transform their businesses to focus only on adult education or vocational training, but the jury is out on whether they can make this turnaround.
Meanwhile Jessica, though she has education degrees and years of experience, has decided against finding another job in the online education industry. She has lowered her salary expectations and is trying to find a job in the publication industry.
"Life is really hard for me," she said.