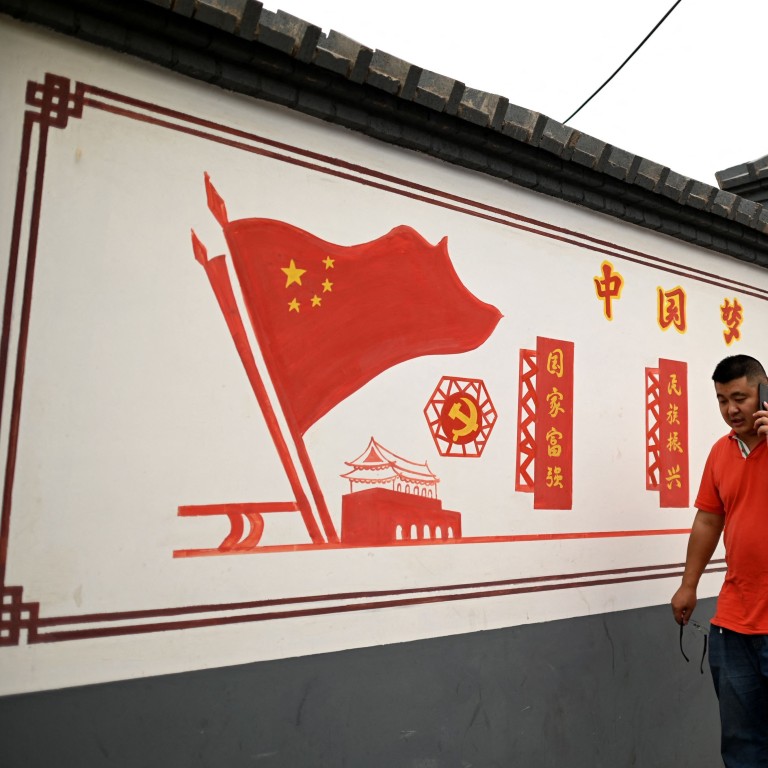 China's top propaganda agencies want to limit the role of algorithms in distributing online content
The policy guidelines mark the latest effort by Beijing to align online content with the state's agenda and to rein in the role of capital and technology
The policy guidelines also stress that China will 'improve the standards of literary and art criticism' and 'put social value first'
China's top state propaganda organs, which decide what people can read and watch in the country, have jointly urged better "culture and art reviews" in China partly by limiting the role of algorithms in content distribution, a policy move that could translate into higher compliance costs for online content providers such as ByteDance and Tencent Holdings.
The policy guidelines from the Central Propaganda Department of the Communist Party, the Ministry of Culture and Tourism and the State Administration of Radio and Television as well as the China Federation of Literary and Art Circles and Chinese Writers Association, the two state-backed bodies for state-approved artists and authors, mark the latest effort by Beijing to align online content with the state's agenda and to rein in the role of capital and technology in shaping the country's minds and mainstream views.
The guidelines come at a time when technology and algorithms are increasingly important factors in deciding what Chinese people view and enjoy online, with tech giants like ByteDance applying sophisticated algorithms to recommend content to hundreds of millions of users. The Beijing-based operator of global short-video sharing app TikTok and its mainland version Douyin, has managed to accumulate over 600 million daily active users for Douyin in just a decade from humble beginnings, feeding short video clips to viewers according to their preferences and user data.
The power of technology in guiding people's attention, however, is not necessarily a good thing for China's state content creators and propagandists as their work can easily lose relevance in cyberspace. The hottest items on Chinese social media platform Weibo, for example, are often about the personal affairs and scandals involving China's movie stars, instead of "culture and art review" works that the authority would prefer to promote to boost loyalty and state recognition among the public.
According to a summary by state news agency Xinhua, the new policy guidelines are aimed at correcting these issues. Under the guidelines, all Chinese content creators and distributors are told to "adhere to the correct direction, strengthen Marxist literary theory and criticism, and pay attention to the social effects of literary criticism … and not to contribute to the spread of low, vulgar and pandering content or quasi-entertainment content".
The policy document – the full text of which has not been published yet – also stressed that China will "improve the standards of literary and art criticism" and "put social value first". "We can't become slaves of online traffic or let commercial standards trump artistic ones," Xinhua added in its summary.
The state propaganda agencies pledged to have deeper involvement with new media platforms to launch more "micro reviews, short reviews, snap reviews and all-media reviews" as a way to increase their interaction with audiences. China will "strengthen research and guidance of cyberspace algorithms, impose comprehensive governance of cyberspace algorithm recommendations, and not provide channels for dissemination of erroneous content."
While it remains to be seen how the details of the new guidelines will affect the operations of online content providers, the announcement sends a clear message that stricter controls are on the way.
In 2018 ByteDance was ordered to close its popular app Neihan Duanzi, which united strangers around funny memes, after it was criticised for hosting vulgar content. Following the closure of the app, which had 200 million users, ByteDance founder Zhang Yiming made a public apology and hired thousands of content reviewers to filter out unhealthy content.
Beijing showed its disdain for aberrant online communities this week after the Cyberspace Administration of China (CAC), the internet watchdog, cleaned up 150,000 instances of harmful content and punished more than 4,000 accounts related to fan clubs, or online communities formed around celebrities, according to a separate report on Tuesday by Xinhua.
This article appeared in the South China Morning Post print edition as: Algorithms to face limits on what content they can distribute online to users