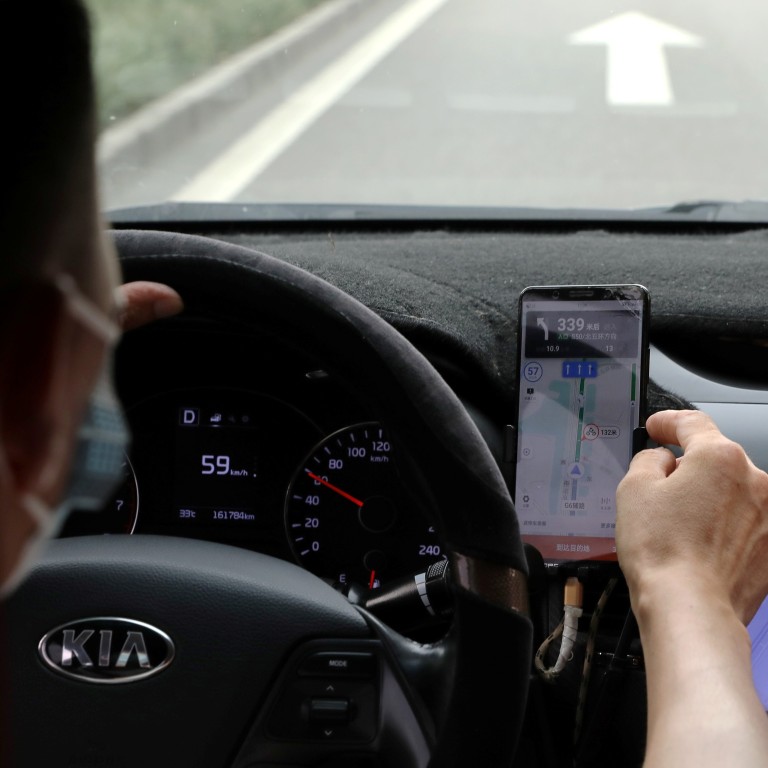 China targets unlicensed ride-hailing drivers and vehicles amid Didi investigation
The Ministry of Transport orders local authorities to enforce driver and vehicle licensing requirements on ride-hailing platforms
Efforts by rivals of market leader Didi Chuxing to attract new drivers have attracted government scrutiny
China's Ministry of Transport, the country's key ride-hailing regulator, warned platforms not to sign on drivers or vehicles that are unlicensed, in Beijing's latest attempt to regulate a sector that has seen smaller players jostling for market share after Didi Chuxing was banned from registering news users and drivers.
The regulator, one of seven ministerial bodies involved in a cybersecurity investigation into Didi, published a statement on Wednesday asking local transport departments to "strengthen supervision" and "intensify crackdown" on irregular operations carried out by ride-hailing platforms. Authorities were urged to clamp down on unlicensed drivers and vehicles.
China implements strict control on traditional taxi services, demanding both vehicles and drivers to be licensed. While many municipal authorities impose the same requirements on online ride-hailing services, enforcement has proven to be difficult since anyone can easily sign up as drivers through ride-hailing apps.
Didi, with 493 million annual active users globally and 13 million active drivers in China, controls roughly 90 per cent of the country's ride-hailing market. However, only a third of the company's vehicles and half of its drivers met licensing requirements as of July, according to data from the Ministry of Transport. None of China's top 17 ride-hailing platforms achieved full compliance.
Efforts by companies to entice new drivers, however, have drawn government scrutiny.
In a statement published on Tuesday, the Ministry of Transport said it found that some ride-hailing platforms have been recruiting unlicensed drivers and vehicles, or inducing them to sign up – actions that the regulator said are disrupting market order. The ministry announced it would publicise the licensing compliance status of ride-hailing platforms in 36 core cities every month starting September.
This article appeared in the South China Morning Post print edition as: warning on unlicensed drivers amid Didi probe