State media warn of 'huge bubble' in NFT as cryptocurrencies lose steam in China
An article in a sister paper of People's Daily has become the latest state media outlet to question the prospect of non-fungible tokens
NFTs, built on blockchain, have so far been tolerated in China, where the mining and trading of cryptocurrencies are banned
A Chinese state-run newspaper has warned of a "huge bubble" in non-fungible tokens, or NFTs, just as the country's Big Tech companies – including Tencent Holdings and Alibaba Group Holding – have started to test the water this new digital asset market.
The article published on Friday by the Securities Times, supervised by the Chinese Communist Party mouthpiece People's Daily, said that "it is common sense that there is a huge bubble in NFT transactions" and that "many buyers only focus on NFT as a format instead of the artwork or asset itself".
"Once market enthusiasm wanes and the hype cools, the value of these many strange NFTs will greatly decrease," wrote author Wang Junhui, a staff reporter.
The article in
Securities Times
cited the record-breaking sale of digital photo collage
Everydays: The First 5000 Days
at US$69.3 million in March, along with
Chinese crypto entrepreneur Justin Sun
's purchase of a digital avatar last week for US$10.5 million, as evidence of an overheated NFT market.
Collage creator Beeple, whose real name is Mike Winkelmann, told Fox News in March that he believed the prices of NFT art have been inflated, but the underpinning technology is still valuable.
"I absolutely think [NFT art is] a bubble, to be quite honest. I go back to the analogy of the beginning of the internet. There was a bubble. And the bubble burst," he said. "But it didn't wipe out the internet. And so the technology itself is strong enough where I think it's going to outlive that."
Besides Securities Times, other Chinese state media outlets have also questioned the prospect of NFTs. A People's Daily online article in June said the NFT market "can be hyped up, leading to chaos, while decentralisation may lead to security concerns".
China Business Journal – a publication under China's top think tank, the Chinese Academy of Social Sciences – said in April that the popularity of NFTs may revive initial coin offering (ICO), a form of crowdsourced fundraising using cryptocurrencies. Coin offerings have been banned in China since 2017.
NFTs are supported by blockchain, the same technology underpinning cryptocurrencies such as bitcoin and ether.
But while NFTs have so far evaded scrutiny by the Chinese government, the mining and trading of cryptocurrencies have
come under an intense crackdown
this year – a marked change from a decade ago when authorities tolerated cryptocurrencies as an alternative form of investment for individuals.
Beijing regards cryptocurrencies as a potential threat to the country's financial stability. It has prohibited banks and payment institutions from supporting bitcoin transactions since 2013, and in 2017 outlawed ICO and cryptocurrency exchanges. In May this year, the State Council's Financial Stability and Development Committee, chaired by Vice-Premier Liu He, announced a further crackdown on bitcoin mining and trading.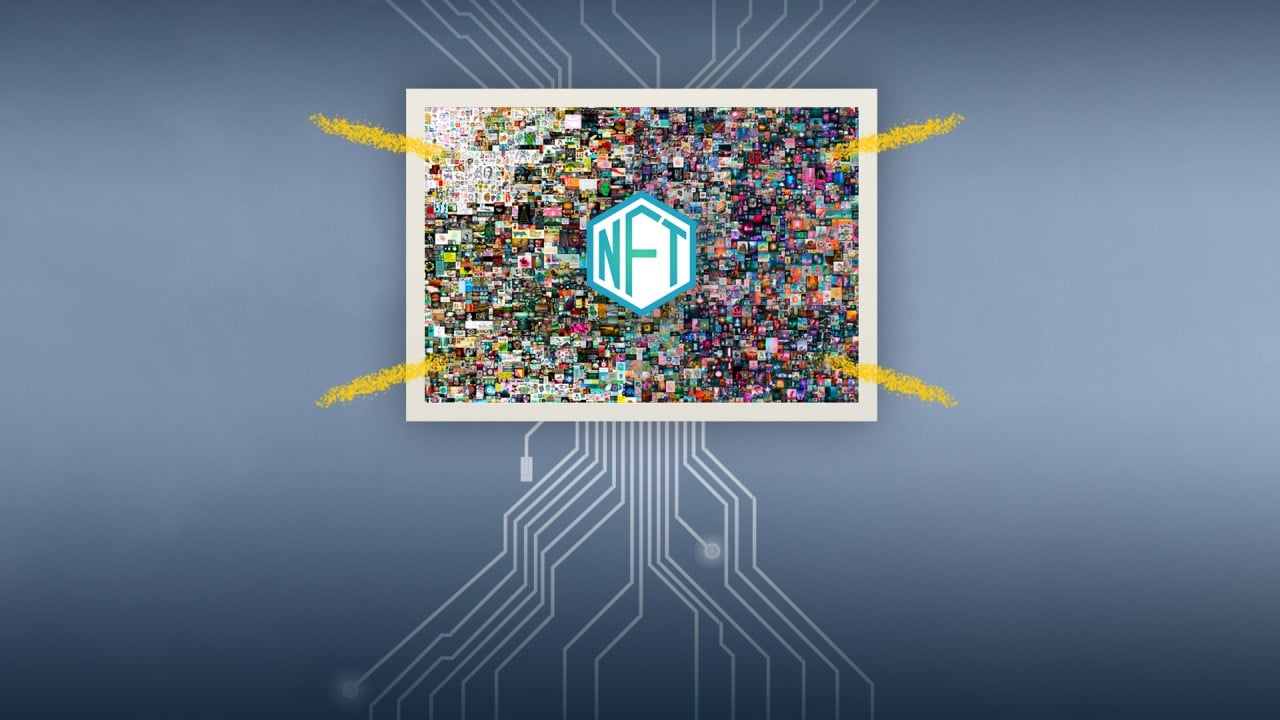 05:15
SCMP Explains: What are NFTs?
SCMP Explains: What are NFTs?
Experts indicated that NFTs are still tolerated in China.
NFT, "if legally bought, is protected by China's law", wrote a group of lawyers from Beijing-based Tian Yuan Law Firm recently, citing the Civil Code and a 2020 regulation handed down by the Supreme Court and the National Reform and Development Commission that vowed to protect rights in the digital era, such as the ownership of virtual assets.
Amid a global NFT frenzy, Chinese tech giants have begun to experiment with digital assets.
Tencent rolled out its NFT trading platform Huanhe last month and said it would release digital collections on its streaming platform QQ Music. In June, Alibaba's financial-technology affiliate Ant Group put up two NFT-backed images for sale via its digital wallet app Alipay. The company stressed that NFTs and cryptocurrencies are two different things.
Unlike their overseas counterparts, which accept payment for NFTs by cryptocurrencies, Chinese sellers only take renminbi, and once bought, the NFTs cannot be resold.
This article appeared in the South China Morning Post print edition as: Warnings mount over 'huge bubble' amid NFT frenzy