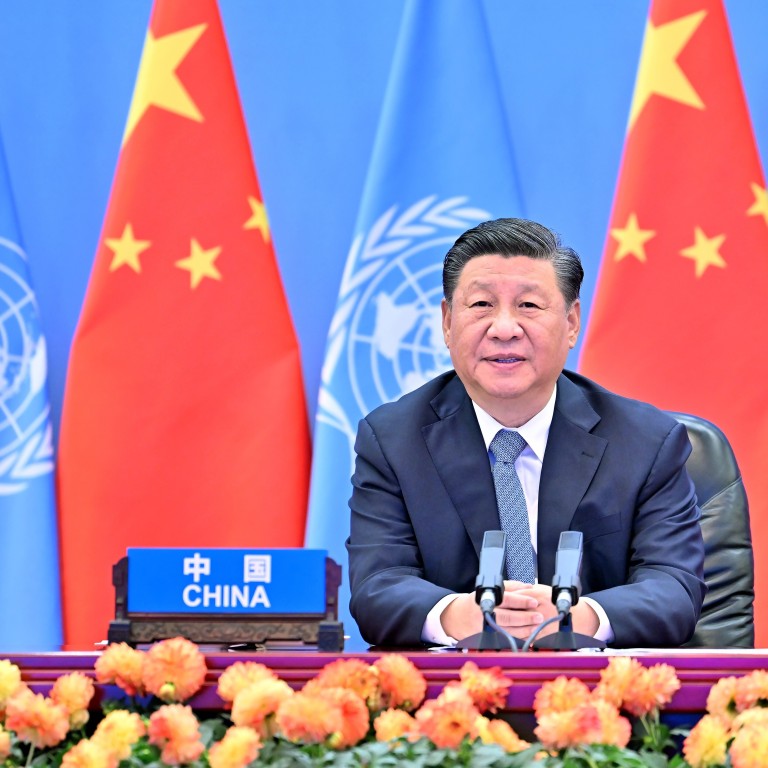 Xi calls for smarter regulation of digital economy and highlights its key role in future national development
According to Xi, the digital economy is vital for China to form a new 'development pattern' and 'modern economic system'
Xi said that China has unique advantages, including its socialism system, a 'whole country approach' and vast market size
China must embrace the digital economy to facilitate the country's development and strike a balance between "regulation and promotion" of the tech sector, President Xi Jinping said.
The comments by Xi, which were made at a Politburo meeting on Tuesday and published by state news agency Xinhua, showcased Beijing's desire to use the internet, big data, cloud computing and artificial intelligence to chart the country's economic future despite a regulatory storm over Big Tech that has wiped more than US$1 trillion in value from Chinese technology stocks.
"Developing the digital economy is a strategic choice [for China] to grasp the new round of a technology revolution and new opportunities in industrial upgrading," said Xi. As such, the ruling Communist Party must "get a handle on the digital economy's development trends and patterns" and push for "healthy development" of the country's digital economy, said Xi, as reported by Xinhua.
According to Xi, the digital economy is vital for China to form a new "development pattern" and "modern economic system", and it is essential for China to forge "new advantages in national competition".
The summary of Xi's speech did not directly mention China's technology rivalry with the US, but Xi said that China has its unique advantages, including its socialism system, a "whole country approach", and its vast market size, to "take autonomy of the digital economy firmly in our own hands".
In addition, Xi said China can be proactive in "international digital economy cooperation" to put "China solutions" on the table and to make "China voices" heard. Xi did not elaborate further on this area.
China has to enhance research of core technologies to achieve self-sufficiency, speed up the building of new infrastructure, and use the internet to transform and develop the traditional economy, the Chinese leader said. Xi's comments here were a reiteration of his long-held view that China must improve on "hard technologies".
Alibaba Group Holding, the owner of the South China Morning Post, this week won praise from the People's Daily, the Chinese Communist Party's mouthpiece, for developing an in-house CPU chip. Meanwhile, the government has continued to push for greater domestic semiconductor capabilities.
At the same time, the government needs to maintain tougher and smarter regulation of the digital economy, according to Xi. He reiterated many of the points that Beijing has made over the past year, including curbing the "disorderly expansion of capital," blocking platform monopolies and curbing anti-competitive behaviours, but Xi also asked the government to refine its governance framework for the digital economy.
For example, the government needs to improve its regulation techniques and methods, and apply supervision and governance across the innovation, manufacturing, operations and investment processes. It should improve theoretical research on the digital economy, and "actively participate" in international cooperation and discussion in the field, Xi said.
In China's 14th five-year plan released in March this year, Beijing wants the digital economy to play a bigger role in the country's national development. It aims to have the digital economy account for 10 per cent of China's gross domestic product (GDP) by 2025, up from 7.8 per cent in 2020.
Xi's latest comments come after a near-continuous regulatory campaign targeting the country's tech giants since last winter, when Xi first ordered government bodies to curb the "disorderly expansion of capital" at a central economic planning meeting. It was listed as one of the government's eight most important economic tasks for 2021, along with strengthening technological innovation, boosting domestic demand and pursuing carbon neutrality.
A wide range of government bodies have been involved in drafting new regulations and initiating campaigns designed to clip the wings of Big Tech. This has included revoking approval for fintech giant Ant Group to go public, antitrust probes into delivery giant Meituan and e-commerce giant Alibaba, a cybersecurity probe into ride-hailing giant Didi Chuxing, and ordering the video gaming industry to curtail gaming time for minors.
This article appeared in the South China Morning Post print edition as: Xi highlights role of digital economy