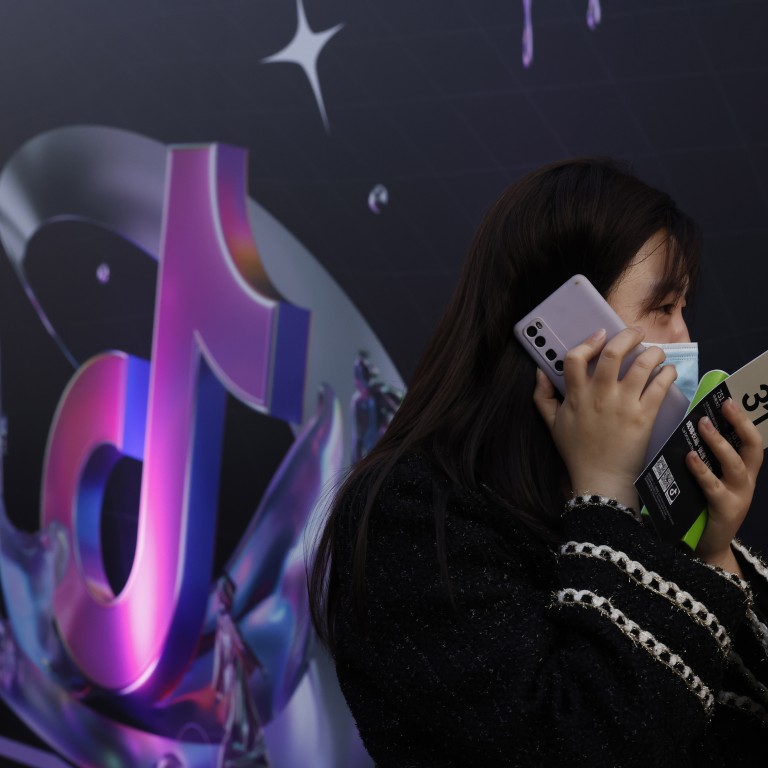 TikTok's China sibling Douyin launches mandatory five-second pauses in video feed to curb user addiction
Douyin, the Chinese version of short video-sharing app TikTok, is forcing users to take a break after long viewing sessions
The Chinese government has become increasingly concerned over the amount of time young internet users are spending on algorithm-driven content
TikTok is known for keeping its users glued to the screen with an endless stream of bite-sized videos, but its Chinese sister app Douyin is trying to curb binge-viewing by inserting five-second pauses along the feed, following the Chinese government's heightened scrutiny of addictive online behaviour.
Douyin will now hijack the screen with one of six short videos produced in partnership with Chinese band Phoenix Legend whenever a user spends too much time on the app, according to a social media post by ByteDance-owned Douyin on Thursday.
The pause is mandatory, while the videos – which remind users to "put down the phone", "go to bed" or of "work tomorrow" – cannot be swiped away.
The new feature is designed to encourage users not to indulge in the app for a long time, according to Douyin, which has more than 600 million daily active users in China.
"The world is very big, its scenery is beautiful, and there are many videos," Douyin said. "If you have conversations or videos that you can't finish today, leave them until tomorrow."
Douyin's new initiative comes after the app last month rolled out its "strictest ever" teenage mode, which limits viewing time for real-name authenticated users under age 14 to 40 minutes a day, only between 6am and 10pm.
Chinese authorities have become increasingly uncomfortable with the amount of time that young internet users are spending on algorithm-driven content. In China, internet users spent an average of 125 minutes a day on short videos in 2020, a hefty increase from 76 minutes in 2017, according to a survey by China Netcasting Services Association published in July.
In September, the government unveiled
a three-year plan to rein in the use of algorithms
, reiterating the need for online platforms to regulate the content they host – a move that could have a major impact on the operations of Douyin and rival Kuaishou, which rely heavily on algorithms to drive traffic.
The same algorithm that has empowered the success of Douyin in China has also helped TikTok win users around the world. In July, TikTok announced it had 1 billion monthly active users, even as the app remains banned in India, previously one of its biggest markets.
Douyin's latest anti-addiction feature, however, has been met with dismay by some users, who found it intrusive.
"Why can't I scroll up the screen?" one user commented. "I thought my phone was broken."
ByteDance, founded by young Chinese entrepreneur Zhang Yiming nearly a decade ago, has been careful to toe the government's line after its once-popular joke-sharing app, Neihan Duanzi, was shut down by Beijing in 2018 for spreading vulgar content.
The punishment prompted Zhang, who is set to step down as CEO of ByteDance at the end of this year, to issue a "self-reflective" apology, saying that the company had failed to recognise its role in "shouldering social responsibilities" and "promoting positive energy".
Despite speculation that ByteDance, the world's largest unicorn, is seeking to go public,
the South China Morning Post reported yesterday that
any initial public offering is unlikely to proceed until late 2022 because of regulatory hurdles, according to sources.
This article appeared in the South China Morning Post print edition as: Douyin introduces 5-second pauses to curb user addiction