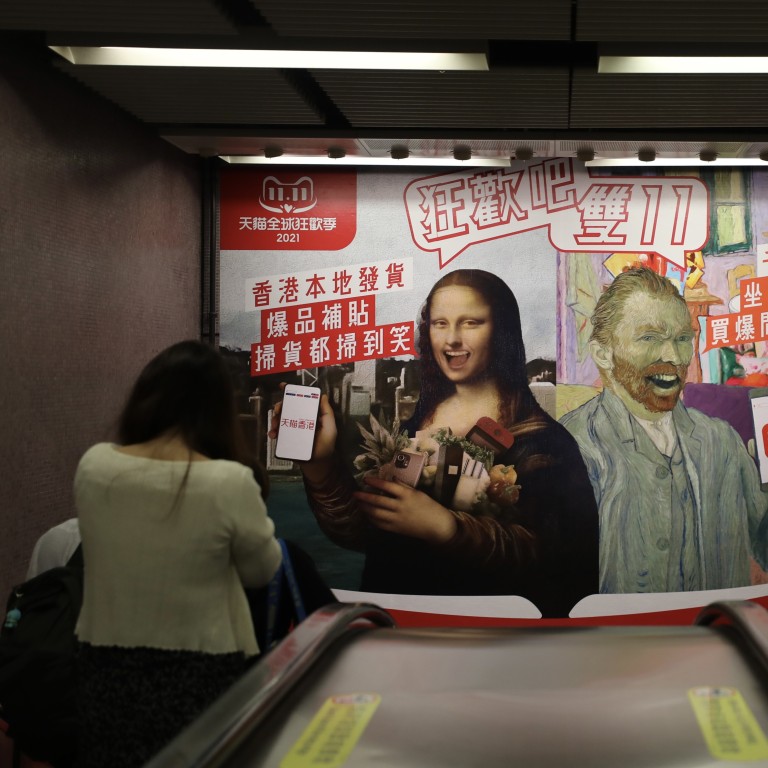 China sees sharp slowdown in online commerce growth in coming years, as market matures and focus shifts to rural economy
The slowdown in China's e-commerce growth rate was partly expected, as deceleration has already started
The government will encourage enterprises to use short videos and live streaming to promote e-commerce ecosystems for the countryside
The turnover growth rate for China's e-commerce sector over the next five years is expected to be only a third of the previous five years as the online market in the world's second-largest economy matures, according to a national plan published on Tuesday.
China's nationwide e-commerce turnover is expected to reach 46 trillion yuan (US$7.2 trillion) by 2025, or a 23.6 per cent increase from the level in 2020, according to China's 14th five-year plan for e-commerce. In the previous five-year period, turnover increased 70.6 per cent.
China's online retail sales may rise to 17 trillion yuan by 2025, an increase of 44 per cent from 2020, according to the plan drafted by the country's Ministry of Commerce, the Cyberspace Administration of China and the National Development and Reform Commission. In the previous five years, online retail turnover in China tripled.
The slowdown in China's e-commerce growth rate was partly expected, as deceleration has already started. Meanwhile, China's consumer spending has been relatively weak amid a broad economic slowdown.
Nevertheless, e-commerce will remain a key lever for China to pursue "high quality" growth in the next five years, especially when it comes to narrowing the development gap between urban and rural regions. The e-commerce sector will create 10 million new jobs over the next five years, increasing total employment in the sector to 70 million by 2025, according to the plan.
The government will encourage enterprises to use short videos and live streaming to promote e-commerce ecosystems for the countryside. E-commerce turnover in rural China is expected to reach 2.8 trillion yuan by 2025, a tiny part of the overall figure, but its growth rate is expected to be 56 per cent, or more than double the rate of growth for the national total.
Meanwhile, China's cross-border e-commerce turnover is expected to increase 48 per cent over the next five years to 2.5 trillion yuan by 2025, according to the national plan.
The detailed plan comes as many of the country's e-commerce platforms have rushed to answer Beijing's call to promote environmental sustainability and social equality.
For the coming Singles' Day shopping festival, Alibaba Group Holding has this year played up social responsibility and inclusiveness rather than showcasing its sales and marketing prowess during the world's largest shopping festival. Alibaba owns the South China Morning Post.
"It's important for Alibaba to continue to promote the sustainable growth agenda," said Chris Tung, chief marketing officer of Alibaba at a press conference on Wednesday. "I think that's a top priority for the company."
Last week, rival JD.com also kicked off its Singles' Day event, during which the Beijing-based e-commerce giant expects to sell over 30 billion yuan worth of farm produce.