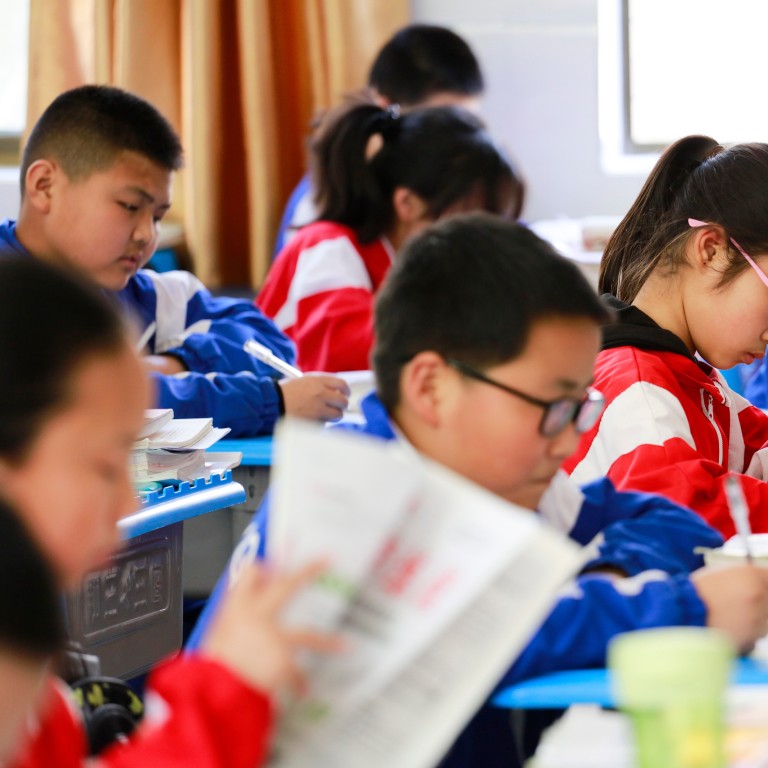 China reiterates ban on online and offline advertising for off-campus tutoring as it keeps up pressure on industry
The ban is part of wider government efforts to implement a July policy that prohibits anyone from making a profit from tutoring for school curriculum classes
SAMR has already uncovered 1,570 illegal advertising cases, and fines totalling a combined 30.6 million yuan have been issued
The Chinese government has doubled down with its crackdown on private tutoring, ordering a complete ban on all online and offline advertising of off-campus education programmes that target kids in kindergarten, primary and middle schools.
A group of eight regulators, including the State Administration for Market Regulation (SAMR) and the Central Propaganda Department of the Communist Party, issued a notice earlier this month to make sure a July ban is strictly implemented - namely that "news outlets, social media, public places and residences shall not publish ads for after-school training".
The ban is part of wider government efforts to implement a July policy that prohibits anyone from making a profit from providing tutoring for school curriculum classes from grades one to nine.
According to the notice published on Tuesday, which is also joined by the Ministry of Education and the Cyberspace Administration of China, the advertising ban – which also covers extra curriculum training such as dancing and painting – must be carried out without any leniency. Sponsored content, or "soft articles", paid for by such training programmes will also be subject to the ban.
SAMR has already uncovered 1,570 illegal advertising cases, and fines totalling a combined 30.6 million yuan (US$4.8 million) have been issued, it said on Tuesday.
It said that the authorities will summon mainstream media, new media, internet platforms and other relevant institutions to self check and rectify these areas. Meanwhile, it will also ensure that train stations, subway stations and bus stops – all government-run – will not publish such ads.
SAMR, which oversees advertising, said any illegal adverts will result in "serious" punishments as part of "a high-pressure regulatory environment". It added that the advertising activities of tutoring companies will be an important consideration when they apply for licences to keep running their businesses.
The July policy requires that companies get a new licence and register as a non-profit organisation. This process is planned to finish by the end of the year, the Ministry of Education said in September.
US-listed Chinese education stocks gained on Monday after Dow Jones reported that Beijing plans to issue more than a dozen licences that would allow companies to offer after-school tutoring on a non-profit basis, with other areas allowed for profit, such as vocational training or adult teaching for professional exams.
However, local media outlet Caixin reported that the new licensing regime should not be seen as a relaxation of the overall policy to ban profits from tutoring.
Yu Minhong, founder of leading tutoring firm New Oriental Education & Technology Group, said over the weekend that the company will
close
nearly 1,500 training centres and donate some 80,000 sets of desks and chairs to rural public schools.