Alibaba
Get more with myNEWS
A personalised news feed of stories that matter to you
Learn more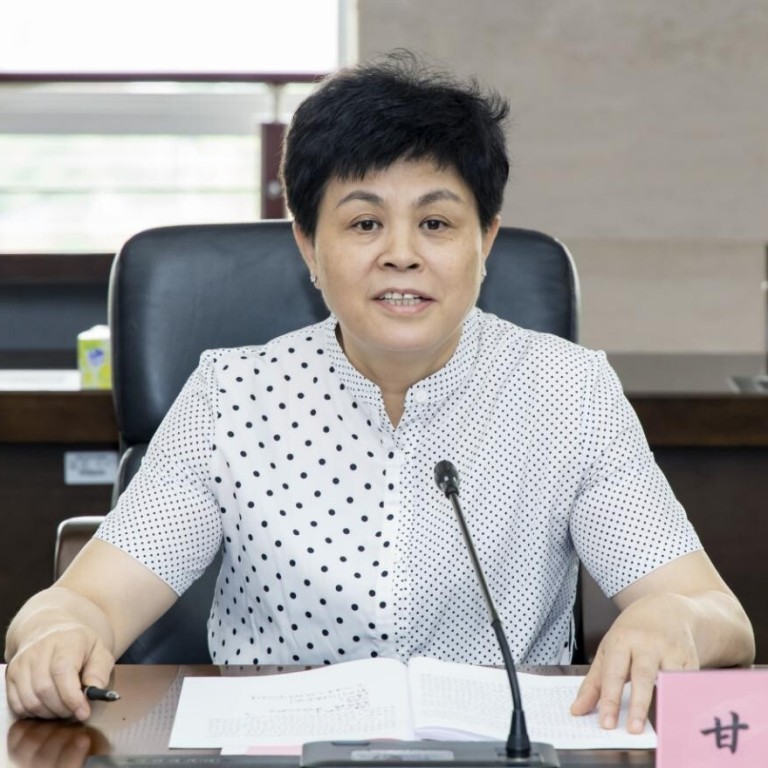 China appoints potato scientist to helm its elevated antitrust bureau
Gan Lin, an agricultural scientist, is the new chief of the State Anti-Monopoly Bureau
The government body under the State Administration of Market Regulation has been actively investigating antitrust violations among Big Tech companies
China has named female agricultural scientist Gan Lin as the new chief of its antitrust bureau within the market regulation agency, as the expanding government body takes on an increasingly elevated role in Beijing's push to keep Big Tech in check.
The appointment of Gan, 59, was announced on Monday by the State Council, China's cabinet. The move signifies that the antitrust bureau, renamed the State Anti-monopoly Bureau, now reports directly to the country's top leadership.
The antitrust bureau was previously headed by Wu Zhenguo, a veteran legal expert at the Ministry of Commerce, which handed over its antitrust function to the newly created State Administration of Market Regulation (SAMR) during a government reshuffle in March 2018. Since then, Gan, who spent 1997 to 1999 doing postdoctoral research on potatoes at Canada's Department of Agriculture and Agri-Food, has been a deputy director at SAMR.
According to her official biography, Gan is a vice-chairwoman at China Zhi Gong Party, one of the country's eight non-Communist "democratic" political parties. Gan had been a university professor in agricultural studies before joining the government in 2001. She had also conducted research at the University of Nottingham in the UK.
Gan told Shanghai Securities News last week that the SAMR's focus is to prevent the "disorderly expansion of capital" in China and "strengthen regulations on the digital economy, technological innovation and information security, and to safeguard the general well-being of the public".
Gan's appointment comes at a time when the anti-monopoly bureau is quickly emerging as one of the most formidable watchdogs among dozens of departments within the State Administration of Market Regulation, tasked with overseeing business and market practices of tech giants such as South China Morning Post owner Alibaba Group Holding and on-demand service provider Meituan.
Last month, the bureau published a job posting for 18 new hires, equal to about a third of its current headcount of just under 50.
The promotion of the antitrust bureau to vice-ministerial status would translate to a much bigger budget and more manpower, said Angela Zhang, an associate law professor at the University of Hong Kong.
"As the agency suffered from severe capacity constraints in the past, I expect this institutional change will enable it to bring more cases and tackle more challenging antitrust issues, particularly those arising from the platform economy, as they often involve complicated economic analysis of both antitrust and data issues," said Zhang. "This further demonstrates the commitment of the Chinese government to further strengthen regulations in the tech sector."
China's antitrust regulators have taken on a powerful role after Beijing made it clear at the end of last year that it wants to break up monopolies. In April, the SAMR fined Alibaba a record US$2.8 billion for antitrust violations, followed by a US$520 million penalty on Meituan. The agency also pored through business deals made by tech companies over the past few years, slapping fines on Tencent Holdings and others for failing to report proposed mergers to authorities.
Last month, China moved to amend its Anti-Monopoly Law for the first time since it came into force in 2008, increasing antitrust penalties in a blunt push for more control over the digital industry.
A draft amendment of the law was submitted to the Standing Committee of the National People's Congress for a first reading last week, with the final version expected to be implemented some time next year.
This article appeared in the South China Morning Post print edition as: New head appointed at antitrust bureau