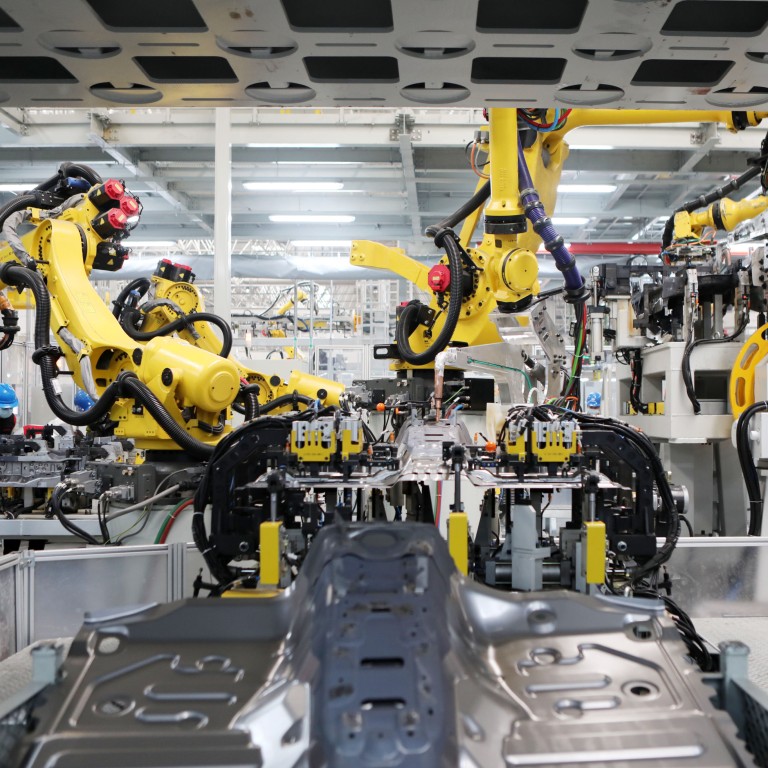 Rising automation power China aims to be a world robot champion by 2025
China is one of the world's most aggressive countries in manufacturing automation
The country's robot density is on a par with that of the US, according to a recent international report
China has unveiled a set of ambitious goals to enhance automation in manufacturing, as it strives to become a global leader in bringing robots to the factory floor.
Under a five-year plan jointly published by several government agencies, including the Ministry of Industry and Information Technology, China aims to achieve a minimum annual growth of 20 per cent in robotics sales, and develop a group of industry champions to double the "robot density" of the world's most populous country.
China has become one of the most aggressive countries in replacing human labour with machines, partly to cope with the country's ageing and shrinking workforce. According to a report from the International Federation of Robotics this month, China last year ranked 9th in robot density – measured by the number of robot units per 10,000 employees – up from 25th five years earlier.
With a robot density of 246 per 10,000 employees, China still lagged behind South Korea, which has a current density of 932 and has ranked first since 2010. Still, China's level was well above the global average of 126, and close to the United States' 255.
As part of its latest plan for smart manufacturing, China aims to digitise 70 per cent of domestic manufacturers by 2025.
According to a separate plan on the robot industry, China wants to become a global "source of innovation" in robotics, and make breakthroughs in core robotics technology and high-end robotics products by the same year. The plan also states that China's overall robotics capabilities will be among the world's best by 2035, when robots will become an important part of China's economic development, daily lives, and social governance.
This comes as Beijing is trying to upgrade its economy amid a deepening technology rivalry with the US. The new five-year plan cites an "increasingly complicated" global environment and "increasingly intense" competition.
The plan lists supply-and-demand matching imbalances and supply chain stability as challenges to be overcome. It also said that China's robotics industry faces problems that include a lack of technology accumulation, a weak industrial foundation, and insufficient high-end supplies.
By 2025, China wants to build a least 500 smart manufacturing model factories to lead the development of smart manufacturing, and cultivate at least 150 smart manufacturing solution providers.
According to a report published last month by the Centre for Security and Emerging Technology, a policy research organisation within Georgetown University's Walsh School of Foreign Service, China leads the world in robotics patents, accounting for nearly 35 percent of the global output between 2005 and 2019. The US, meanwhile, accounted for about 13 percent of the world's total.