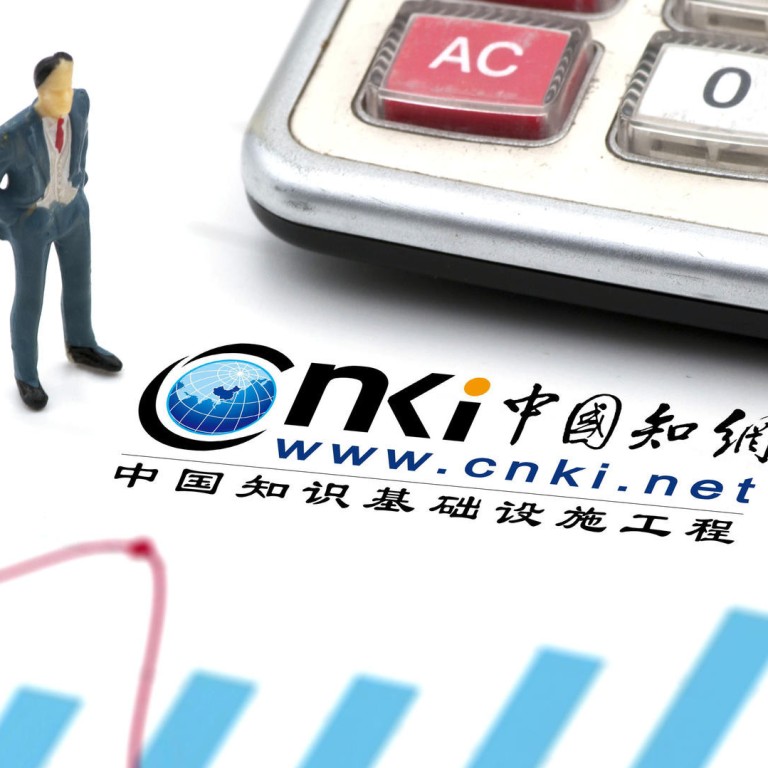 China's largest academic research database CNKI had years of alleged market power abuse before antitrust crackdown
China National Knowledge Infrastructure has long been the subject of lawsuits and complaints, with one alleging a 132 per cent fee increase from 2010 to 2016
The service has become the latest target of the country's antitrust watchdog after the Chinese Academy of Sciences ended its CNKI subscription in April
China National Knowledge Infrastructure (CNKI), which has become the latest antitrust target by national regulators, has long been accused of abusing its monopoly power over access to published academic papers through excessive subscription fees, according to state media reports and past cases.
The State Administration for Market Regulation (SAMR) on Friday
launched an antitrust investigation into CNKI
, weeks after the Chinese Academy of Sciences (CAS), the country's top natural science research institution, said it would
suspend its use
of the country's largest online academic database because of its hefty annual fees.
Even before the CAS dropped the service, at least six Chinese universities had suspended use of CNKI because of substantial fee increases over the past decade, according to a review of Chinese media reports. In 2016, Wuhan University of Technology's library said CNKI subscription fees had increased 132 per cent between 2010 and 2016, which would amount to an average compound annual increase of 15 per cent.
"CNKI's main problems are its exclusivity of dissertations and the lack of transparency in pricing: its contracts with different universities vary a lot," said Zhou Wei, an associate professor at the Wuhan University School of Law.
Like most academics in China, Zhou routinely uses CNKI when searching for Chinese academic papers, but he can rely on his school's institutional subscription.
The antitrust probe into CNKI "is of great significance for reshaping the way knowledge is disseminated and accessed in China", Zhou said. "It's correct to take a market-based approach, and commercial operations in the market shall comply with the legal framework."
In one widely reported lawsuit, Zhongnan University of Economics and Law professor Zhao Dexin sued CNKI for collecting his papers in its database without consent. Zhao won the lawsuit and received compensation of 700,000 yuan (US$103,000). However, without his papers available through CNKI, which removed them after the lawsuit, there is less chance for other academics to find and cite Zhao's work.
CNKI started building its massive collection of published academic papers in the late 1990s, as internet use started to take off in China. It was initiated under Tsinghua University's commercial arm Tsinghua Tongfang as a service for Chinese universities and research institutions with blessings from Chinese authorities.
Since then, CNKI has amassed more than 280 million academic articles and more than 9,300 journals. Its archives account for over 90 per cent of the published journals in mainland China, and 40 per cent of material on the service is exclusive to CNKI, according to its website.
While founded as a service for Chinese academics, CNKI has become a moneymaking tool for Tsinghua Tongfang, a Shanghai-listed company. In 2021, CNKI reaped 194 million yuan in net profit attributable to the parent from 1.3 billion yuan in revenue, according to financial filings. Its gross profit margin was 53 per cent for the year, the highest of any Tongfang subsidiary.
In 2022, Tsinghua University, which sold its stake in Tongfang to China National Nuclear Corp in 2019, paid 1.88 million yuan for CNKI access, while Beijing Normal University paid 1.98 million yuan in 2021, according to published procurement information from Chinese universities.
Tongfang Knowledge Network Technology, the corporate entity that runs CNKI, is registered as a wholly foreign-owned company with a capital base of US$1 million, according to corporate registry information on Qichacha, a Chinese corporate database service.
Tongfang Knowledge did not immediately respond to requests for comment on Monday. In an earlier statement, the company said it would cooperate fully with the antitrust probe and take it as an opportunity to carry out a self-examination.
The investigation into CNKI "is of great importance to maintain fair competition in the academic database service market, promote knowledge production and flow … and protect the interests of consumers, primarily authors and readers, and the public interest", wrote Shi Jianzhong, a professor at China University of Political Science and Law and an adviser to the State Council's Anti-monopoly Committee, in an opinion piece published in the Communist Party newspaper Guangming Daily.
"CNKI sets unfair terms in academic work inclusion and service agreements, and the prices for both the purchase of academic work and the sale of digital knowledge products are almost unrestrained by competition," Shi said.