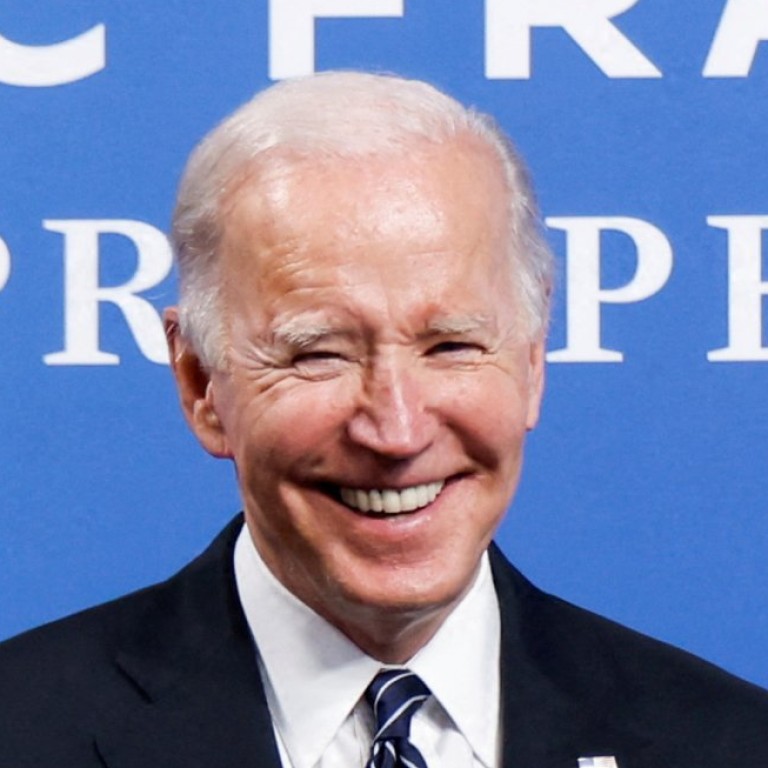 Biden's Indo-Pacific Economic Framework unlikely to drive Japanese and South Korean businesses from China, analysts say
Under the new deal, signing members, including Japan, South Korea and others, will be able to form supply chains that exclude China
While Tokyo and Seoul have shown willingness to cooperate with Washington, private businesses are unlikely to give up on the Chinese market, analysts say
The US-led
Indo-Pacific Economic Framework (IPEF)
marks the latest attempt by Washington to counter China's rising influence in global supply chains, but strong incentives remain for businesses in South Korea and Japan to maintain ties with the huge Chinese market, according to analysts.
The
official launch of the IPEF
during US President Joe Biden's first trip to Asia has triggered concerns in Beijing that the agreement – covering supply chains, digital trade, clean energy and anti-corruption efforts – may undercut China's central role in global trade.
Under the deal, signing members, including Australia, India, Indonesia, Japan, South Korea, Malaysia, the Philippines, Singapore, Thailand, Vietnam and the US, will be able to form supply chains that exclude China in industries ranging from design to manufacturing.
The initiative "showcases Washington's strategic intent of intensifying geopolitical and economic competition against China" amid the Covid-19 pandemic and Russia's invasion of Ukraine, Zhao Minghao, an international relations expert with Fudan University, wrote in a recent article.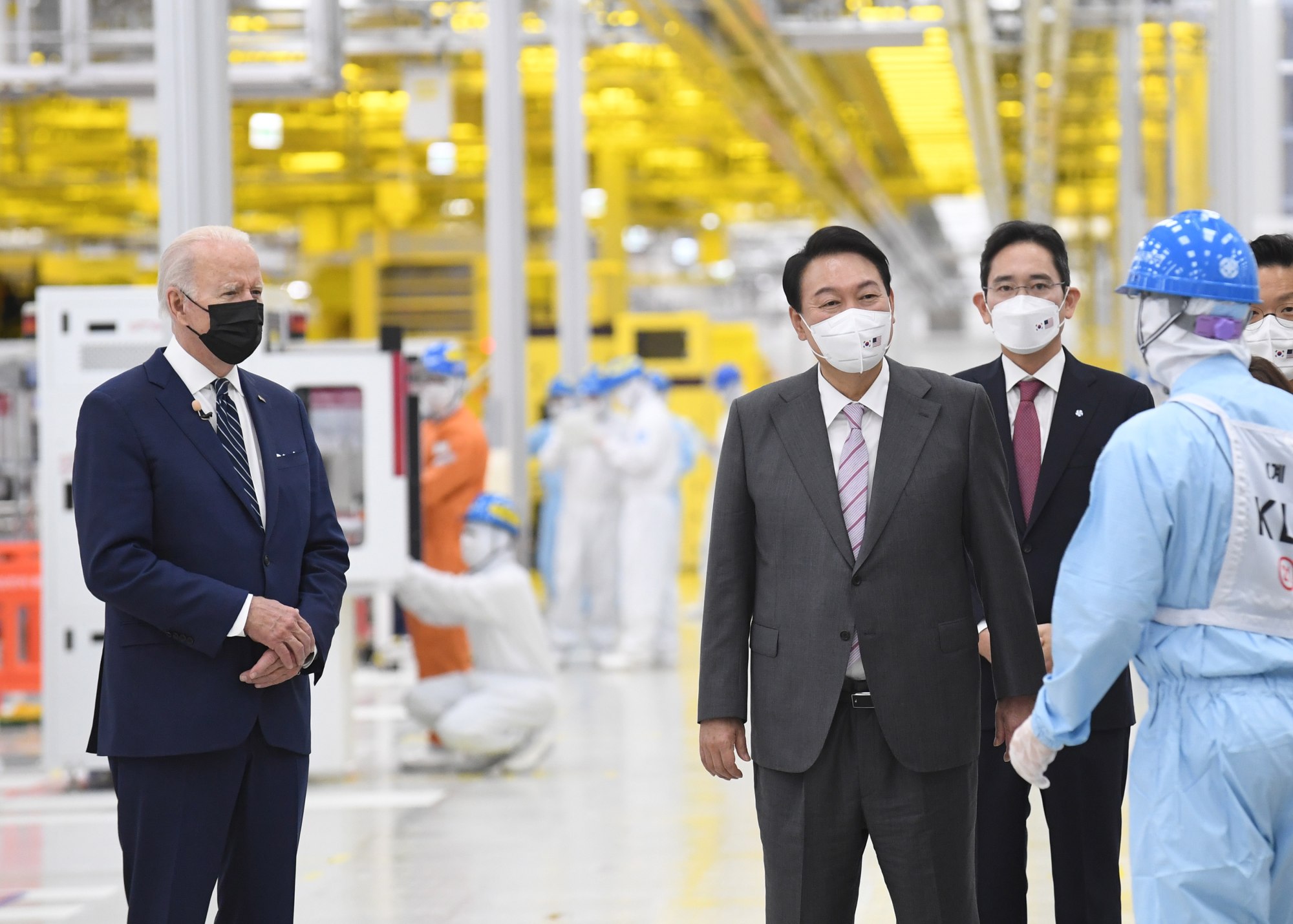 On Friday, Biden
visited Samsung Electronics
, accompanied by South Korean President Yoon Suk-yeol. The two leaders vowed to work closer on semiconductors, autonomous robotics and artificial intelligence – areas where China is working hard to achieve self-sufficiency or playing catchup.
While Tokyo and Seoul have shown willingness to cooperate with Washington in trade and technology, the Asian business community is unlikely to give up on their profitable Chinese ties, which have been developed through decades of collaboration, analysts said.
Samsung, for instance, runs two memory wafer fabrication plants in central China's Xian city, while South Korean semiconductor firm SK Hynix operates a memory chip plant in the eastern city of Wuxi.
"It's difficult to form a supply chain that is completely independent of China, as some components are still reliant on Chinese manufacturing," said Chiu Shih-fang, a tech and supply chain analyst at Taiwan Institute of Economic Research.
"Although in the short term, Japanese and Korean manufacturers have reduced their dependence on China by strengthening investments in India and Southeast Asia."
Taiwan, the world's most important semiconductor base, is not an official IPEF member.
And while the self-ruled island, which Beijing regards as a part of China to be united with the mainland by force if necessary, has shown interest in joining the US-led economic order, many domestic companies, including chip giant Taiwan Semiconductor Manufacturing Co, maintain facilities on the mainland to stay close to clients.
A large proportion of tech components, including printed circuit boards, passive components, and electronic assembly foundries, are made in mainland China, Chiu said.
China's chip industry has grown rapidly over the past few years. In 2021, the top 25 Chinese semiconductor companies achieved a total revenue of US$40 billion, up 26 per cent year on year, according to data from consultancy Gartner.
However, Chinese firms still had a relatively smaller share in the higher-value central processing unit and graphics processing unit markets, pointing to weaknesses in those segments compared to foreign companies.
The IPEF's formation could prompt regional players to recalibrate their China strategy down the road amid growing geopolitical uncertainties and the country's embrace of its zero-Covid policy, according to Chiu.
"When considering the layout of a supply chain, cost is no longer the main factor, but rather geopolitics, operational resilience and other risk factors," she said. "Some Japanese and Korean manufacturers have started to gradually leave China and return to Japan or go to Southeast Asia and India for investments."
Apple, the world's second-largest smartphone seller by shipments, has told some of its contract manufacturers that it wants to boost production outside China, with eyes on India and Vietnam, where it already has manufacturing,
due to recent disruptions from China's Covid-19 lockdowns
,
The Wall Street Journal
reported last week.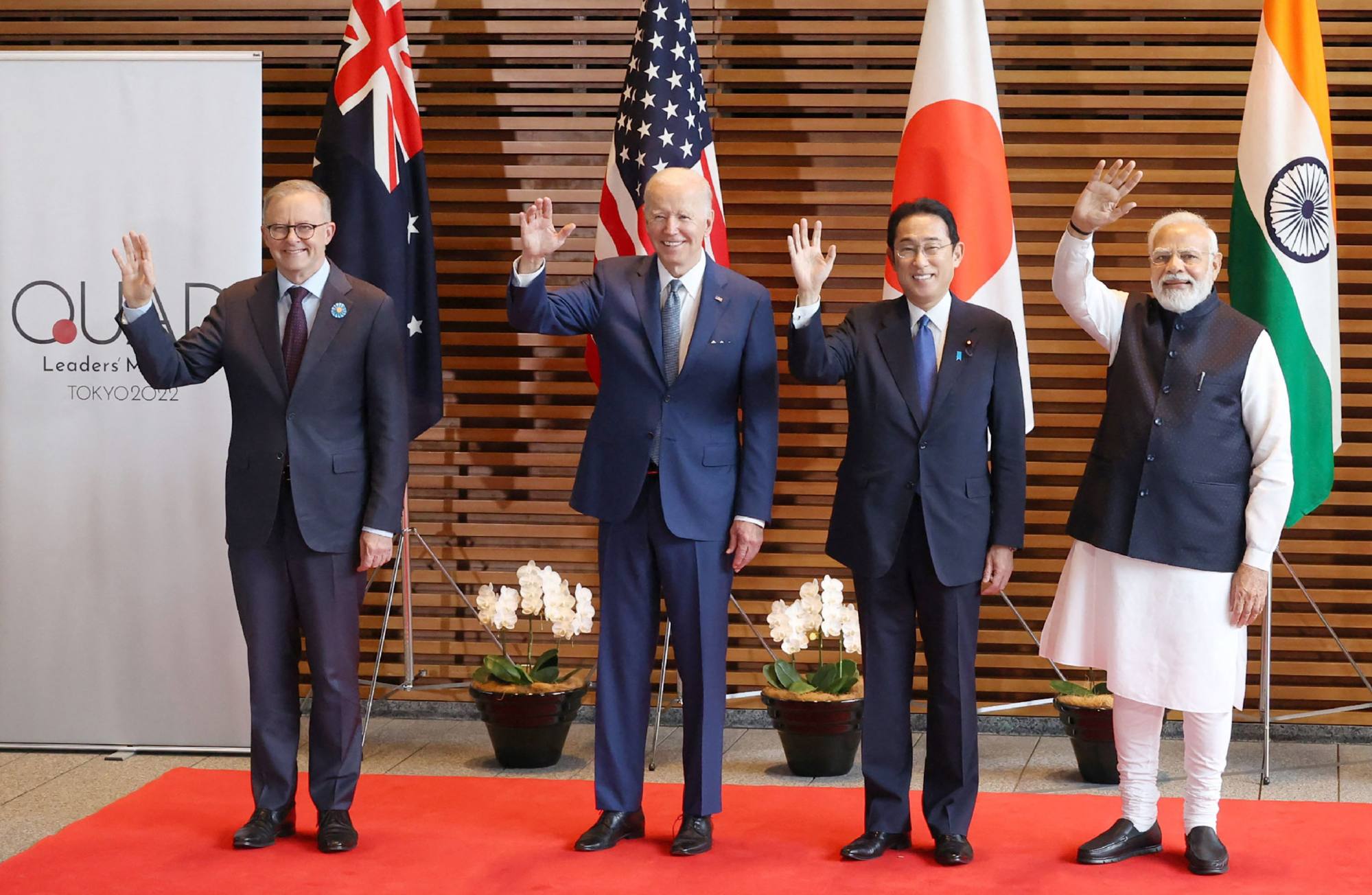 Geopolitics will "become a more critical part of the equation, and South Korean and Japanese firms will plan more future production locally or outside China for risk diversification", said Gary Ng, senior economist for Asia-Pacific at investment bank Natixis.
"With growing geopolitical tensions and uncertainties, IPEF acts as a catalyst to accelerate current trends in seeking supply chain security."
Others believe that China's market potential remains strong. South Korea and Japan were among China's top five trade partners in 2021, with trade value in yuan growing 18.4 per cent and 9.4 per cent year on year, respectively.
"Companies that value long-term growth will likely not relinquish their share in the Chinese market easily," said Zhou Mi, a senior researcher at the Chinese Academy of International Trade and Economic Cooperation under the Ministry of Commerce.