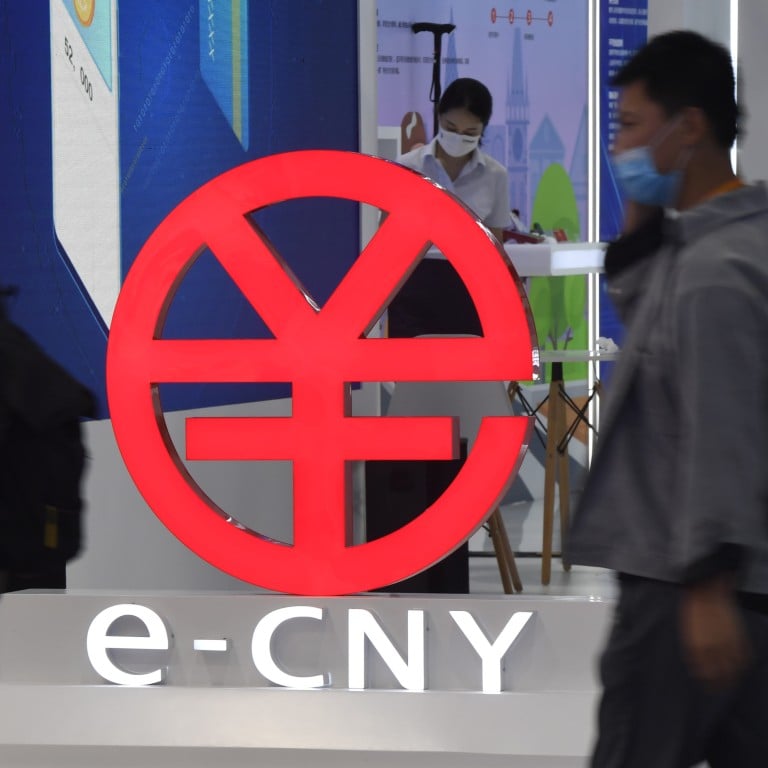 China's digital yuan gets fresh push from Beijing, but consumers see little incentive to use e-CNY
Local governments, banks and media have been promoting the e-CNY through new trials, loans and praise, but it's just another payment app for consumers
Trials have expanded to 11 new cities this year, but transaction turnover of 90 billion yuan pales in comparison to the trillions handled by other platforms
New efforts from local Chinese authorities, banks and official media to promote the country's sovereign digital currency are helping bolster the e-CNY's visibility even as consumers struggle to find advantages to using it.
On Wednesday, the human resources bureau of Shanghai's Qingpu district announced that it had granted more than 3 million yuan (US$444,700) in government subsidies to entitled employers through the local branch of China Construction Bank using e-CNY. It is the latest example of how the digital yuan, which was designed to replace physical "coins and notes" in circulation, is increasingly used in corporate finance and government services.
The People's Daily newspaper, a mouthpiece of the Communist Party, published an article on the same day praising the role of the e-CNY in helping China's "high-quality" growth. The digital currency, which has not officially launched but is being trialled in several designated cities, has played an active role "in protecting people's livelihoods, promoting consumption, expanding domestic demand and stabilising growth", the paper said.
Consumers, however, have found few advantages to using the e-CNY in a country where
Tencent Holdings
'
WeChat
Pay and
Ant Group
's Alipay are already dominant forms of payment. Last year, the e-CNY reached a transaction turnover of 87.6 billion yuan, paling in comparison to the 118 trillion yuan of turnover for Alipay alone in the 12 months through June 2020.
In the first five months of the year, the e-CNY reached 264 million transactions, totalling 83 billion yuan. Nearly 5 million merchants in cities with open trials currently accept the digital yuan.
Amid the push to promote the e-CNY further in the country, the only major economy to so broadly trial a central bank digital currency, the People's Bank of China expanded trials in April to 11 new cities, bringing the total to 23 cities. The latest approved locations included southern Guangzhou and southwestern Chongqing, adding to other major cities already using the e-CNY such as eastern Suzhou and the southern tech hub of Shenzhen.
China's state banks and government institutions have been exploring new ways to use the e-CNY, as well. Bank of China's Suzhou branch granted 3 million yuan in loans using e-CNY to a cross-border e-commerce merchant on June 28, 1 million of which was used to pay railway freight charges, People's Daily reported.
So far, the main means of promoting the e-CNY's use among consumers has been to give it away through lotteries. In May and June, Shenzhen issued 30 million yuan in e-CNY red packets to residents, who can use the digital money in the form of
consumer vouchers
.
At least three cities – Suzhou, Qingdao in eastern Shandong province and Xiamen in southeastern Fujian province – have in recent months granted loans of digital yuan to small and medium-sized businesses.
Another form of expanding trials includes testing with cross-border commerce in Hong Kong. The city is exploring how residents can top up an e-CNY digital wallet for use when visiting the mainland, Nelson Chow, chief fintech officer of the Hong Kong Monetary Authority, said in June. The city first
announced an e-CNY pilot scheme
in February.
Despite rapidly expanding trials across China, however, there is no official timetable for a full launch of the digital yuan.