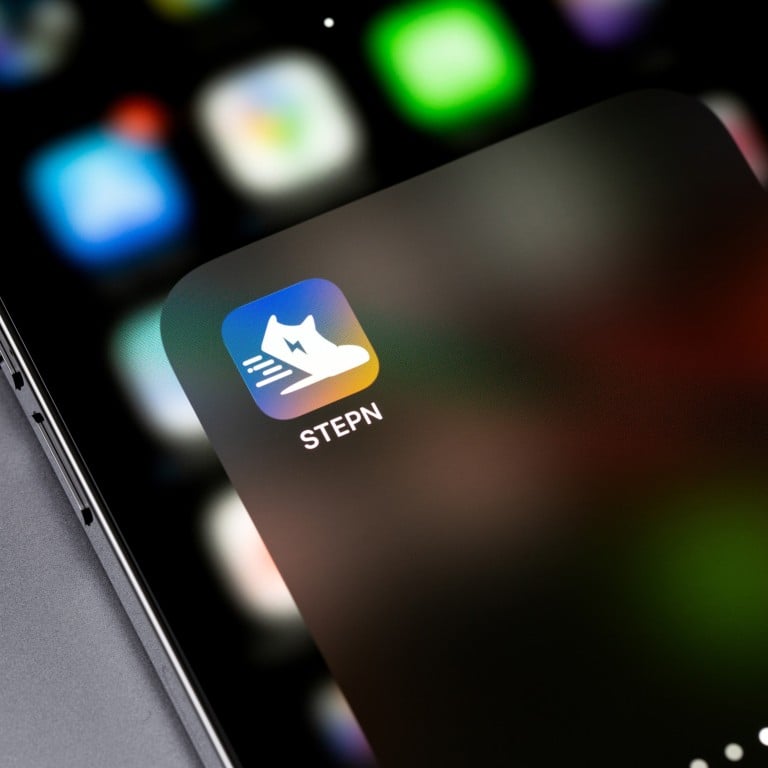 NFT sneaker game maker Stepn to set up first office in Hong Kong's government-owned Cyberport as regional headquarters
Co-founder Jerry Huang said former Cyberport chairman George Lam visited to encourage Stepn to 'help Hong Kong create a Web3 start-up environment'
The move comes amid a crypto company exodus from Hong Kong in anticipation of a new licensing regime under the city's anti-money-laundering ordinance
The maker of the hit play-to-earn game Stepn, which rewards users with
non-fungible tokens (NFTs)
and
cryptocurrencies
, is setting up its first physical office at Hong Kong's government-owned start-up accelerator Cyberport, making the city its first regional headquarters outside Australia, company co-founder Jerry Huang told the
South China Morning Post
The move comes as other crypto-related companies have been retreating from Hong Kong in anticipation of a new licensing regime for crypto exchanges. Covid-19-related quarantine measures have also led to an exodus in the business community.
However, Huang said that the company was convinced to make the move after a visit from former Cyberport chairman George Lam, who travelled to Sydney to invite Stepn to set up shop in the community.
"I was honoured that he came to see me," Huang said in a video interview during Cyberport's Digital Entertainment Leadership Forum earlier this month. "We had dinner and Dr Lam enthusiastically invited us to go and help Hong Kong create a Web3 start-up environment together. I felt very happy and encouraged."
Billed as a "move-to-earn" app, Stepn lets users buy and trade NFT trainers and in-game cryptocurrencies by walking or running in the real world. Players can then convert their in-game earnings to other cryptocurrencies or cash.
Launched last December by Australia-based Chinese entrepreneurs Huang and Yawn Rong, the game quickly gained traction in countries including Japan and the US.
It turned a US$20 million profit in the first quarter largely through its cut of in-game transactions, Rong told the Post in April. In January, the company received US$5 million in seed funding from investors including Sequoia Capital.
Cyberport has sought to capitalise on growing interest in Web3, a loosely defined vision for a next-generation World Wide Web that is decentralised through the use of technologies like
blockchain
. Hong Kong's blockchain gaming giant Animoca Brands, which owns the metaverse platform The Sandbox, is also based in Cyberport.
The government incubator, started in 2004, has some 800 start-ups and technology companies on site, according to the company's latest annual report. In addition to fintech and blockchain, it has identified smart cities, digital entertainment and artificial intelligence as areas of focus.
Stepn's upcoming move, which has no specific timeline yet, defies a talent exodus in Hong Kong over the past two years. Many businesses have fled stringent border controls and quarantine measures seen as out of step with the rest of the world. The
national security law
Beijing imposed on Hong Kong in 2020 also contributed to a brain drain.
The new licensing scheme that will be introduced as an amendment to the city's anti-money-laundering ordinance is now making the rapidly growing local crypto community skittish. Many related companies have sought to move their operations to jurisdictions seen as more friendly to the digital assets, such as Singapore and the United Arab Emirates.
Crypto-derivatives exchange FTX, now the largest exchange of its kind, started in Hong Kong before announcing in September last year that it had moved its headquarters to the Bahamas.
But Stepn's Huang said that he still prefers Hong Kong because it represents the best fusion of Western and Eastern cultures, and because of its status as one of the world's major financial centres.
Huang said that the company will not force all staff members to relocate, as many are based around the world and have their own cultures and lifestyles. However, the offer to move will be available to those who are interested, he said.
The first move may involve a core team of more than 10 people, according to Huang, at which point the company may consider seeking more equity financing.
Beyond political scrutiny, play-to-earn blockchain-based games have become a controversial genre. Many games similar to Stepn have
risen in popularity
over the past year, but amid a crypto crash that has wiped out billions in value for investors, critics likened cryptocurrency-related endeavours to
"Ponzi schemes"
.
Since the crash in May, Stepn has seen a significant decline in player activity. Monthly active users fell to 132,000 in August, down from more than 700,000 three months earlier, according to estimates on Dune Analytics.