Foxconn
Get more with myNEWS
A personalised news feed of stories that matter to you
Learn more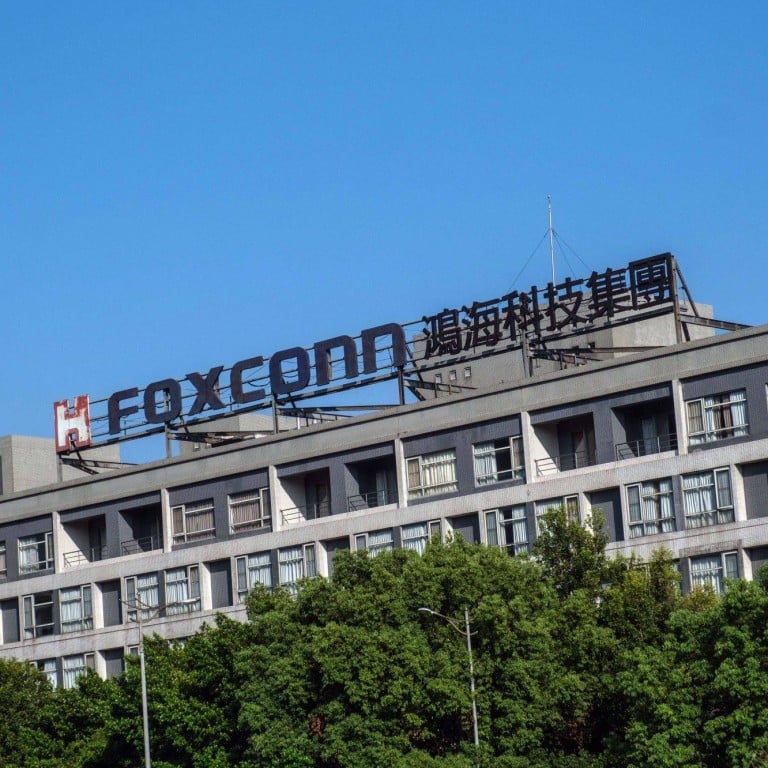 China's iPhone city goes to extreme lengths to meet zero-Covid demands as Foxconn workers vent anger
Zhengzhou authorities ordered the disinfection of all public places and residential buildings, a practice that proved controversial in Shanghai
Some of the 27 new Covid-19 cases were on the local Foxconn campus, where workers described terrible living conditions at the world's largest iPhone factory
Zhengzhou, known as China's iPhone city, is going to extremes to curb Covid-19 infections by disinfecting all public places and residential buildings, according to a notice posted online.
The government of the capital of China's central Henan province told residents to take heed of the new measures that will take place from Friday evening to Saturday morning, according to a post on the city's official WeChat account.
The city has imposed a quasi-lockdown on its 10 million residents, requiring people in some areas to stay at home while others must restrict their activities to the district in which they live. The local government has also ordered the closure of non-essential businesses while allowing select whitelisted companies to continue operating.
In its notice on disinfection, it also told residents who were allowed to leave their homes to "gently take off coats and hang them in a ventilated position" and "wipe the upper side of shoes" with disinfectant upon their return.
These large-scale sanitisation efforts have become controversial in China this year since similar measures were taken during a citywide lockdown in Shanghai in April and May.
"Do not spray disinfectant directly on people; do not sterilise outdoor air; do not conduct large-scale disinfection of the external environment including greening, roads and walls," Wang Tong, a Shanghai health official, said in a press briefing in April.
The extra measures taken by Zhengzhou show how local authorities continue to scramble to stay in line with Beijing's rigid zero-Covid policy at the first signs of any new cases. Strict Covid-19 measures, which also included a lockdown in Shenzhen this year, have undermined investor confidence in China as a stable manufacturing base and accelerated the relocation of facilities to other markets.
Henan health authorities recorded 27 positive cases on Friday, all in Zhengzhou, up from 20 cases in the city the previous day. Some of the cases were on the campus of the largest iPhone assembly plant in the world, operated by
Apple
's largest supplier
Foxconn
, also known as Hon Hai Technology Group.
In the midst of peak iPhone production season as Apple prepares for the holidays, Foxconn has sealed off its Zhengzhou campus since last Wednesday to maintain operations,
banning eating in cafeterias
and requiring workers to take their meals back to their dormitories.
One Foxconn worker, who declined to be named because of the sensitivity of the matter, said on Saturday that he has seen a soaring number of positive cases on the campus in the last few days. The campus manager did not act quickly enough to separate those who tested positive from the rest of the workers, this person said.
Another worker said the actual number of cases at the plant is "much higher" than reported.
Foxconn confirmed to the Post earlier this week that "a small number" of workers on the Zhengzhou campus were affected by Covid-19 while production remained "relatively stable". The company denied rumours that nearly 20,000 workers had tested positive.
Some workers have tried to escape the sealed campus to head back to their hometowns in neighbouring cities, one of the workers said, describing current on-site living conditions as "terrible".
The Zhengzhou campus has about 300,000 workers, a large proportion of which come from other cities in Henan.
Some cities have taken a hostile stance towards those returning from Zhengzhou, asking other residents to report the workers to authorities. However, multiple counties and cities, including the city of Changge and Xihua county, have published notices online saying they are prepared to welcome returning workers as long as they follow quarantine rules.