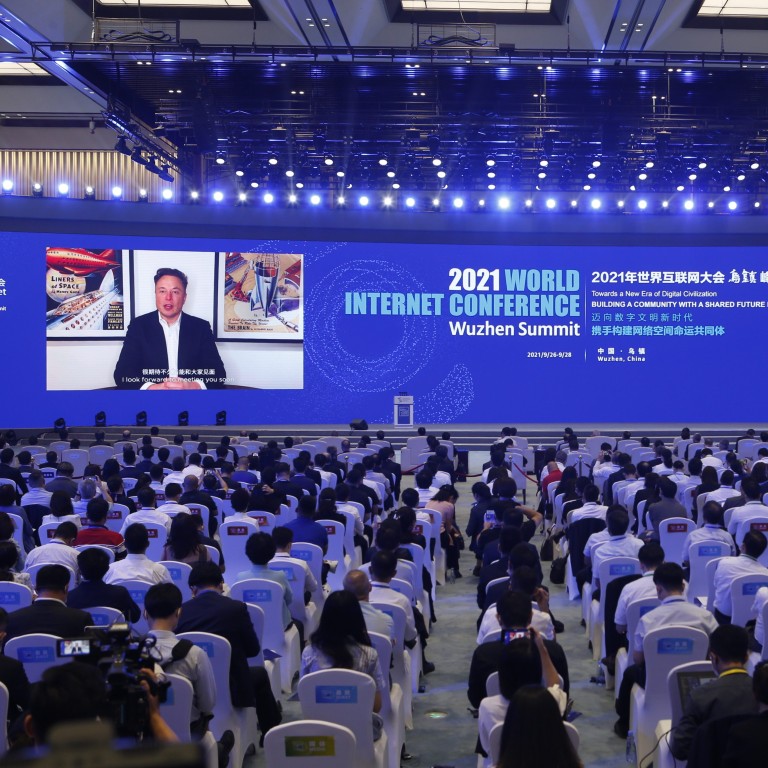 China to kick off 'World Internet Conference' next week with Beijing set to promote its vision of internet governance
The annual internet event will see participation from Huawei, Alibaba, Kaspersky and Infosys
Participation by foreign firms has diminished in recent years amid strict Covid-19 measures and Beijing's crackdown on Big Tech
China's World Internet Conference (WIC), an annual event coordinated by Beijing to promote its internet governance vision and model, will kick off on November 9-11 with attendees from over 120 countries, the event's organiser said in a press conference on Monday.
Delegates from Chinese tech giants including Huawei Technologies Co, Alibaba Group Holding and Baidu will attend the event in Wuzhen, eastern Zhejiang province, while executives from Russian cybersecurity firm Kaspersky and Indian IT giant Infosys will also be there alongside Nobel and Turin laureates. Alibaba owns the South China Morning Post.
The event's impact has faded slightly over the past two years with China's rigid Covid-19 controls reducing participation by international attendees. Meanwhile, China's crackdown on the country's Big Tech sector to tighten regulation and "curb the irrational expansion of capital" has cast a long shadow over the country's top tech entrepreneurs.
However, the event is still seen as an occasion where companies can show their goodwill towards Beijing. Tesla CEO and founder Elon Musk and Qualcomm's CEO Cristiano Amon took part last year by sending video messages. Musk used part of his message to make it clear that personal data belonging to Tesla's Chinese clients will only be stored in China.
The theme of this year's conference is "a digital future for cyberspace with a shared future". This line echoes Chinese President Xi Jinping's vision for the country of "human community with a shared future", even though the country's Great Firewall has kept most Western internet services, from Google to Facebook, out of reach for Chinese people.
The WIC has been conducted annually for eight years, with internet governance a common theme. China in July said it wanted to transform the event into an international organisation to promote cyberspace sovereignty among its members, which include Russia, Sudan, Somalia and Algeria. South Korea is the only developed nation in the body.
Two internet development status reports, one dedicated to China and one to the world, will be released at the event. The reports will cover China's experience of developing internet governance for content, security, as well as promoting a "new order for global cyberspace".