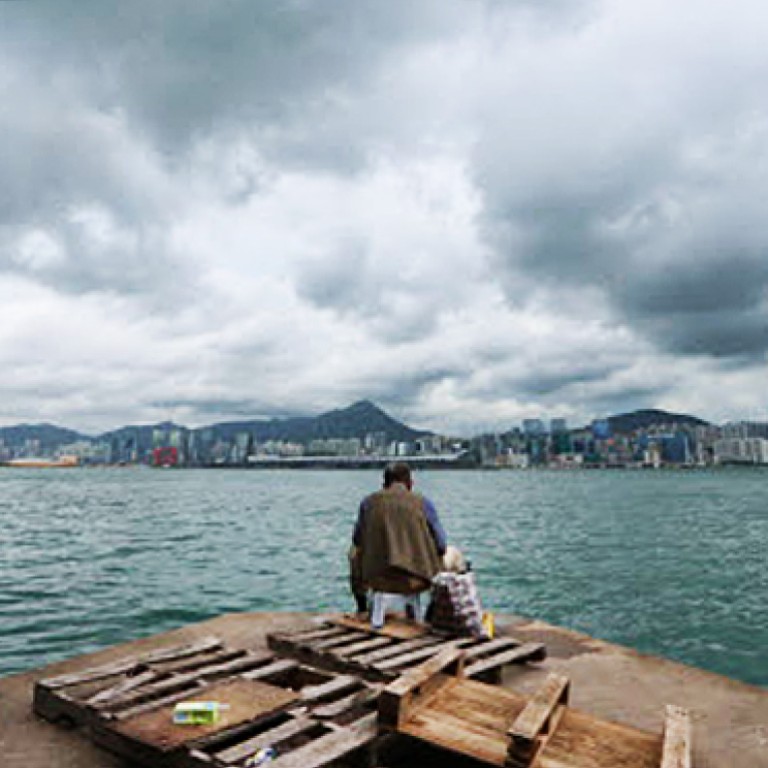 Catastrophic flooding could hit Hong Kong and Macau as Chinese scientists predict Pearl River Delta may rise by over a metre by end of century
Sea levels could rise by as much as 1.2 metres in the Pearl River Delta by the end of this century, potentially having a catastrophic impact on Hong Kong and Macau, according to a new study by Chinese scientists.
It can now be downloaded from the website of the journal Advances in Atmospheric Sciences. 
Macau, a former Portuguese colony, would likely see more of its land mass affected due to its flat topography and high proportion of reclaimed land if waters in the area rise as the paper claims. 
Such conditions would also leave the island, and by extension Hong Kong, more exposed to super typhoons and tsunamis.
"The sea level rise around Hong Kong would likely be similar [to Macau], because it is very close," said Professor Huang Gang, lead scientist of the joint study by researchers from the Chinese mainland and Hong Kong.
Hong Kong may fare better in some ways due to its more mountainous terrain, but the impact in terms of heavily populated at-risk areas could be far worse. Both islands would suffer from coastline erosion. 
Huang, who works at the Chinese Academy of Sciences' Institute of Atmospheric Physics in Beijing, said the fate of both islands may hinge on how much the world's biggest greenhouse gas emitters, which include China and the US, scale back their carbon footprints in the coming years.
Sea levels in the area rose 1.35 millimetres per year from 1925 to 2010 on average, but a much faster 4.2mm per year from 1970 and 2010, than the global mean, the paper said.
Global warming has caused sea levels to rise at many coastal cities, including Hong Kong, but little has been made until now of the actual or potential impact on Macau.
Like Hong Kong, the island has one of the world's most densely packed populations: some 630,000 people share a living space of just 30 square kilometres on this Chinese special administrative region. 
With collaboration from the City University of Hong Kong, Huang's team analysed data from local observatories with various global climate change models and produced the first forecast for Macau's changing sea levels. 
These could rise by 118 centimetres as of 2020, or 20cm above the global average, the researchers reported. They called this a "worst-case" scenario.
If the world's major emitters take decisive moves to cut their carbon footprints, the same waters could rise as little as 35cm, Huang said. 
Either way, local governments should prepare for the worst, with Macau advised to reconsider large infrastructure plans relating to land reclamation and bridges, he added, pointing to a bridge project linked to the mainland. 
Sea levels rise slowly over time, but the notoriously bureaucratic planning and decision-making process in Macau could prove a handicap to installing quick action plans, pundits say.
Rising waters pose more of a headache for Macau due to its diminutive size and geological vulnerability, the researchers said. 
The city measured just 2.78 square kilometres in the 17th century, with most of its current landmass created by land reclamation efforts – part of an ongoing process.
Professor Lan Jian, a marine physicist with the Ocean University of China who was not involved in the research, said the work by Huang's team was important and that their results would be of great use to scientific studies on the South China Sea.
"Rising sea levels are a global concern that can have a huge impact on the natural environment and human societies, but the situation changes significantly from one area to another," he said.
"Careful, detailed case studies like this will help us to better understand the physical driving forces and mechanisms behind [such change] to help us come up with more effective solutions," he said.
But Lan said the 1.2 meter sea level rise in Macau and Hong Kong would be treated with care due to its high uncertainty.
"The models used in current studies are still in need of further improvement, and feeding different data to the models can produce very different results," he added.
Previous research has suggested that Hong Kong's rising sea levels could rise by a more conservative measure as of 2100, but that the city could still be hit by huge floods.
In its Third Assessment Report, the Intergovernmental Panel on Climate Change, a body set up by the United Nations Environment programme (UNEP), projected that the global mean sea level ("MSL") would rise by between 9cm and 88cm by this deadline.
The median of 48cm would still be equivalent to 3 .3 times the observed rate over the 20th century.
Taking this average as the forecast for Hong Kong by 2100, a report by the Institute of the Environment of the Hong Kong University of Science and Technology in 2007 said that flooding which now recurs every 50 years would by that point recur every three years.
If the water levels rose to the upper threshold of 88cm they would become an annual occurrence, it added.
In the IPCC's Fifth Assessment Report, it said global sea levels will rise by an average of 1 meter by 2100 if changes are not made.
Meanwhile, a 2010 study by the Hong Kong Observatory showed that coastal low-lying areas would become more at risk of being inundated, while "extreme sea levels" would become more frequent due to storm surges caused by typhoons. 
Huang said his team plans to continue its research to find more precise models and answers so that it can offer useful guidelines to the local authorities in terms of city planning and infrastructure projects. 
It said these guidelines could be applied to other cities along the South China coastline.