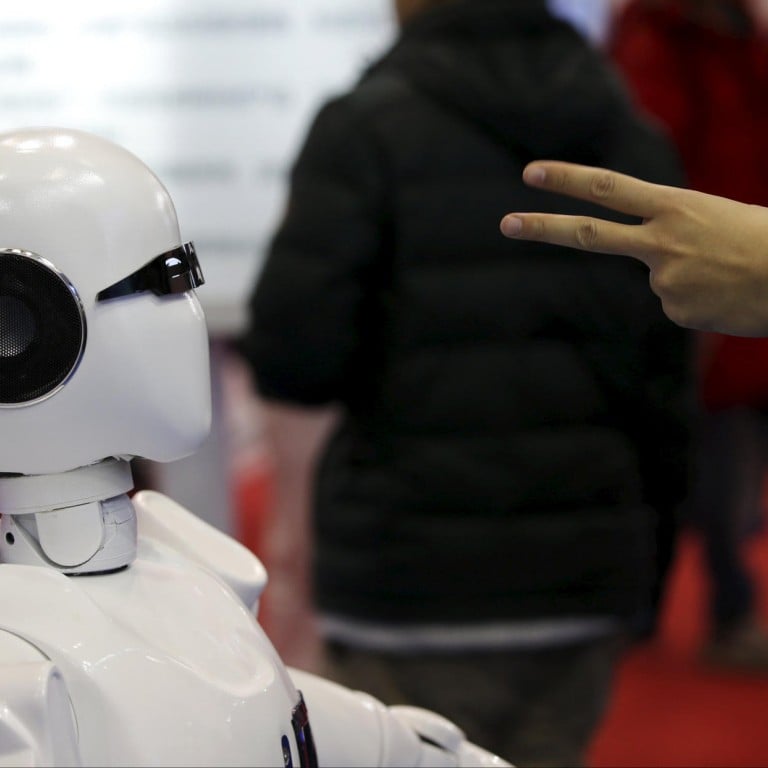 Chinese team expects to launch first robot in space by 2020 to fix orbiting satellites
While initial tasks could help lengthen lifespan of satellites, potential military applications may unnerve foreign powers as space race heats up
China will launch its first robot in space by 2020 to carry out a range of tasks from refuelling satellites to building space stations and even conducting military operations, according to researchers involved in the project.
When finished, it will be the most expensive robot China has ever built. Although the team responsible declined to provide figures, the first launch alone is expected to cost hundreds of millions of yuan (100 million yuan = US$15.66 million).
A preliminary version was shown to the public for the first time this week at the ongoing World Robot Exhibition in Beijing. It is about the size of a typical office cubicle.
Ground-based testing for the project has now been completed and a maiden launch date for the robot set for within the next few years, the researchers said on request of anonymity.
They work for the cryptically named 502 Institute at the China Aerospace Science and Technology Corporation.
Satellites need fuel even to stay in orbit. Without this, they either plunge back down to earth or become space debris.
The research team said that most run their course due to a lack of fuel rather than mechanical failure, and that services provided by the new robot should increase the life span of satellites and reduce the cost of a number of projects in space.
The robot has two uniquely designed arms, each with seven articulated joints, to aid in its refuelling operations. One can extend and firmly grip objects while the other can inject fuel, they said.
Other countries like the United States and Russia have been developing space robotic technology for years, but few projects have been put into service, partly due to the huge financial costs involved.
However, the benefits of the Chinese project will far exceed the costs, according to the researchers. The robot will remain in space for years and will have a tank large enough to refuel numerous satellites or spacecraft, they said.
It could also be turned into a multi-purpose robot with relative ease, they said.
The refuelling nozzle carried by its right arm could easily be replaced with other tools like a torch, wrench, cutting tools or even a weapon, they added.
"In the future, we will not only have a refueller for objects in space, but also a space mechanic, space bricklayer, space garbage scavenger and space delivery guy," said one of the researchers at the institute.
The robot should even be able to service older satellites, including those not specifically designed for refuelling, they said.
The team said the biggest challenge was developing precise and reliable sensors for the robot's arms as some of functions required for tasks like docking can be problematic in zero gravity.
They said they would still lean on equipment from other countries like Japan or the US to help solve these problems.
Such projects are often shrouded in secrecy in China, especially given their potential military applications.
The robot could be used to disable satellites belonging to foreign powers, remove components from them or glean other technical secrets.
Chinese researchers say they are closely monitoring the development of similar projects overseas, especially those of NASA, as the global space race heats up.
A recent report by the Financial Times said there are around 1,300 satellites in space, with the US accounting for over 500. Their influence cannot be overestimated as technology develops and more companies and industries rely on them.
"At the current pace, we may see such robots operating in space in a few years' time," one Chinese researcher told the Post.
This article appeared in the South China Morning Post print edition as: China to launch first robot in space by 2020