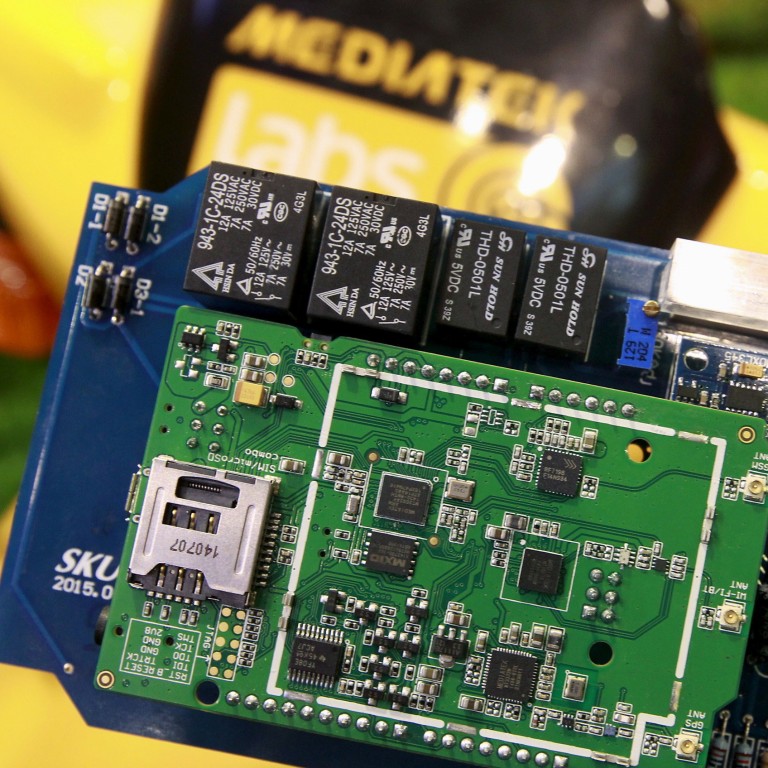 Exclusive
MediaTek to step up investment in R&D, bet on 5G as more mainland China firms make their own chips
MediaTek, a close competitor to US chip giant Qualcomm, makes chipsets for smartphones and home appliances such as TVs
Taiwan-based MediaTek says it is stepping up investment in research and development (R&D) and brand awareness as the semiconductor maker seeks to better compete in an environment where mainland Chinese firms are looking to produce more of their own chips.
"Facing this trend where smartphone brands are innovating and starting to develop their own chips, MediaTek needs to stay ahead and offer the best technology even if this phase reverses," said Joe Chen, President of MediaTek, in an interview in Shenzhen on Wednesday.
MediaTek, a close competitor to US chip giant Qualcomm, makes chipsets for smartphones and home appliances such as TVs. Its smartphone chip business generates about a third of overall group revenue, with most of its sales coming from Android phone makers, especially those in China. China's President Xi Jinping has called for greater self-sufficiency in strategic industries, such as semiconductors, as the world's second-largest economy remains locked in a US trade war.
Oppo, the second-largest smartphone vendor in China which uses both Qualcomm and MediaTek chips for its handsets, has started to develop its own chips, according to several Chinese media reports on Wednesday, citing unidentified sources. Oppo did not reply to a request for comment sent via WeChat.
Oppo's reported step follows Huawei Technologies, China's leading smartphone vendor, which currently relies mostly on its self-made Kirin chips to power its smartphones. Although Qualcomm and MediaTek still provide chipsets to Huawei, which shipped around 200 million handsets last year, most of them are used on low-end, less popular models.
Xiaomi, China's fourth-largest smartphone vendor, in April spun off a part of its China-based Pinecone chipset division into a new company to focus on AI-based IoT (AIoT) chip development. The company said it has not given up on mobile chip development although it has only unveiled one smartphone chip, the Surge S1, since its chip division was established in 2014.
MediaTek is also preparing for the 5G network revolution, seeing it as a chance to take a bigger share of the higher-end market and dispel the notion that it is simply a cheaper alternative to Qualcomm for low-end chips.
"We've never given up on the high-end market and are striving to develop all the necessary technologies to stay competitive," said Yenchi Lee, senior director of product marketing for MediaTek's wireless business, in a telephone interview on Tuesday.
MediaTek expects roll-out of the next-generation network to drive large shipments of its 5G smartphone chips in the first quarter of 2020, according to the executives. It also wants to help vendors bring down the retail price of 5G phones below 2,000 yuan (US$283) in the second half next year.
"I think 5G is the right time for us to extend to the high-end market," said Lee.
MediaTek does not see the move by some Chinese companies to make their own chips as all bad, as it already works with brands such as Samsung and Sony, which also have proprietary chips for some of their products, said David Ku, corporate executive vice-president and CFO of MediaTek, in the same interview on Wednesday.
MediaTek was the world's fourth-largest Integrated circuit and chip design company in terms of revenue last year, behind US companies Broadcom, Qualcomm and Nvidia, according to data from Taiwan-based research agency TrendForce earlier this year.
Trendforce noted that MediaTek had been hit by a downturn in smartphone chip demand, suffering a drop of 0.7 per cent in US dollar annual revenue in 2018.