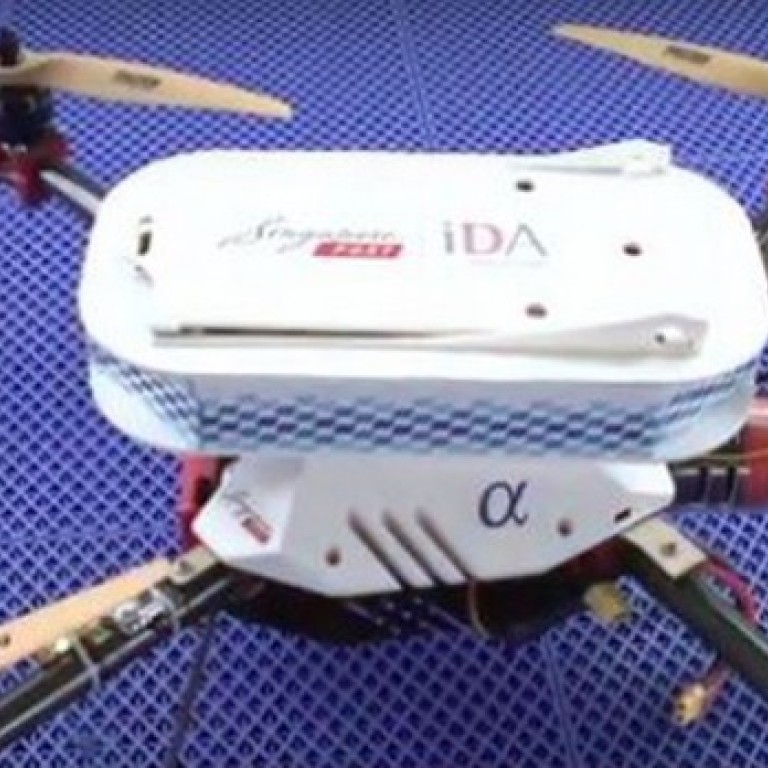 Singapore Post tests drone delivery as part of island state's 'smart nation' vision
Singapore Post announced its first successful package drone delivery test on Thursday as part of the city state's push to adopt more smart technology. 
A quadcopter carrying a letter and T-shirt completed the 2-kilometre flight in five minutes, the country's national postage and logistics company said. 
The flying device took off from Lorong Halus, a remote northeast part of the country, and landed on Palau Ubin, an island about 2km off the Singaporean coast. The same journey usually takes 50 minutes by ferry.
As e-commerce continues to boom in the Asia-Pacific region, SingPost is transforming itself to adapt to the trend, it said. 
"As SingPost transforms into an e-commerce logistics enabler, we will continue to collaborate with industry leaders and chart new frontiers", said Bernard Leong, the company's head of digital services.
The B2C e-commerce market in Asia-Pacific is expected to reach US$175 billion by 2016, according to the paper.
The drone deployed can carry a payload up to half a kilogramme. It can also fly up to 45 meters above ground and travel as far as 2.3km from its remote operator. It was co-developed by SingPost and IDA Labs of the Infocomm Development Authority of Singapore (IDA). 
"Although it will be a while before it is viable for drone mail delivery to take off in Singapore … this first step by SingPost and IDA demonstrates what Singapore is trying out with our 'smart nation' vision", said Jacqeuelline Poh, managing director of the IDA.
The quadcopter was based on Pixhawk Steadidrone, an open source drone platform. It is tailored for postal usage with added safety features and an app for verification. The drone delivered the package to a mailman on the island using a smartphone app.
The trial was supported by Unmanned Aircraft Systems (UAS) Committee of Singapore. 
"The UAS Committee has been encouraging and discussing with public and private sector organisations on innovative uses of UAS," said its chairman Pang Kin Keong, permanent secretary of Singapore's Ministry of Transport.
The UAS committee was set up by Singapore's Ministry of Transport this year and is exploring UAS usage in oil spill observation, emergency response and safety inspection of cranes at work sites, it said.
The trial puts Singapore among a number of countries exploring new ways of delivering packages. 
In Europe, Finland's national post office tested drone delivery on September after one of its ministries released a plan for promoting intelligent automation. 
Meanwhile, China's online shopping mall Taobao, run by e-commerce giant Alibaba, tried out drone delivery in three major cities in February. However, the experience was limited to shoppers in certain blocks of each city. 
Amazon served as a frontrunner for drone deliveries in late 2013. It still faces obstacles in terms of regulation, technology, safety and privacy.