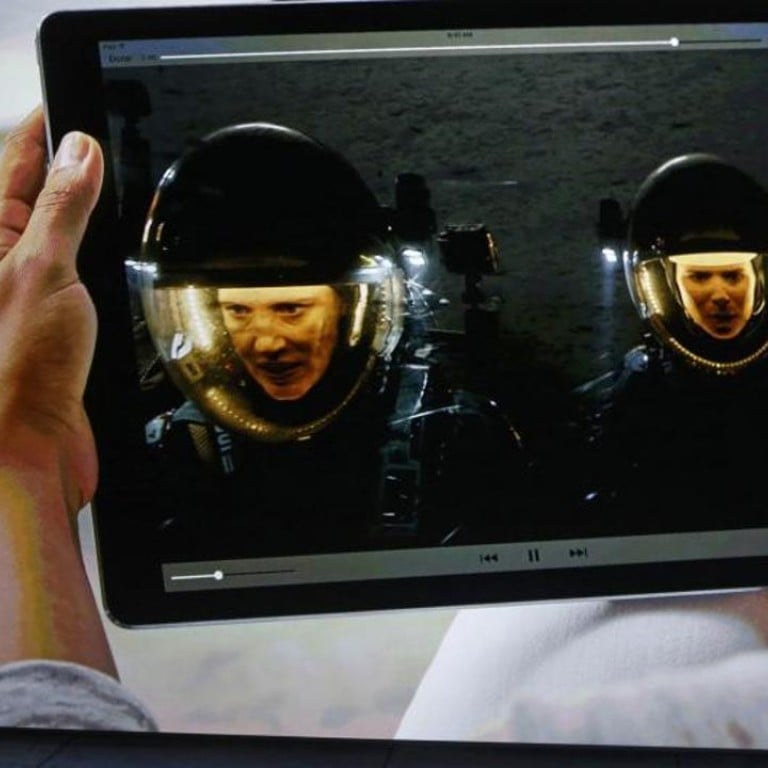 Size does matter: With screen real estate galore and a PC-beating processor, the iPad Pro delivers even for gamers
High-res images offer stunning graphics and even restore old movies to their former glory, while four-speaker audio adds another level of entertainment to Apple's latest flagship tablet, as the's review reveals
The iPad Pro, the super-sized tablet from Apple, is now available in more than 40 markets, including mainland China and Hong Kong.
Mobile network operator 3 Hong Kong, part of tycoon Li ka-shing's Hutchison Telecommunications Hong Kong, was the first carrier in the city to offer the device, promising "a range of attractive data plans" on its 4G service.
Apple on Wednesday initially started accepting online orders for the device, which features its 12.9-inch high-definition Retina display and proprietary A9X processor.
Many analysts see the US technology giant's introduction of a larger tablet, with processor performance rivalling that of most notebook computers, as a response to slowing tablet sales around the world and the strong demand for big-screen smartphones.
"We continue to get feedback that tablet users are holding onto devices upwards of four years," Ryan Reith, a director at research firm IDC's Worldwide Quarterly Mobile Trackers program, said in a recent report.
"With shipment volumes slowing over four consecutive quarters, the market appears to be in transition."
Apple continues to lead the global tablet market, but its volume shipments have declined as competition from a wide range of less-expensive Android tablets have intensified.
IDC estimated that Apple recorded a 19.9 per cent decrease in third-quarter tablet shipments to 9.9 million units, down from 12.3 million in the same period last year. It has a 20.3 per cent global market share, compared to 22.1 per cent a year ago.
A check at Apple's Hong Kong online store on Thursday showed that prices for the iPad Pro start at HK$6,088 for the 32-gigabyte capacity Wi-fi model and reach HK$8,288 for the top-of-the-line 128GB model with Wi-fi and cellular connections.
The early prediction is that the iPad Pro will generate the most interest from professional and corporate users, especially those involved in design, illustration, engineering and medical fields.
This reporter, however, sees a big potential for more consumers to be interested in a bigger tablet because of its application in gaming, education and entertainment.
With a brief weekend to put a test unit of the iPad Pro through its paces, this reporter found that size could make a difference in this new chapter for Apple and the worldwide tablet market.
Just 6.9mm thin and weighing 1.57 pounds, the iPad Pro is nearly as light to handle as the original iPad, which had a 9.7-inch screen that was introduced by Steve Jobs in January 2010.
According to Apple, the iPad Pro has the highest-resolution display of any iOS device.
The challenge this reporter saw for the iPad Pro is how the advanced resolution from its 5.6 million brilliant pixels could somehow help make an old 70s movie visually exciting to watch again.
This reporter had previously downloaded Hard Times (1975), a US action movie starring Charles Bronson and James Coburn, from the iTunes Store, and decided this product test was an ideal excuse to watch the video.
The extreme resolution touted by Apple delivered. It was impressive to see how the bigger screen and powerful processing speed can show remarkably lifelike colours and deeper blacks in a digitally scanned, 40-year-old movie.
The movie was about illegal bare-knuckle boxing during the US Depression in the 1930s, so it was impressive to hear clear, crisp dialogue, the sound of punches thrown and doing damage, old cars accelerating on a country road and punters noisily making bets on a fight.
A display experience as immersive as that of the iPad Pro deserves an equally incredible audio experience. The device delivers with four speakers located in each corner.
All four produce bass frequencies, with the topmost speakers dedicated to mid- and high -frequencies. They also automatically recognise whether the device is in portrait or landscape mode and orient the sound to match.
So a test of the 1978 live album The Last Waltz, featuring The Band, delivered a wide sound stage even at the highest volume. The same performance was achieved with headphones connected, which improved on the listening experience with iPhones and iPods.
The Smart Connector located on the side of iPad Pro is a newly developed interface that enables two-way power and data to be exchanged between accessories, like the new Smart Keyboard for the iPad Pro. This keyboard is sold separately.
Microsoft was ahead of marketing a smart cover with keyboard on its Surface line of tablets, which this reporter has not used.
According to Apple, the top of the keyboard is crafted from a custom-woven fabric that is embossed and laser-formed to shape each key. The fabric not only serves as a cover for the keys, but also acts as part of the key mechanism.
Unlike traditional keyboards, there are no gaps between keys. It is also coated in a water- and stain-resistant finish.
According to Apple, a paper-thin sheet of nylon is etched with metal to make it possible for information to flow to and from the keyboard, while maintaining the flexibility to fold the panels, just like a regular Smart Cover.
Using Apple's Smart Keyboard took some getting used to because there are applications where you use the keyboard and the touch display at the same time, such as when copying text to a message on Twitter and writing the rest of the post.
Apple chief executive Tim Cook has said recently that the iPad Pro worked as a notebook alternative, but a few hours' use of the device with the physical keyboard showed that more tweaks may have to be made by Apple on this application.
Even with its highest-resolution Retina display and dramatically increased processing and graphics horsepower, the iPad Pro maintains endurance and efficiency, with up to 10 hours of battery life.
Next week, this reporter will offer his review of iPad Pro applications that make use of the Apple Pencil, which the company claims is more than a stylus.