Alibaba
Get more with myNEWS
A personalised news feed of stories that matter to you
Learn more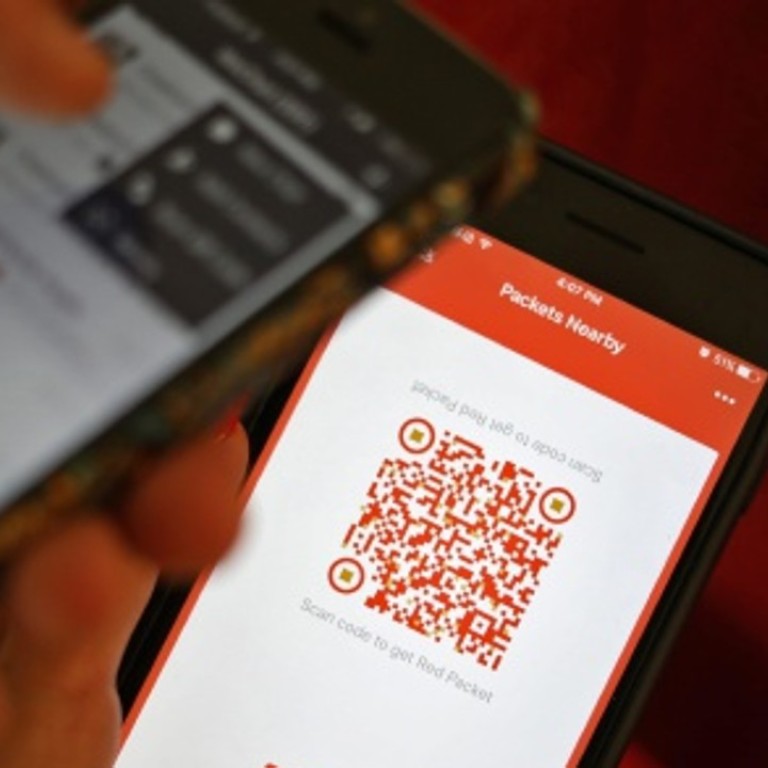 China's biggest internet firms offer millions, keeping users glued to their apps
The Lunar New Year represents an opportune time for internet companies like Alibaba and Tencent to build up brand awareness and attract new users to their popular apps in China
Consumers in China are in for a huge treat as some of the country's biggest internet companies give away money as reward to customers using their apps ahead of the Lunar New Year holiday.
Alibaba Group Holding
and 
Tencent Holdings
, China's dominant mobile payment operators, have pledged to give away a combined 5.2 billion yuan (US$826 million) worth of
hongbao
– the traditional red packet containing cash and given as a gift – and shopping coupons, all in digital form.
"Chinese people have a tradition to send greetings and hongbao to each other during the Lunar New Year, making it the best time for the likes of Alibaba and Tencent to build up brand awareness and increase the number of users on their apps," said Sissi Chu, the vice-president of research at mobile big data service provider Jiguang.
The Lunar New Year, which is a festive time for family reunions across China, falls on February 16 this year.
China's major internet companies are competing to envelop their users in self-contained universes where all of their needs can be met without having to leave the platform, from ordering takeaway and paying utility bills to investing in unit trusts and playing the latest online games.
By having users "grab" virtual red packets, companies like Alibaba and Tencent are enticing users to stay glued to their smartphones, while luring new customers with potential monetary rewards.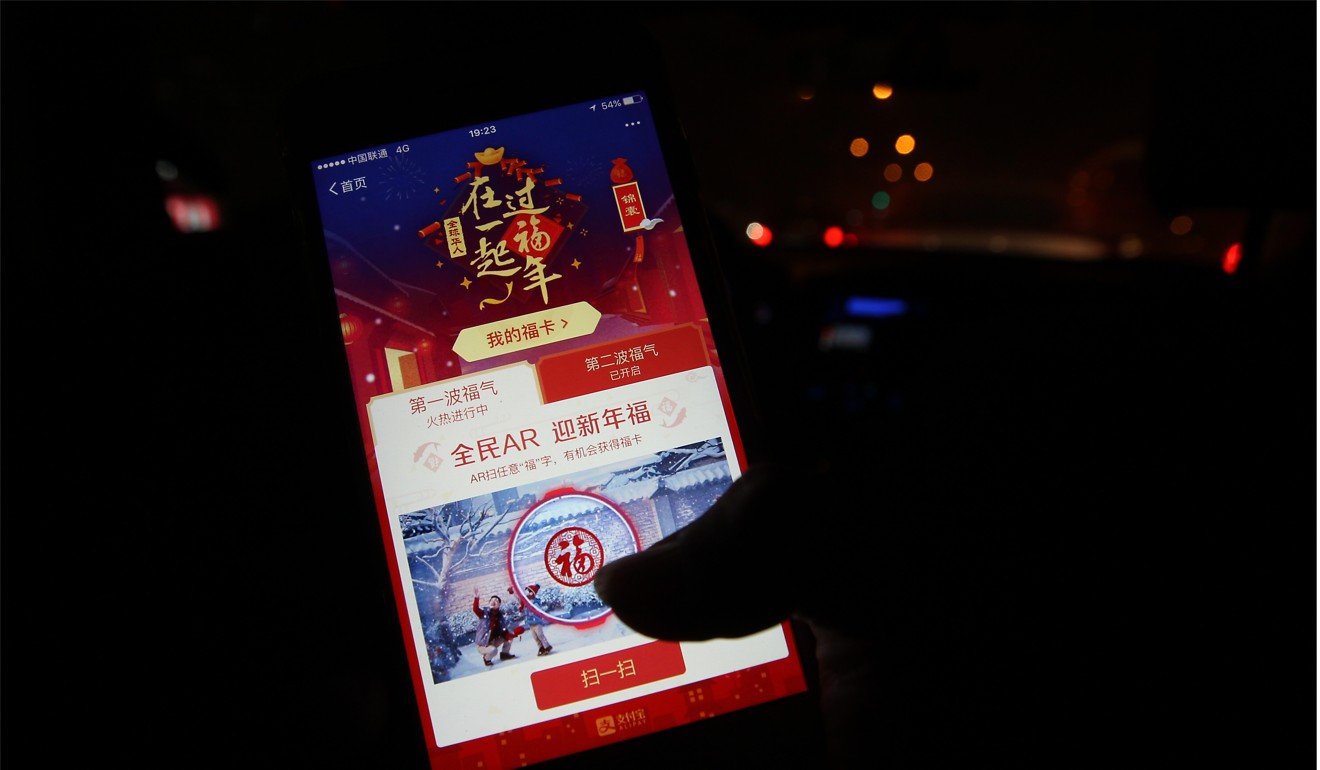 Alibaba said it will offer 1 billion yuan worth of digital hongbao through its Taobao Marketplace online shopping app from February 11 to 15.  
It said 600 million yuan of its digital cash giveaway next week will be disbursed on February 15, during the annual New Year's Gala special of state broadcaster China Central Television (CCTV).
That five-hour show, in which Alibaba is one of the major sponsors, has a yearly audience of more than 700 million viewers, making it the most-watched TV programme in the world – larger than the estimated 103 million viewers who saw the Super Bowl, the annual championship game of the National Football League, on Sunday in the United States. 
New York-listed Alibaba, which owns the South China Morning Post, said last week that its Taobao Marketplace and Tmall shopping apps recorded 580 million monthly active mobile users in the quarter ended December 31.
In recent years, China's major internet companies have signed up as sponsors for the annual CCTV special to conduct red packet promotions, which have allowed them to keep customers engaged with their apps as long as possible even during the country's most important holiday.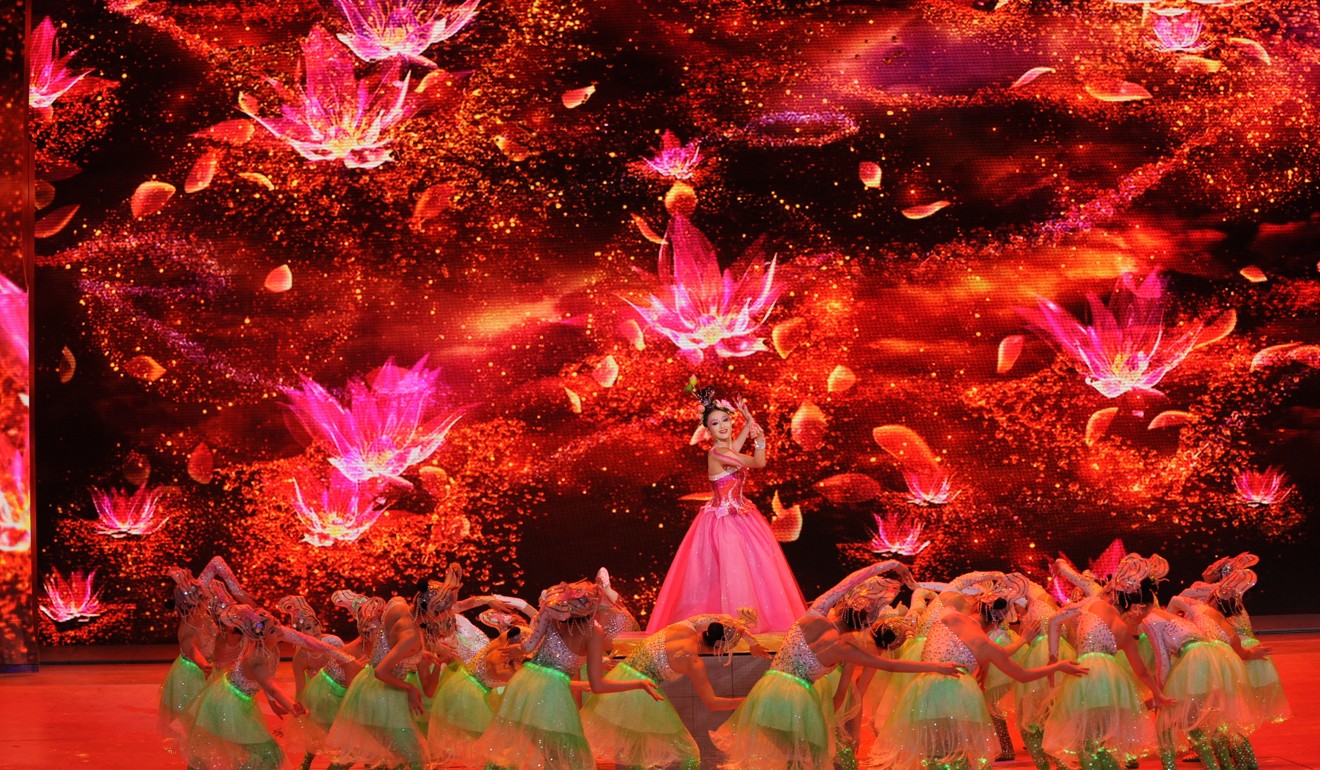 On-air instructions are typically provided during the CCTV show about the exact intervals when viewers can hit a button on their smartphone, which will release a stream of digital hongbao to random people. 
The free money is deposited directly into the recipients' accounts with the app operator. The recipient can use the digital cash for future purchases via the app or resend it as a gift to friends and relatives who are using the same app.
The opportunity has grown for China's internet companies to get more users on their apps not only because of the country's large number of mobile subscribers, but also due to the increased domestic adoption of mobile payments.
China, which had 1.4 billion mobile subscribers as of December 31 last year, recorded US$5.5 trillion worth of mobile payment transactions in 2016, according to internet consulting firm iResearch.
Alipay, the mobile payments arm of Alibaba affiliate Ant Financial Services Group, said it has prepared 500 million yuan worth of digital red packets for its users to share from February 6 to 15.
Users of Alipay are asked to collect five types of digital lucky cards bearing the Chinese character "fu", which translates to "blessing" during the Lunar New Year, to become eligible to share in its promotion, with the luckiest participants getting as much as a 666 yuan share.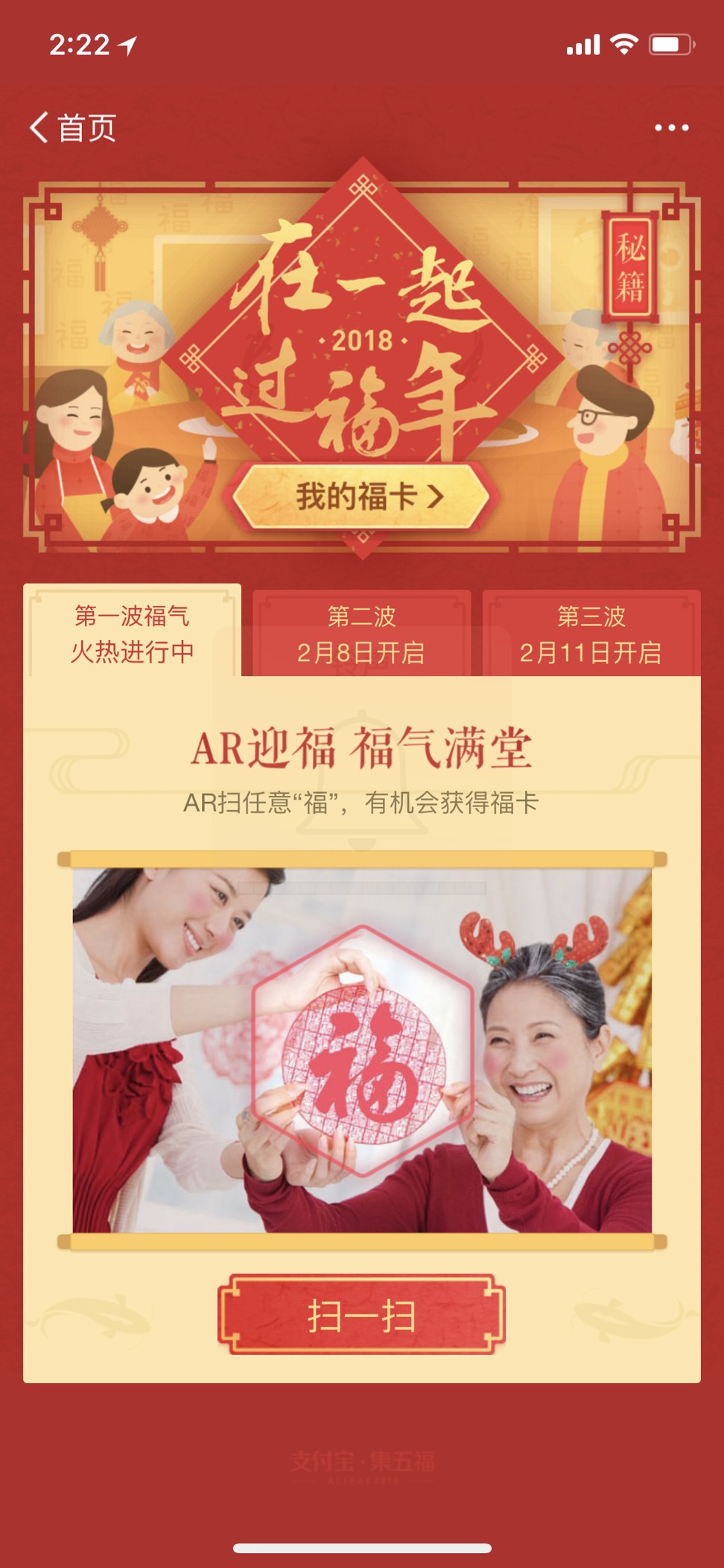 Alipay users are encouraged to share and request "fu" with their friends, which would maximise the participation of current Alipay customers and help attract new users.
Hong Kong-listed Tencent, which runs popular social media-messaging-and-payments app 
WeChat
, said it will provide 200 million yuan worth of digital
hongbao
as well as 4 billion yuan worth of shopping coupons to users of its QQ platform, which provides online games, shopping, music, video and messaging services.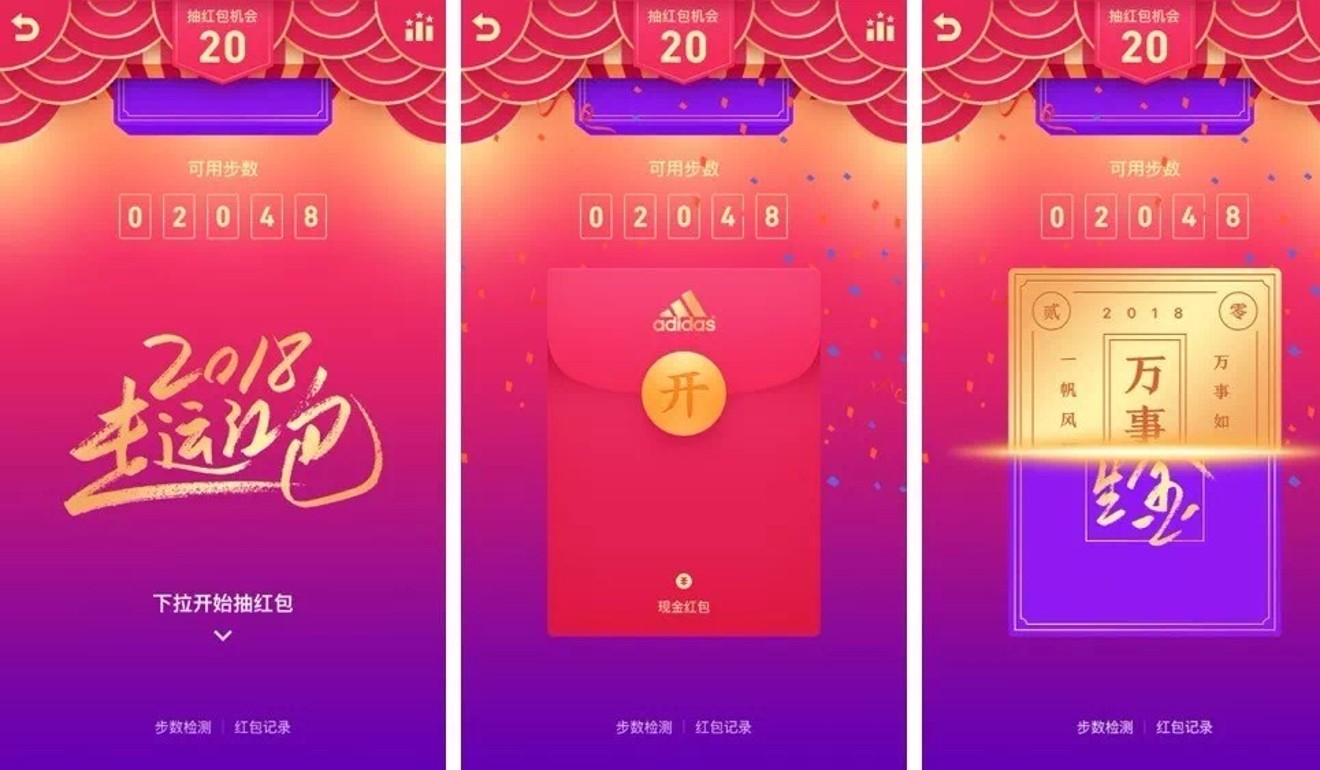 Tencent is holding the promotion as its QQ platform saw a 3.8 per cent year-on-year decrease in number of users to 843 million in the third quarter of last year.
WeChat, marketed as Weixin on the mainland, posted a 15.8 per cent year-on-year increase in users to 980 million in that same period. 
Tencent said it will grant QQ users up to a hundred opportunities for digital cash awards. A QQ user who walks 100 steps during the Lunar New Year is qualified, according to the Shenzhen-based company.