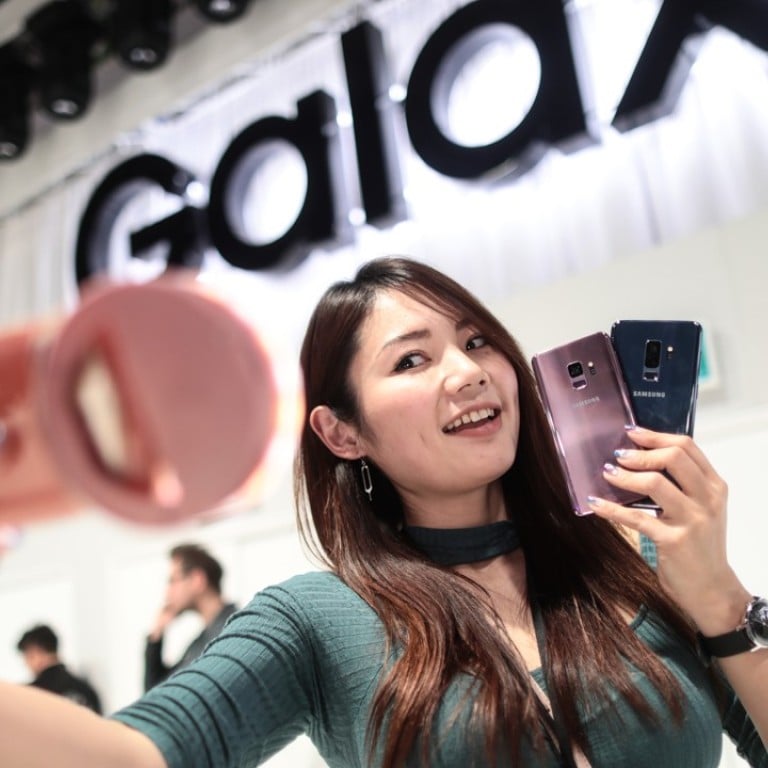 Samsung responds to Apple's iPhone X with new flagship Galaxy S9
Samsung is banking on new feature such as augmented reality-based emojis, camera upgrades and stereo speakers to take on Apple's iPhone X
Samsung Electronics Co. grabbed center stage in Barcelona at Mobile World Congress with the unveiling of its latest flagship handset: the Galaxy S9.
The South Korea-based technology giant is banking on new features such as augmented reality-based emojis, camera upgrades, and stereo speakers in a form-factor similar to last year's model to take on Apple Inc.'s iPhone X. It also wants to calm concerns about a possible slowdown of its component business, and Vice Chairman Jay Y. Lee's ability to manage the company following his legal saga.
"The S9 is such a high-visibility flag bearer that Samsung has to keep pushing the envelope aggressively with it," said Bryan Ma, vice president of devices research at tech analysis group International Data Corp. "My worry, though, is that the product seems like a mere incremental 'me too' set of improvements rather than anything that significantly differentiates it."
About 1,500 people showed up to watch the release around a stage surrounded by screens. In demos, Samsung executives zeroed in on how when coupled with intelligent assistant Bixby, the camera -- the most distinctive feature -- lets someone translate a restaurant menu, try on make-up and make emojis that look like their face. It also recognizes meals to register calories into the Samsung health app.
"The camera will be an important component" to help the S9 stand out from Apple's iPhone X, Samsung Chief Marketing Officer David Lowes said in an interview in Barcelona. "It's often the No. 1 feature people consider. What could be a real differentiator is the intelligence behind the camera."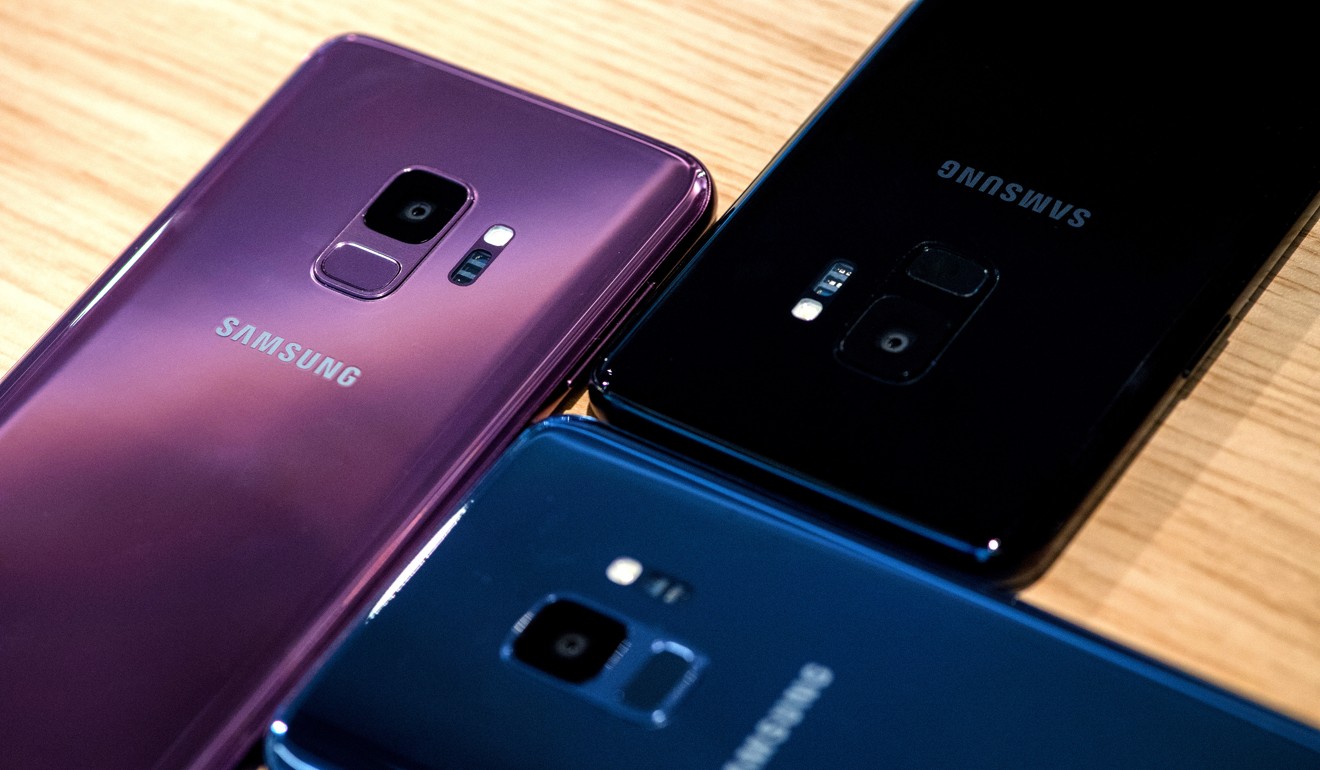 While Samsung is challenging the iPhone X's Animoji feature with its on take on the phenomenon, the company isn't fighting Apple's new design. The new Samsung phones, which come in the same 5.8-inch and 6.2-inch screen sizes, look similar to last year's phones save for slightly slimmer bezels on the top and bottom.
The new models are cheaper than the iPhone X, which starts at $999. In the U.S., prices range from $720 for the S9 on T-Mobile US Inc.'s network to $930 for the larger S9+ through Verizon Communications Inc. Bloomberg News reported the launch plans in December.
Samsung had 22 percent of the smartphone market in 2017, ahead of Apple's 15 percent, according to researcher IDC. While the iPhone X launched with much fanfare late in the year, many consumers regard pricey flagship handsets as a luxury rather than an necessity and stick to cheaper models or previous generations, according to IDC.
The S9 is another step away from the company's exploding phone debacle in 2016. And it's the first new Samsung phone unveiled since Lee was set free with a suspended prison term for graft. Sales of the device will be a test of Lee's performance after his skills as a business manager came into question during the legal saga.
The camera system in the latest model takes better pictures in low-light environments and has a new slow-motion video capture mode. The standard S9 includes a single rear lens, while the S9+, like the iPhone X, includes dual back cameras to capture depth in photos.
Even with a new camera, the lack of a major design revamp is notable for a company that's known for quick style iterations. Samsung may be holding its fire: it's working on a phone with a foldable screen. The iPhone X, with its slimmer bezels and notch, was a departure from past designs. While performance boosts and new features are important, many consumers upgrade based on the look of phones, especially near the $1,000 price point.
Samsung also didn't use the S9 as an opportunity to compete more with Face ID, the iPhone X's facial-recognition feature for logging in. The previous S8 line offered three biometric methods to unlock the phones: iris scanning, facial recognition and fingerprint. The new models combine the first two into a feature called Intelligent Scan that uses the best method based on the situation.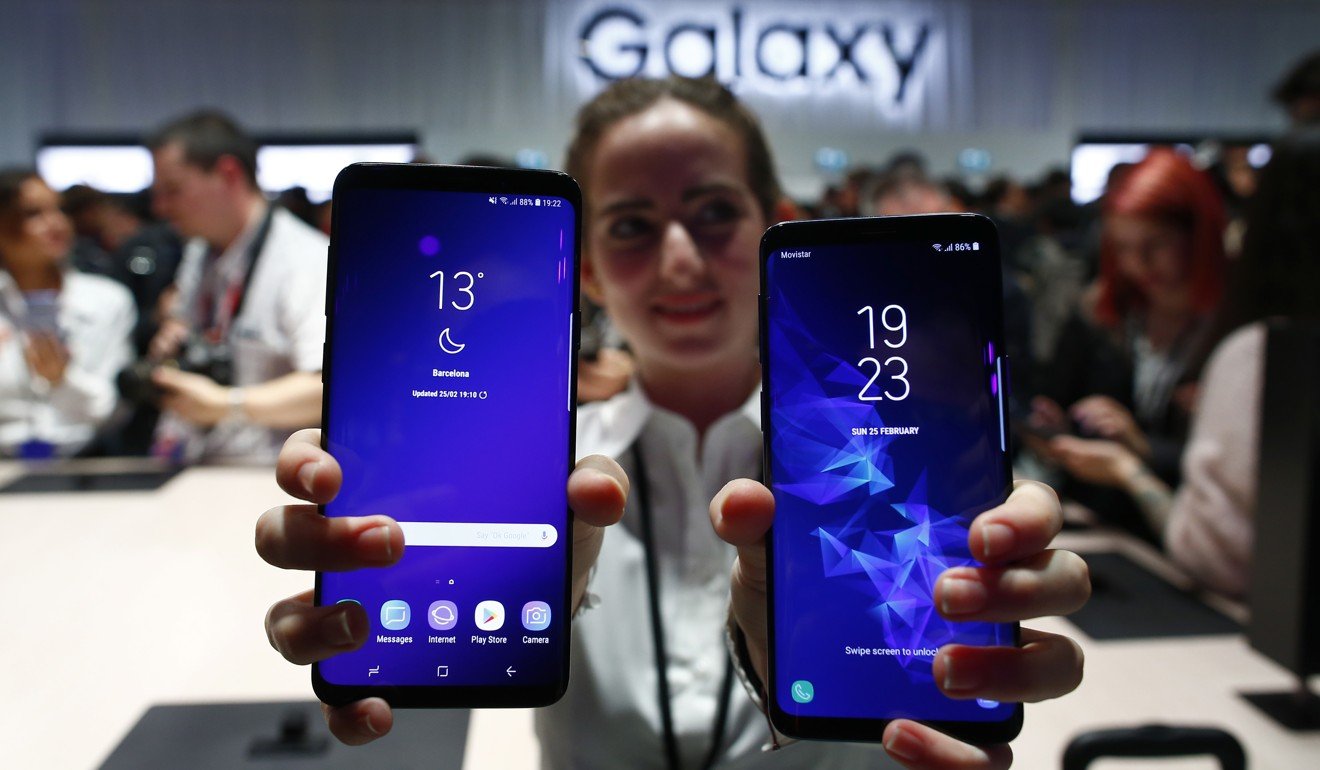 The company has tried to put an in-display fingerprint scanner in its flagship smartphones. The technology, which would let consumers touch the screen to unlock their phone, remains elusive. Instead, Samsung kept the fingerprint scanner on the back, moving it a few millimeters.
Internally, the S9 will use Qualcomm Inc.'s flagship Snapdragon 845 processor in the U.S., but in other regions, such as Europe, Samsung will use its own Exynos chip.
The company is also trailing in the services world that has become critical to Apple, Amazon.com Inc., and Alphabet Inc.'s Google. A survey conducted by Forrester Research in the fourth quarter of 2017 found Samsung's Bixby voice-controlled assistant lagged behind Amazon's Alexa and Google's Assistant as a mobile-services platform.
Samsung's products have been less integrated than Apple's, too. Samsung is trying to change that with the S9 by making it work better with its TVs and other appliances, and its SmartThings connected-home platform. The company is also preparing its own smart speaker to compete with the Amazon Echo, Google Home, and Apple HomePod, Bloomberg News reported last year.
"Samsung's innovations are incremental," Thomas Husson, an analyst at researcher Forrester, said in an email. "To really be the smartphone market leader, Samsung has to accelerate its transition toward more content, services, software innovation and partnerships."