Xiaomi
Get more with myNEWS
A personalised news feed of stories that matter to you
Learn more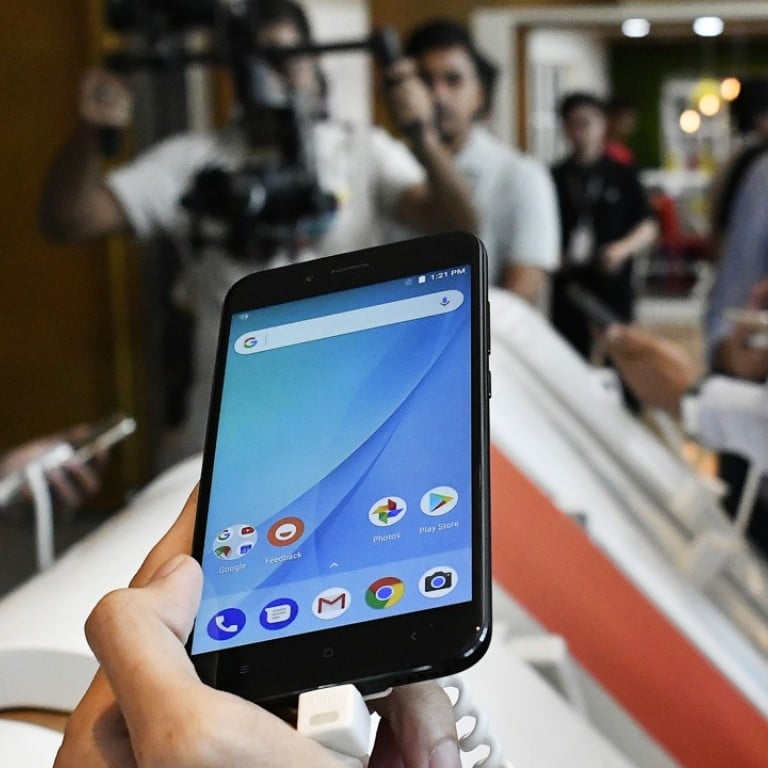 Xiaomi creates new Poco brand to take on Samsung, Huawei in premium smartphone market
The launch of Poco in India next week would come after Xiaomi was unseated by Samsung as the country's leading smartphone brand in the second quarter
Xiaomi, the world's fourth largest smartphone supplier, is set to introduce a separate mobile phone brand, Poco, to take on industry leaders Samsung Electronics and Huawei Technologies in the premium segment of the global Android handset market.
The first device under the new brand will be unveiled on August 22 in India, according to Jai Mani, Xiaomi's head of product for Poco, in posts made on his Twitter and Facebook accounts on Monday.
Mani, who joined Xiaomi in 2014 after working at Google from 2009 to 2013, first confirmed the Chinese company's Poco project in social media posts on Friday, when he described "making a powerful smartphone with the technologies that truly matter".
"Recently it feels like the pace of innovation in the smartphone industry has slowed down, while prices are creeping up with flagship smartphones now past the US$1,000 mark," he said. "We set out to build something to buck the trend."
It would be a strategic launch in India for Poco, which means "little" in Spanish, because it would come several weeks after Xiaomi was unseated by Samsung as the country's leading smartphone brand in the second quarter.
Xiaomi had a 28 per cent smartphone market share in India during that quarter, compared with a 29 per cent share for Samsung, according to data from Counterpoint Research. Beijing-based Xiaomi was the top brand in the world's second-largest smartphone market in the two previous quarters.
A Xiaomi spokeswoman said the company had no further details to share about Poco beyond Mani's social media posts.
The push towards the higher end of the smartphone market comes at a time when the major Chinese brands have squeezed international brands in the mass market segment.
China's top four smartphone brands – Huawei, Xiaomi, Oppo and Vivo – had a combined global market share of 39 per cent in the second quarter, according to Counterpoint.
Samsung led the industry during that quarter with a 20 per cent share, while Apple slipped behind second-ranked Huawei with an 11 per cent share. Xiaomi, Oppo and Vivo ranked behind the iPhone maker.
After nearly a decade of selling mostly budget Android smartphones, Xiaomi is looking for another crack at the premium segment, according to Tarun Pathak, associate director at Counterpoint.
Xiaomi's new Poco brand goes against the norm for how other Chinese smartphone makers launch another brand, which are typically low-cost alternatives. Huawei, for example, created its Honor brand for younger consumers who have a lower budget for buying handsets.
"It is a difficult move to make an impact in the higher priced segments when the majority [of Xiaomi's smartphones in the market] play in the lower-end segments", said Kiranjeet Kaur, Singapore-based senior research manager at IDC.
Kaur said Xiaomi may be able to make a difference in the Indian market with its sub-brand Poco. If Xiaomi priced this brand at around US$500, its main competition in India would be OnePlus, which sells for about that same amount, Kaur said.
Xiaomi, however, has experienced setbacks in pushing higher-priced handsets because of its reputation as a player in smartphones priced below US$200. Its existing entry in the premium smartphone segment, the Mi Mix, has had difficulties gaining share in markets like India.
Despite two consecutive price cuts in India, the latest Mi Mix 2 model, which costs from around US$400, received a tepid response in country when compared with the popular Redmi 5A and Redmi Note 5 Pro devices that cost around US$200.
Following its initial public offering in Hong Kong last month, Xiaomi has set a goal to further expand worldwide. It wants to have overseas markets account for more than half of its annual revenue.
"One of the key reason for Xiaomi's interest in the premium segment is that demand has been growing across different regions," Pathak said. "Only companies with deep expertise in supply chain and research and development can compete in the premium segment."
Founded in 2010, Xiaomi has already entered about 74 countries to date, including setting up a manufacturing base in India.
Still, Xiaomi remains committed to its business model, which puts a 5 per cent limit on the profit margin of every piece of hardware – from smartphones to suitcases and ballpoint pens – that it sells.