Uber
Get more with myNEWS
A personalised news feed of stories that matter to you
Learn more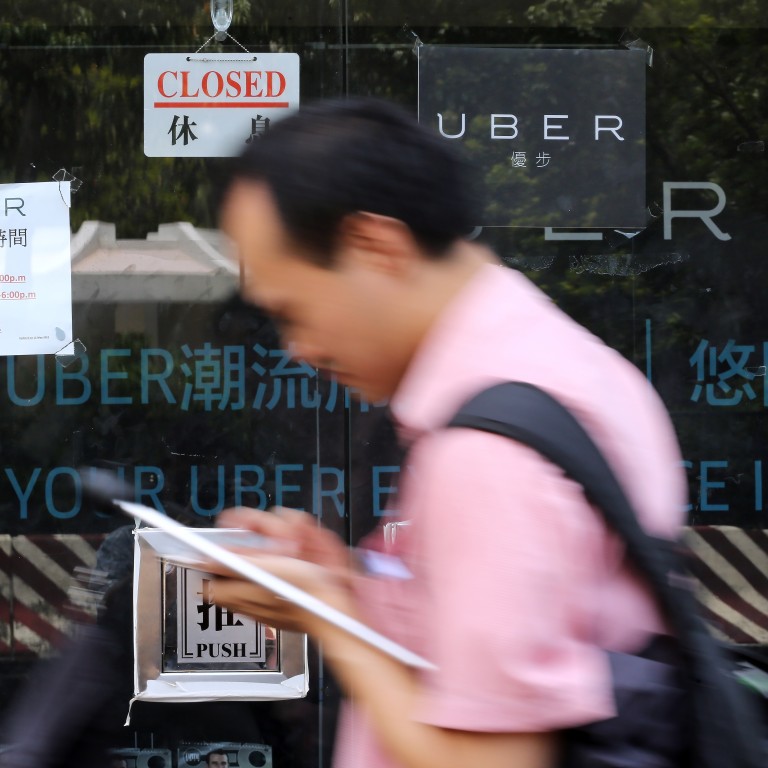 New

|
Uber exec hopes for 'smart regulation' of Hong Kong sharing economy following police raid
Uber
is keen to work with the Hong Kong government to develop "smart regulations" to fit with people's needs in the digital era as the embattled taxi-hailing app rallied public support in the wake of a raid by police on its offices in the city.
Speaking to the South China Morning Post, Uber north Asia general manager Sam Gellman said the firm – one of the fastest growing start-ups in the world, valued at over US$50 billion – was ready to sit down with the government anytime to talk and work through the regulatory process.
"Innovation and technology across all sectors can improve Hong Kong's efficiency, liveability, and competitiveness – and how we enable and foster that is an important factor for any dynamic city to discuss," said Gellman, who is responsible for Uber's expansion in the region and officially launched the service in Hong Kong last year.
"A smart city must have smart regulations fit for a digital age, and we look forward to working closely with regulators towards developing a regulatory approach that enables more choice and innovation while putting the safety and interests of riders and drivers first."
More than 50,000 people have signed an online petition
supporting the car-hailing app in the wake of a police crackdown that saw seven Uber drivers arrested in a sting operation for not possessing correct permits. The firm's offices were also raided and three staffers detained.
Asked by the Post if Uber was seeking to pressure the Hong Kong government with the petition – a tactic it has used with success in New York – Gellman said the firm believed it can work with the government together to develop a new regulatory approach to the public transport business.
On Monday, Hong Kong justice secretary Rimsky Yuen Kwok-keung said there should be "legal space" for Uber to continue to operate in the city.
Yuen added that the justice department hadn't yet decided whether to lay charges against staff members and drivers working for Uber, pending an ongoing investigation by police.
Core issues at stake include whether Uber's car-and-taxi-hailing app should be considered an unlicensed public transport business and whether Uber drivers have the correct insurance for carrying paying passengers.
Uber's "disruptive" business model has faced legal challenges in multiple markets in the past, including several American cities. The firm has also been subject to protests from taxi drivers, who accuse it of stealing business from them.
"Safety is our top priority at Uber and we uphold our high standards here in Hong Kong and across the globe, which is why all drivers wanting to join the platform go through an extensive background check and why we ensure that every single ride is covered by insurance," Gellman said.
Asked about legal challenges to Uber in Hong Kong and elsewhere, Gellman said he believed the city can follow other markets in transforming its transport system to better match the needs of customers in the "sharing economy" era.
"Uber has worked with regulators in dozens of jurisdictions – including 54 in the United States alone, Mexico City, and the Philippines – to successfully modernise transportation regulations and licensing schemes," said Gellman.
"We've seen that the result of such modern regulatory approaches is more safe and reliable transportation options, greater efficiency, and stronger global competitiveness for these locales – a 'win' for riders, drivers, and the city or country alike."
Both Uber and Airbnb are widely considered best case studies for the "sharing economy", which is seen by many analysts and politicians as one of the keys to develop the digital economy and transform old-fashioned and labour intensive economic structures. There are also many clones of Uber and Airbnb services in China such as Didi Kuaidi, a multi-billion dollar valued Uber-like car-hailing app partly funded by China's sovereign wealth fund.
Regarding those detained last week, Gellman said that Uber will "stand behind our team and our driver-partners 100 per cent" and meanwhile will continue to fully cooperate with the government for investigations.
"We share the same goals as the government – ensuring transportation is reliable and safe, expanding economic opportunities, and making Hong Kong a more liveable city through technology and innovation."
Separately in Mainland China, six government ministries issued a joint statement on Monday to warn four major car-hailing app developers to "restructure" their services to fit local regulations within a certain period of time ordered by the government.
Ministry of Transport, Public Security, Industry and Information Technology, the National Development and Reform Commission and the State Internet Information Office jointly summoned executives from Uber, Didi Kuaidi, Ucar and Yongche.com, the four major car-hailing apps for local markets on the mainland for a meeting to discuss regulatory matters, state media reported, without giving more details of the meeting.
Additional reporting by Danny Lee in Hong Kong and He Huifeng in Beijing
 
Q & A with Uber north Asia general manager Sam Gellman:
 
Q: Are you impressed by the response to the #SupportUberHK campaign?
A: We've been overwhelmed by the huge support we've received from the public, including the 50,000+ petition signatures we received in just over a day. It shows that our riders rely on us to get them around the city safely and reliably and underlines that that the people of Hong Kong want choice and innovation in transportation, and we look forward to working with the government on enabling this shared goal.
Q: Did the actions taken by police and government last week change your view regarding future development in Hong Kong as one of Uber's regional hubs?
A: We love Hong Kong. We have always considered Hong Kong and Uber a great match due to the city's forward-thinking and entrepreneurial nature, as well as its support for consumer choice, and the tremendous public support we've received over the past week has shown it to be truer than ever.
Q: What is your personal impression of Hong Kong society and its people?
A: Over my past four years at Uber, I've helped bring Uber to a number of different international markets including Hong Kong, but never have I seen the amount of public support from the local community that I've seen here – both in the past week and in the past year. It has been truly overwhelming, and all of us at Uber are very grateful.
Sam Gellman spoke to George Chen