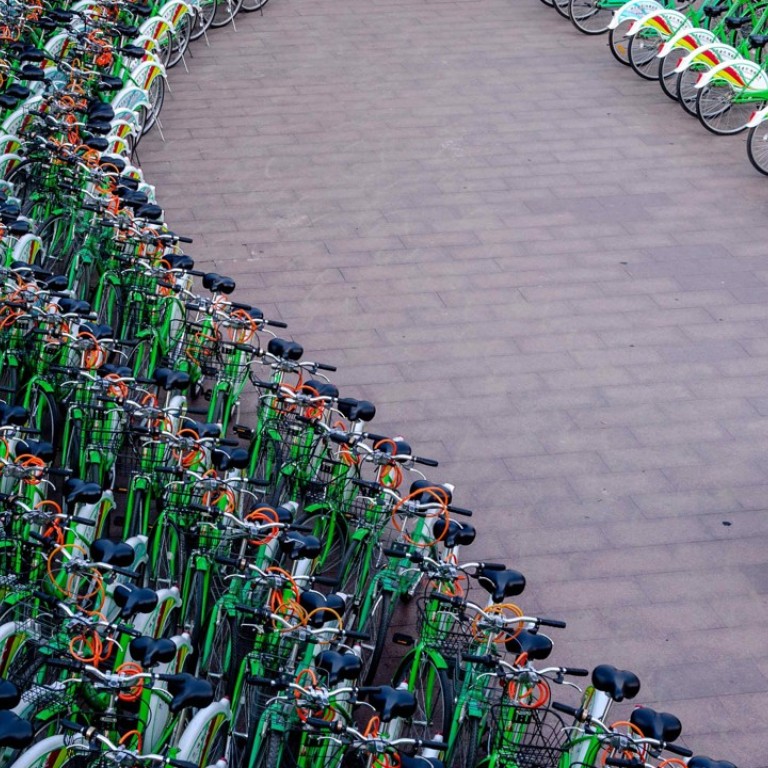 Analysis
China's sharing economy charges, pedals and bounces into overdrive – and it'll even keep you dry if it rains
30 bike-sharing apps launched already, with a dozen players fighting it out in the smartphone power bank sharing market, and six more dedicated solely to sharing umbrellas
Years of costly competition between Uber Technologies and its main local rival Didi Chuxing in China have made millions of Chinese comfortable about riding in each other's cars.
And now more than 30 bike-sharing start-ups have sprouted across the country, dismissing urban dwellers' ideas of buying their own bikes (or cars, for that matter), by carpeting the streets with millions of easily accessible two-wheelers.
Entrepreneurs in their drives are also jumping on the wider 'sharing' bandwagon, with an increasingly enriched list of offerings, from smartphone power banks and umbrellas, to basketballs and even cigarette lighters.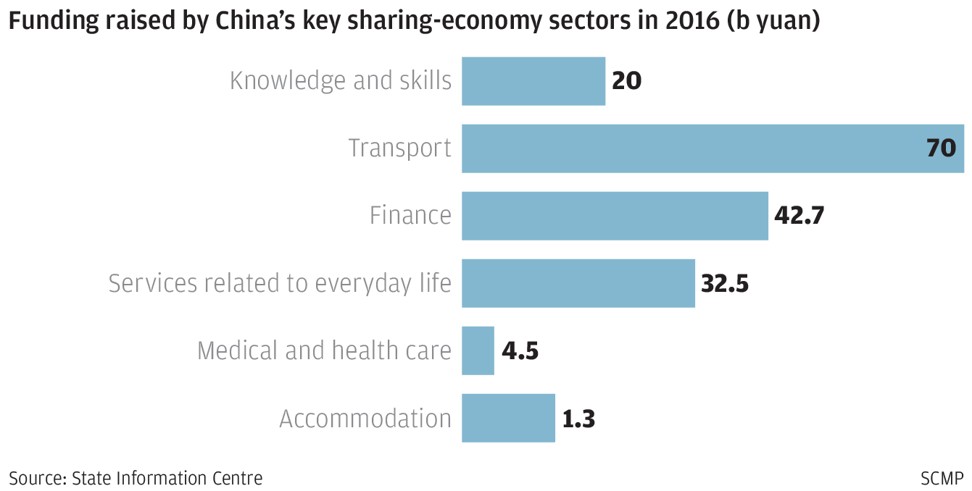 All can be conveniently borrowed on street corners, in shopping malls and subway stations... often with little more than the simple swipe of a smartphone.
As more entrepreneurs and venture capitalists enter the battlefield, setting up new businesses using the same, sharing recipe, scepticism already now mounting on whether the country is "over sharing" even among those at the very heart of this new collective revolution.
According to the China's State Information Office, 600 million Chinese have tried or signed up to use something or working to provide a service within the sharing economy last year, creating a market worth 3.45 trillion yuan (US$ 507 billion) in 2016, up 103 per cent on 2015.
Research firm CB Insights, claims, incidentally, that three of out of the world's five most-valuable private companies are all in the sharing economy: Uber ranks first with a valuation of US$68 billion, followed by Didi Chuxing at US$50 billion, and global online marketplace for short-term lodgings Airbnb, worth USS$29.3 billion.
"Early-stage investment is all about keeping a close eye on the next big thing. But it feels like more and more people are betting on this (sharing economy) with their eyes closed," said Tony Liang Weihong, a partner at Panda Capital, an investor in China's bike-sharing major Mobike.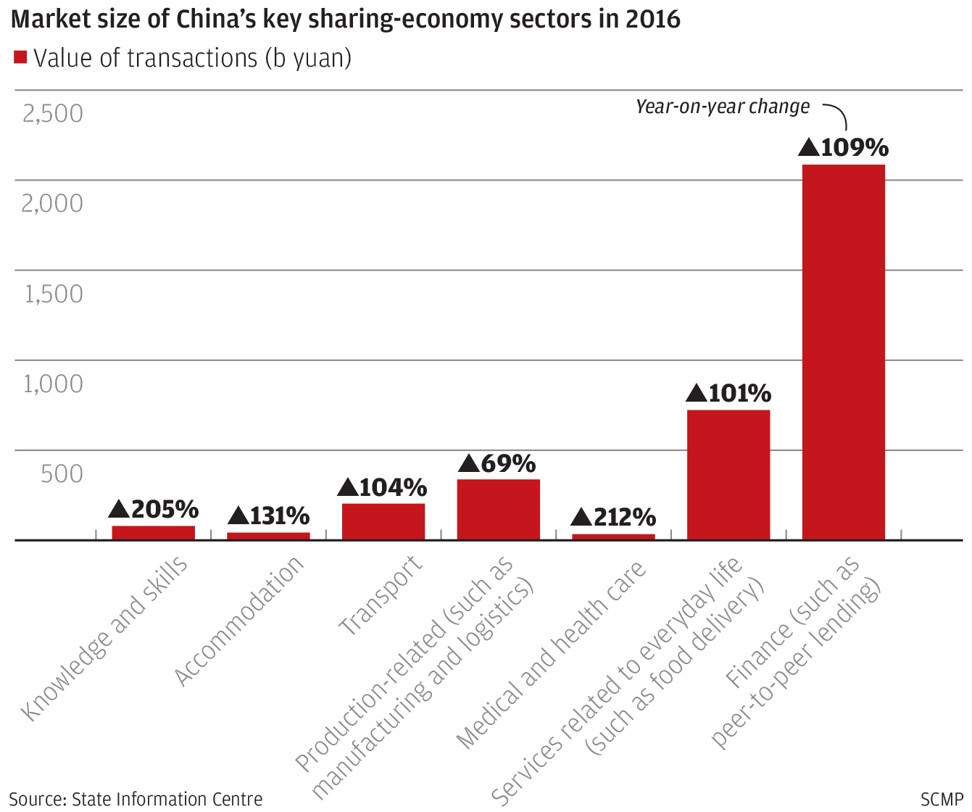 Liang is keen to point out that many of the businesses being created under this new sharing economic model do have value – but their longer-term success, effectively comes down to two simple questions: is there a need from people for whatever you provide, and is sharing really the best solution?
For entrepreneurs like Xu Min, who set up China's first ever basketball-sharing company in March, the answers to both are "yes and yes".
The 31-year-old from Jiaxing of East China's Zhejiang province spotted what he hopes will be a billion dollar idea after one of his friends complaining about the inconvenience of carrying a basketball round.
"So many have been hooked by the convenience of bike-sharing, I thought why not let people get access to basketballs in the same way?" he said.
He's set up a company called "Zhulegeqiu", which roughly translates as "Rent a Ball" and started introducing specially designed basketball lockers at outdoor public basketball courts across the country.
Each of the lockers can hold six balls, and by scanning a quick response code on the locker, users can quickly unlock it and borrow the ball for 3 yuan (45 US cents) per hour.
It is an entirely self-serve process. The whole process or borrowing, returning and paying (including the refundable deposit of 49 yuan (US$7.20), is made by smartphone.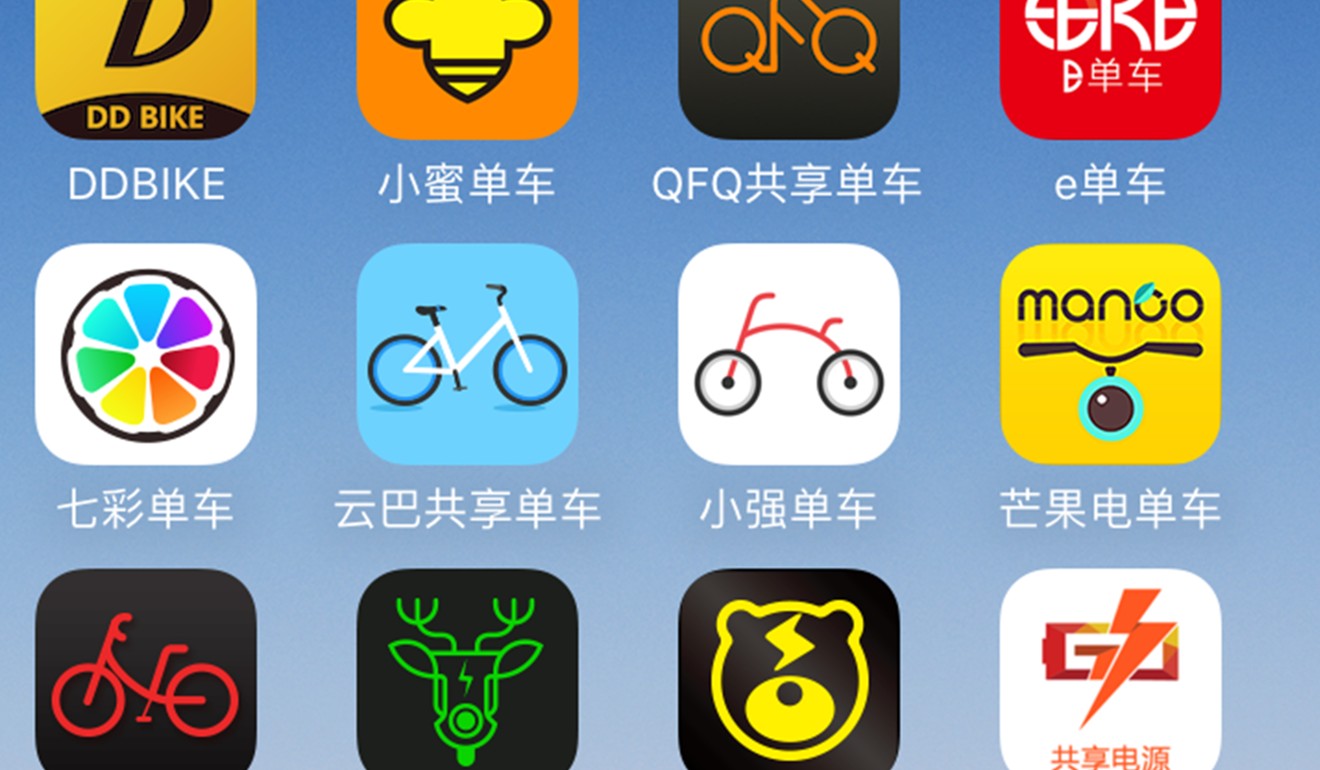 Xu only just secured his first found of funding of more than 10 million yuan in May, from the Shanghai-based Modern Capital, and is about to close a new round by the end of June.
Allen Zhu Xiaohu, the managing partner at GSR Ventures Management, thinks the sharing craze is being fuelled by an stark shift in the country's approach to lending to entrepreneurs.
"There wasn't much money in the [start-up] market. But now there's a surplus," said Zhu, a veteran venture capitalist who was listed in Forbes magazine's Midas List in 2016 for his successful track record in discovering tomorrow's "unicorns" – private companies worth more than US$1 billion or more.
To underline his point of a land flush with VC funding, Zhu said that JD.com, China's second largest e-commerce firm, raised a total of US$1.2 billion before its Nasdaq-listing in 2014.
And now Didi Chuxing, China's equivalent of Uber, is able to raise US$15 billion without even releasing an IPO timetable.
Driven by the Chinese government's ambition to transform the country to an innovation-driven economy, and dwindling investment returns elsewhere, the technology sector has become the current apple of every investors' eye.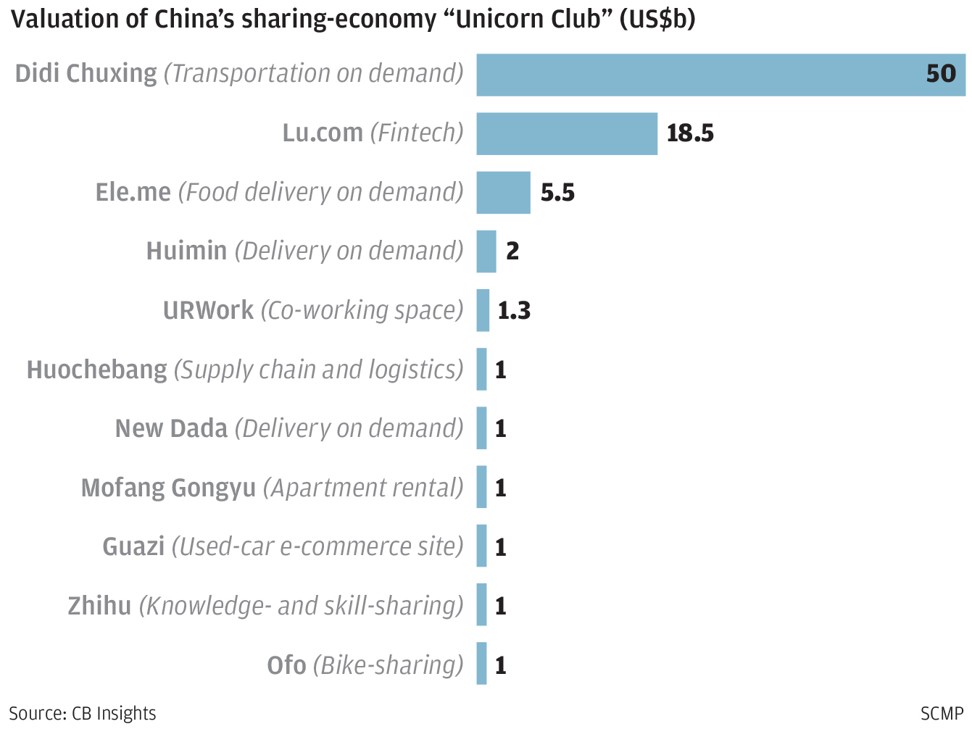 But decisions, fear Liang of Panda Capital, are being made far too often on herd mentality, rather than business sense.
"Investors are simply afraid about missing out on big opportunities," he adds."But certainly 'sharing economy' are the great buzz words in China right now – everyone wants to get in on it."
The bike-sharing industry landed its first unicorn earlier this year, and companies that allow phone users to share power banks, have raised at least US$150 million in recent weeks.
Jeffrey Towson, an investment professor at China's elite Peking University, views the booming industry slightly differently, calling it a new wave of "digital disruptors" in access and convenience: a living example, he adds, of "making it easy and making it now" for consumers.
"This is only possible in China," he added, "because of the arrival of smartphones, mobile payments, and a very dynamic mobile app ecosystem.
Wilson Chow, the technology, media, telecommunications leader of PwC in China and Hong Kong, agrees completely with Towson, but adds the nation's tech-led stampede for sharing, isn't really about saving money, it's more to do with convenience.
"For young people in China, sharing is not a matter of affordability. They simply don't want to carry an umbrella around nor spend money on things that they can use once or twice a month," he said.
The latest figures show that 50 times as many mobile-based payments were made in China last year than in the US, meaning that even the inconvenience of carrying a wallet is fast becoming a thing of the past.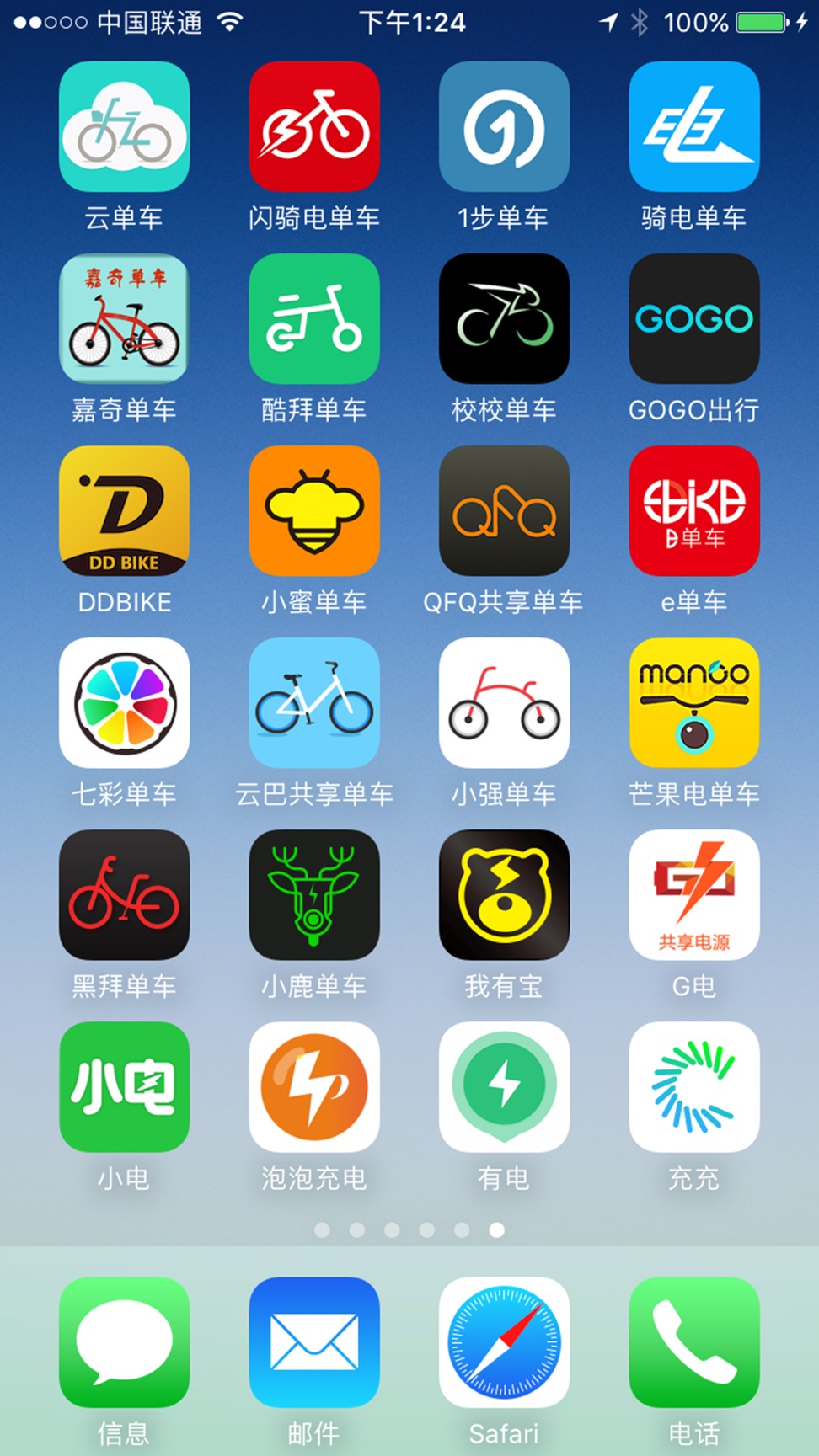 But without doubt, the most crowded and visible form of sharing is being on two wheels, with more than 30 start-ups launching bike-sharing apps already.
Another dozen players appear to be fighting it out in the smartphone power bank sharing market, and there are six more dedicated solely to umbrellas sharing.
And they have nearly all emerged within the past ten months, according to a Beijing-based data firm IT Juzi.
GSR Ventures' Zhu – who has invested in Didi Chuxing, Beijing-based bike-sharing major Ofo, and most recently in the smartphone power bank sharing firm Xiaodian – warns, however, that already a lot of VC cash has been wasted, simply because too much is being invested in too many firms with the same idea.
"This crowded war zone has made competition brutal. Even if you make a good start, it doesn't ensure that you'll have a happy ending," added Liang of Panda Capital.
Basketball entrepreneur Xu, meanwhile, has managed to register his own easy-to-copy business as his own intellectual property.
But he still doesn't feel that's going to be enough to safeguard his business. Just prior to speaking with South China Morning Post, he had heard of another firm preparing to offer the same kind of service.
He allowed just 10 minutes of his precious time for this interview, adding: "To enlarge our first mover advantage... I can't waste another second on things that are not about market expansion or fundraising."
This article appeared in the South China Morning Post print edition as: Shared fortunes