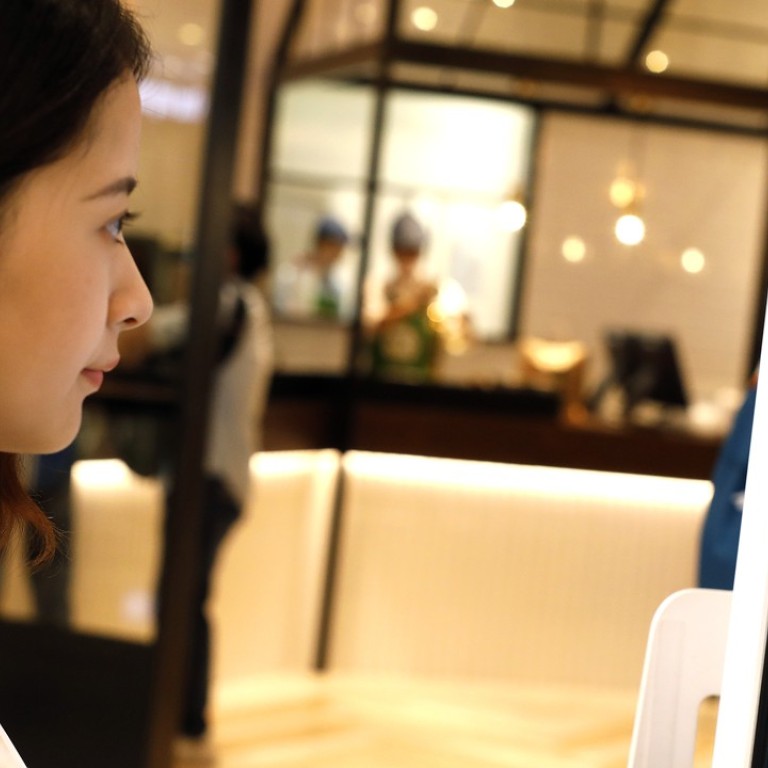 Alipay rolls out world's first 'Smile to Pay' facial recognition system at KFC outlet in Hangzhou
Ant Financial, which operates the Alipay electronic payment platform used in Alibaba's Taobao and Tmall online shopping sites, has rolled out the world's first commercial application of a payment system that identifies payers using facial-recognition technology.
At KPRO, a new KFC restaurant that serves salads, paninis and fresh juice instead of deep-fried chicken in Alibaba's home base of Hangzhou, customers can authenticate their payments by having their faces scanned.
The "Smile to Pay" application takes just one to two seconds to recognise and identify a face, which follows the scan with a second verification through a mobile phone, according to Ant Financial. The technology is fully insured, and users of Alipay can disable or enable the feature any time.
A video provided by Ant Financial, which bought a stake in the China-based KFC and Pizza Hut fast food restaurants business last year from Yum! Brands for US$460 million along with Primavera Capital, shows customers being accurately identified, even though they were in disguise using make-up or wearing wigs.
"Combined with 3D cameras and likeness detection algorithm, 'Smile to Pay' can effectively block spoofing attempts using other people's photos or video recordings," said Chen Jidong, Ant Financial's director of biometric identification technology.
The roll out of Ant Financial's "Smile to Pay" function, powered by the Face ++ technology developed by Beijing start-up Megvii, underscores how China, with the world's largest population and a headlong embrace of mobile internet technology, is becoming the latest testing ground for new applications and services.
China's has been a front runner in both the developing and applying facial recognition technology for commercial use, a trend that's been untouched by technology companies in the United States, due to tighter US laws governing the collection of biometric data. An airport in Nanyang city in Henan province has installed a check-in system that augments a boarding pass with a facial recognition system developed by Baidu, operator of China's dominant internet search engine. Similar plans are afoot for the Beijing airport.
Alipay already has more than half the share of China's US$5.5 trillion market for mobile payments, while Alibaba's Taobao and Tmall are the biggest e-commerce and online shopping platforms on the market. Alibaba is also the owner of the South China Morning Post.
Alibaba's founder and chairman Jack Ma Yun demonstrated Ant Financial's "Smile to Pay" function for German Chancellor Angela Merkel during the 2015 CEBIT exhibition in Hanover. Facial recognition is one of hottest technology trend in China.
Ant Financial's facial recognition technology was licensed from Megvii. Other companies like Didi Chuxing, the dominant Chinese ride-sharing company, uses Face++ to verify the identities of its 1.35 million drivers, while Meitu uses it to enhance its photo-retouching features.
Megvii raised US$100 million from investors CCB International and Foxconn Technology during its last funding round in December, according to a report by Bloomberg.
This article appeared in the South China Morning Post print edition as: Alipay launches world's first smile-to-pay system