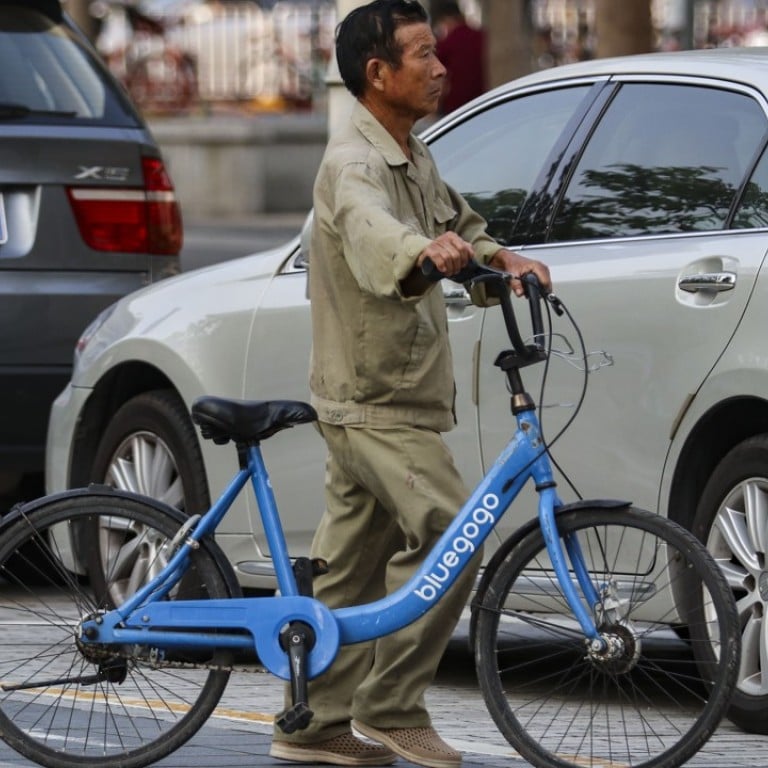 Didi Chuxing to expand reach into China's bike-sharing market with acquisition of Bluegogo
China's biggest ride-hailing operator may be gearing up to dominate another market by buying one of the larger bike-sharing companies in the country
More than a year after taking over the operations of Uber Technologies in China, Didi Chuxing is looking poised to drive consolidation in the country's bike-sharing market with its reported purchase of bankrupt start-up Bluegogo.
Didi, which counts hi-tech giants Apple, Tencent Holdings and Alibaba Group Holding among its biggest shareholders, has agreed to acquire what was once the country's third-largest bike-sharing operator, according to reports by Caixin and news site 36kr.com, which cited sources at Didi and Bluegogo.
It may also quash a widely speculated merger between Mobike and Ofo, which have a combined 95 per cent share of the country's ride-sharing market.
Didi last year took part in two fundraising rounds of Ofo, which made it the bike-sharing company's largest single investor with a 25 per cent stake.
A representative of Didi declined to comment on the reported deal, which is yet to close. Executives at Bluegogo could not be reached for comment.
Founded in 2016, Bluegogo had raised about US$60 million from venture capital investors, including Black Hole Capital, and operated around 600,000 bikes across China. At its peak, the company had 20 million registered users, daily bookings of 3 million rides and even expanded its operations into San Francisco.
In November, Bluegogo founder and chief executive Li Gang revealed the company's cash shortage in a letter released to media.
"In a cutthroat market like bike sharing I am too naive and so far, no progress has been made on fundraising," Li wrote in the letter.
The start-up reportedly dismissed its management team after the funding difficulties became public.
"The gold rush is over," Shi Rui, an analyst with Beijing-based consultancy iResearch, recently said. "Smaller companies won't survive unless they get more funding."
Bluegogo's financial difficulty only magnified the spectacular rise and fall of China's bike-sharing market, where dozens of start-ups established operations across the country and attracted a total of US$2 billion in funding over the 18 months to November last year before the cutthroat competition derailed their business expansion.
At present, bike-sharing users can sign up for unlimited rides for just 2 yuan per month because of the intense competition.
The situation has resulted in plenty of complaints from riders seeking refunds for their deposits from troubled operators.
At the other end of the spectrum, both Mobike and Ofo continued to prosper as most other players in the market struggled. The two start-ups were each valued at more than US$1 billion, making them unicorns in their field.
Shanghai-based Hello Bike last year raised a total of US$500 million from investors, which included Alibaba affiliate Ant Financial Services Group. New York-listed Alibaba owns the South China Morning Post.
Hello Bike became the country's third-biggest bike-sharing company in October after it took over Youon Public Bicycle System, which was the first company in the market to go public.
China's bike-sharing industry is expected to be worth 23.7 billion yuan by 2019, according to iResearch.
This article appeared in the South China Morning Post print edition as: Didi Chuxing gOES FOR A RIDE WITH bluegogo BIKE deal