Internet
Get more with myNEWS
A personalised news feed of stories that matter to you
Learn more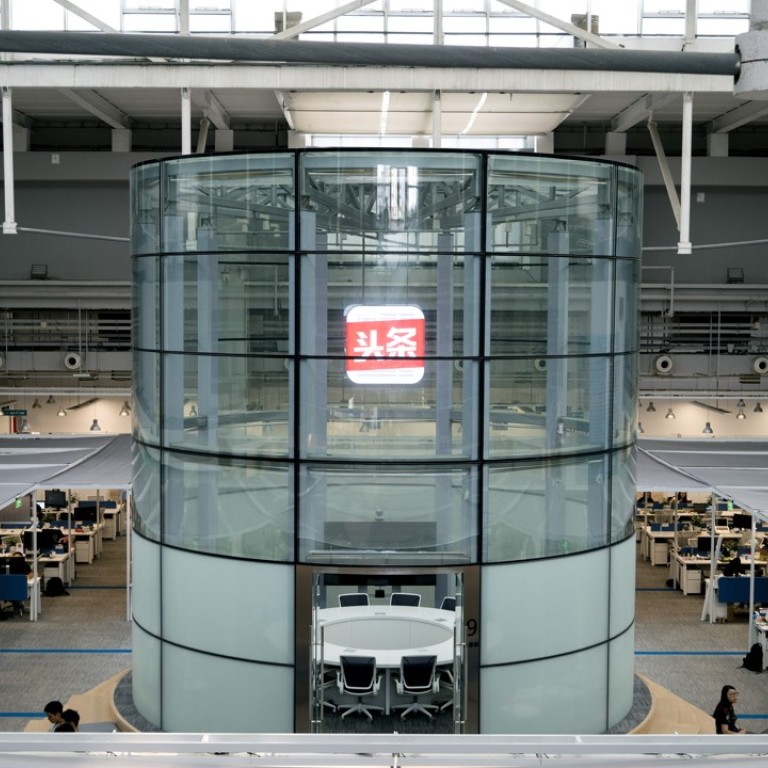 China's largest news aggregator shamed by state media for misleading medical ads
Jinri Toutiao, operated by Beijing ByteDance Technology, has apologised for publishing the online medical ads amid tighter government regulation on internet content
Chinese state media has named and shamed Jinri Toutiao, the country's most popular news app, for publishing online medical advertisements seen as misleading and harmful to the public, which nearly echoes the criticism levelled against internet search giant Baidu in the aftermath of a university student's death around two years ago.
That accusation against Toutiao was made by People's Daily in a commentary published on its website on Friday, following a programme aired on Thursday by broadcaster China Central Television (CCTV) that featured the app's representatives cosying up to persons described as shady advertisers.
The online commentary questioned whether Toutiao, which is operated by internet start-up Beijing ByteDance Technology, had any conscience for using artificial intelligence (AI) to push those misleading medical advertisement to users in tier-two and tier-three cities.
In a statement released late on Thursday in response to the CCTV programme, Toutiao apologised and said it had taken down the advertisements in question. It also pledged to do more to police its advertising sales team and agencies.
Inquiries made to Toutiao on Friday did not receive an immediate response.
False and misleading claims for medical treatments continue to be rife on the mainland amid a booming market for specialist services. Online advertising has been the main vehicle used to promote those services in China, which has the world's largest internet population and biggest mobile subscriber market.
That has placed a big responsibility for consumer protection on media outlets, including news aggregators and internet search services like Baidu.
The potential risk that false claims in medical advertisements pose was tragically underscored by the death in April 2016 of Wei Zexi, a 21-year-old computer science student from Shaanxi province in northwestern China.
Wei spent 200,000 yuan (US$31,777) on an outsourced experimental immunology treatment at a Beijing paramilitary hospital for his sarcoma, a rare cancer of soft tissues. He found the treatment on Baidu, after the private provider paid to have its advertising placed prominently in online searches.
Government regulators ordered Nasdaq-listed Baidu, which controls more than 80 per cent share of China's online search market, to implement stringent measures that include limiting the amount of advertisements per page to less than 30 per cent and cleaning up the company's medical-related paid-search business.
In Toutiao's case, the CCTV programme said the news aggregator focused its medical advertisements to users in China's smaller cities because regulatory control in major urban areas, such as Beijing, Shanghai and Guangzhou, was much tighter.
The programme also said Toutiao published what it described as a legitimate advertisement on its landing page. Searching for more information, however, would redirect the user to another page filled with medical advertisements.
A Toutiao representative in Nanning, the capital of the Guangxi Zhuang autonomous region in southern China, was shown in the CCTV programme telling an undercover reporter that the company can run advertisements even if the products or services promoted lacked a license.
The criticism from state media was a sign that Chinese authorities continue to keep a close eye on the country's online advertising market, according to Lu Zhenwang, the chief executive at Shanghai-based Wanqing Consultancy, which advises mainland internet companies.
"Toutiao has become the go-to news app for Chinese," Lu said. "So with its large influence, there is also bigger scrutiny."
Founded in 2012, Toutiao uses AI to analyse readers' habits to send them customised content. It is recognised as China's biggest online news aggregator, with about 120 million daily active users.
The public apology made by Toutiao after the CCTV programme was aired also showed that its management needed to take action before the regulators do.
Last year, China shut down as many as 128,000 websites that contained obscene and other "harmful" information, the state-run Xinhua news agency reported in January.
Websites run by major internet companies Tencent Holdings, Baidu and Weibo were reprimanded and fined last year by China's internet regulator for failing to properly censor content ahead of a major conference of the Chinese Communist Party.
This article appeared in the South China Morning Post print edition as: News aggregator Toutiao named and shamed over misleading advertisements