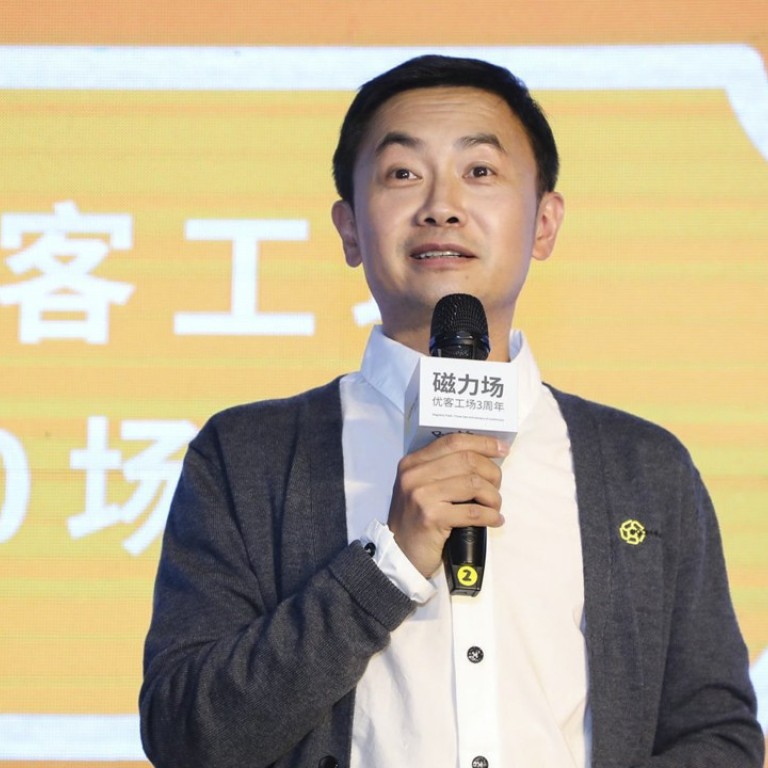 Exclusive
Chinese co-working space provider Ucommune considering Hong Kong IPO over longer term
Mao Daqing, founder and CEO of China's most valuable co-working space start-up Ucommune, said he would consider an IPO for the firm in two or three years, with Hong Kong being a strong possibility after the city amended its listing rules to welcome more "new economy" businesses.
Mao said he has talked with Hong Kong's Securities and Futures Commission (SFC), the Listing Committee of Hong Kong Exchanges and Clearing Limited (HKEX), but did not discuss an IPO plan with them. "I want Ucommune to be independent, so IPO is certainly an option," he said. "But I am not against the idea of being acquired."
Founded in 2015, Ucommune now operates in more than 160 locations across 36 cities and has an estimated valuation of US$1.7 billion. The Beijing-based start-up has raised a total of US$525 million from more than 10 rounds of financing. Mao and his founding team currently hold less than 30 per cent of the company, according to the CEO.
A 49-year-old veteran of the real estate industry, Mao enthusiastically took photos of the interior design of the South China Morning Post's new Hong Kong headquarters on a recent visit. "I have had a great interest in architectural design since I was a kid," he said.
Mao grew up in a family with architectural talent. His grandfather Mao Ziyao was a nationally respected architect who designed Beijing's Great Hall of the People. 
Before Ucommune, Mao was vice-president for Chinese property developer Vanke. "When I was at Vanke, I felt everyone wanted to make sales but very few people wanted to spend time and energy on managing the properties, which was what the market was lacking. So I decided to start my own company to be a property manager."
With entrepreneurs like Mao entering the industry, the co-working business was able to expand to 900 flexible workspace centres in Beijing and 285 in Shanghai by the end of 2017, according to Colliers, a Canadian-based real estate services organisation.
Start-ups in the industry need an understanding of real estate to locate, manage and expand properties, as well as being familiar with the internet to be able to collect and analyse big data, according to Mao. "It's not a college graduates' project like bike sharing, which only requires fundraising, bike manufacturing and app developers," he said. "You also need a lot of initial capital to start with."
Co-working space providers might need more capital than bike sharing in the start-up phase, but it is certainly not a better-funded industry than bike sharing. During the first half of 2017, co-working firms in China received a total of 1.3 billion yuan (US$204 million) in financing while the figure for bike-sharing was 10.4 billion yuan, according to data compiled by information service provider ITJUZI.
When asked if he copied the New-York-based co-working leader WeWork's business model to China's market, Mao said Ucommune is essentially different in that it is both an offline community that physically combines all the enterprises and an online platform where clients book space and socialise with each other. 
Mao said another key advantage is that compared with WeWork, Ucommune has a bigger user base from which to generate big data.
"That goes beyond WeWork's business model," he said. "Chinese companies naturally have a bigger database to drive AI applications than their US counterparts." 
Around 25 per cent of Ucommune's assets are real estate, according to Mao. However, he does not want to own too many real estate properties because that would change the company's nature. "We are a service provider for enterprises. We are not a real estate company in essence."
Ucommune is planning to set up new locations in Singapore, Hong Kong and Taipei. "Southeast Asia is relatively easier for us to enter. Europe and the US markets are harder," said Mao. "We are not inclined to be too aggressive."
This article appeared in the South China Morning Post print edition as: HK on horizon