Internet
Get more with myNEWS
A personalised news feed of stories that matter to you
Learn more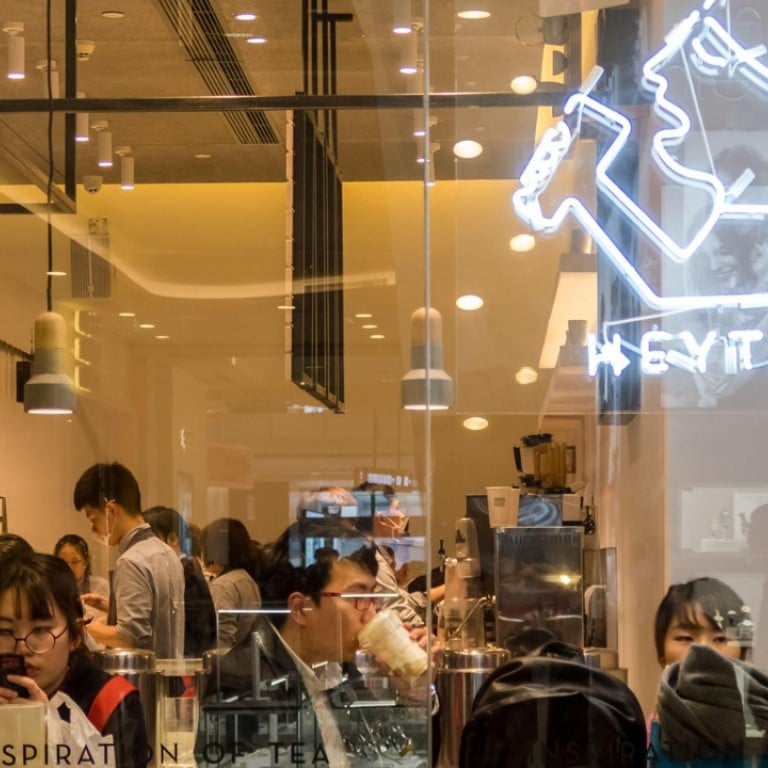 How Chinese tea-drink brand Heytea saves millions in marketing costs thanks to its millennial customers
Heytea relies on word of mouth among its young consumers, potentially saving millions of dollars in marketing expenses
While many traditional companies spend big on advertising to keep their brand in the spotlight, a Chinese beverage start-up known for its cheese topped tea drinks that people wait in line for hours to buy, is leveraging the power of free internet marketing in its battle against US giant Starbucks.
It does not have celebrity endorsements or paid advertising, but Heytea – a tea-brand originating from Guangdong province – has never lacked public exposure because its non-traditional tea drinks and long-queues are frequently discussed on social media platforms like Weibo and WeChat, complete with well composed photos of the drinks and shops posted by its Chinese millennial consumers.
Nie Yunchen, CEO of Shenzhen Meixixi Catering Management, which owns the Heytea brand, said the company is not using traditional channels to market its products, rather is relying on word of mouth among consumers, potentially saving millions of dollars in marketing expenses. He believes a taste for good tea drinks and internet communications are not limited by geography or demographics.  
"I am trying to make tea-drinking cool among Chinese millennials," the 27-year-old entrepreneur said in an interview in his office in Shenzhen, which is decorated in the same simple and chic style as Heytea shops.
"I studied computer programming and even considered starting an internet company," said Nie, who opened his first tea-drink shop in 2012 with an investment of only 150,000 yuan (US$22,000). However, Nie is trying to incorporate technology elements into Heytea's operation. The company has developed a WeChat mini-app so customers can skip long queues by placing orders online, while the app helps Heytea monitor customer behavior so it can improve its products and services, according to Nie.
"Except for making the tea products, I believe most other problems could be solved by using the internet," said Nie, who added that he was looking at moving the company's offline cashier online at the right time.
The mushrooming of such innovative tea-drink brands across China in recent years has greatly changed people's perceptions about a product that traditionally was consumed by the older generation. In 2017, as many as 500 million people in China were drinking tea-related beverages, with most of the new converts being young people, according to figures from the China Tea Marketing Association, which believes the most popular tea drinks in future will be those mixed or blended with fresh milk, cream and fruit.
Just as internet companies have been attracting funds from big corporate investors and venture capitalists, popular tea-drinking brands have also been sought after by investors, with total investment in Chinese tea brands last year exceeding 1.3 billion yuan.
In April 2018 Heytea announced it had raised 400-million yuan in second round financing, following an earlier round of 100 million yuan in 2016.
Inwe Cha, one of Heytea's rivals, received 500 million yuan in funding from JD.com founder and CEO Richard Liu in 2016 while Teasoon, another tea drink brand, received 8 million yuan in its latest funding round completed in December 2017, according to a report on the 36Kr website.
Fierce competition in China's non-traditional tea-drinks market, which has annual sales of between 40 billion and 50 billion yuan according to a Citic Securities estimate, has forced Nie to squeeze costs while still trying to maintain its high quality and brand image.
"Our gross margin is far below 50 percent, compared with some 80 percent of many international coffeehouse chains, as we are trying to offer our product 10 yuan below the equivalent of Starbucks for each cup," Nie said, adding that savings in marketing expenses have helped the company provide reasonably-priced drinks to consumers.
"I price Heytea drinks as low as I can, otherwise I feel other tea-drink makers could swoop in and steal our market," he said.
Although the Heytea brand has been well accepted by younger consumers, who have been more than willing to share their customer experience on social media platforms, it has not always been positive publicity. When the company entered the Shanghai market last year, there were notoriously long queues which had consumers waiting for up to 5 hours, a situation which attracted scalpers who queued up and resold drinks at inflated prices.
Nie said Heytea has been speeding up the opening of new stores in China to alleviate the long waiting times, which have had a negative impact on the brand image. Although there are now more than 100 Heytea outlets in major Chinese cities, long queues are still seen at its most popular shops.
Many of the new tea-drink brands have found success among younger Chinese as they are marketed as hip, healthy and affordable, factors which have hit a chord among these consumers, said Cao Zhongxiong, executive director of New Economy studies at Shenzhen-based think tank China Development Institute.
"Heytea has heavily adopted the internet to market its products as its targeted consumers, who are mostly born after 1990, have grown up with the use of the internet. It enables the company to market precisely to its consumer group and to lower costs to compete with other beverage makers," said Cao.
After opening a store inside Shanghai Disneyland this week, Heytea plans to expand to Hong Kong and Singapore in the second half of this year, the first stores outside mainland China. The company has closed deals with a number of commercial property developers and is in discussion with others for a bigger footprint in these markets.
Heytea will adopt similar marketing strategies for Hong Kong as its WeChat mini-app shows that nearly 10 per cent of its customers in Shenzhen are from Hong Kong, and it believes they will help spread word of the brand to their families and friends.
"Heytea aims to open as many stores overseas as Starbucks [has on the mainland] as I am confident of our product quality and prices," said Nie.
Due to higher costs of raw materials, labour and rentals, Heytea products outside the Chinese mainland will be priced slightly higher but will remain competitive with other coffee and beverage brands, he said.
This article appeared in the South China Morning Post print edition as: Heytea banks on the internet to take on Starbucks