Baidu
Get more with myNEWS
A personalised news feed of stories that matter to you
Learn more
Baidu to debut simultaneous machine translation in latest challenge to Google
Baidu system claims to be first with 'anticipation capabilities and controllable latency'
The AI model is trained with data including similar sentence structures

Baidu, operator of China's largest search engine and a national champion in artificial intelligence, has thrown down the gauntlet to Google with the upcoming debut of its first simultaneous translation system.
The public demonstration, scheduled for the company's annual Baidu World tech showcase on November 1, will come a year after its US-based rival released earbuds that claim to be able to translate 40 languages in close to real time.
The Baidu system, however, claims to be the first with "anticipation capabilities and controllable latency" – the latter enabling users to adjust the trade-off between word delay and translation quality – according to a whitepaper the Nasdaq-listed company released on Tuesday.
"Baidu is working really hard on it," said Liang Huang, principal scientist of the company's Silicon Valley AI lab and a leading scholar behind the project. "We are very excited and very proud that it makes simultaneous machine translation possible for the first time."
Powered by deep learning – a sub set of machine learning – and tapping into a translation database, the system can "routinely predict" what subjects a speaker is about to discuss within a few seconds and address the latency arising from grammatical word order among different languages.
"We tackled this challenge using an idea inspired by human simultaneous interpreters," said Huang.
Just as human interpreters do their homework and become familiar with the topic and speaker's style in advance, the AI model is trained with data including similar sentence structures.
Huang said prediction capability was "critical" for translation between distinct languages such as English and Chinese, or those with different grammatical structures such as English and German.
Despite having only been demonstrated using these two sets of languages, the system can pick up "in no time" simultaneous translation of various other languages, he added.
Baidu, which started investing in AI about seven years ago, has stepped up its efforts to incorporate the technology into cars, homes and enterprises. Its AI products include the open-source autonomous driving platform Apollo, voice-activated operating system DuerOS, smart speakers, and a pocket translator.
"A diversified product portfolio will enable Baidu to experiment with different strategies as it continues to explore business models for AI," said Connie Gu, an analyst with Bank of Communication International Holdings.
Natural language processing has been considered one of the holy grails in AI, attracting not only Google but also a dozen Chinese tech companies such as Baidu, Sogou and iFlyTek.
For nations, AI is increasingly viewed as an economic game changer with China and the US both eyeing global supremacy. China's State Council issued a three-step road map last July, targeting breakthroughs in AI by 2025 and global leadership by 2030 when it expects the industry to be worth US$150 billion.
Still, the Baidu product launch is expected to draw close scrutiny after national speech recognition champion iFlyTek became embroiled in controversy last month after an interpreter accused the Heifei-based company of passing off his translation at a high-profile conference as something done entirely by AI.
Shenzhen-listed iFlyTek denied the accusation, saying it has the technology to do simultaneous translation without the need for human interpreters, but the service it provided at the conference in Shanghai was for real-time transcription, and was billed as such.
"The day may come when AI can actually understand natural languages and we lose our jobs, but it's definitely not now," Bell Wang, the interpreter who accused iFlyTek, said in a post on the Quora-like question-and-answer platform Zhihu.
Huang said the model is "not intended to replace human interpreters" – who he considers to have one of the "toughest professions" in the world – rather it is designed to reduce their workload.
"We will still rely on human interpreters in the near future and for important conferences, while our technology can make simultaneous translation more affordable and cover the unfulfilled demand," he said.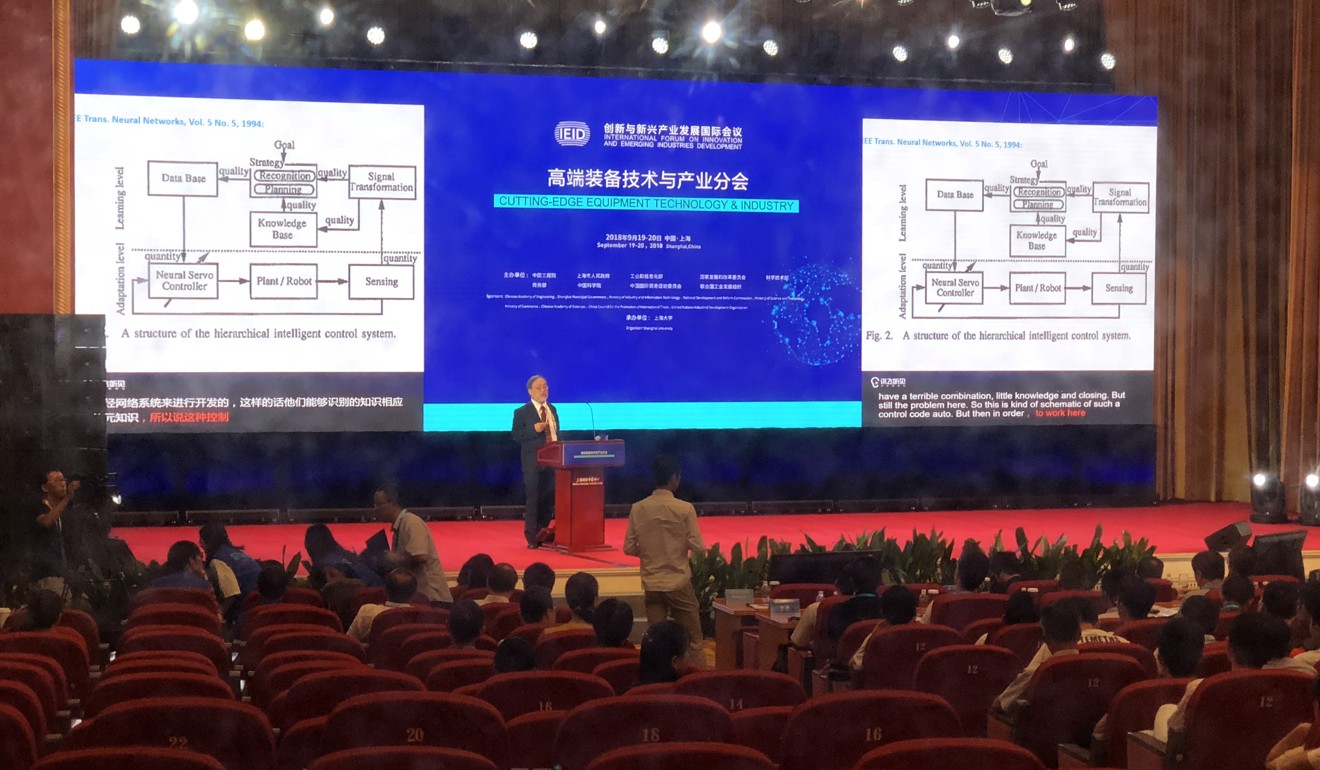 Baidu is working on integrating the simultaneous translation function into its Wi-fi pocket translator that it launched in December, according to Huang.
Earlier this month, Baidu was the first company from China to join the Partnership on AI (PAI), a US-based AI ethics consortium formed by Amazon.com, Facebook, IBM, Microsoft, and Alphabet's Google and DeepMind Technologies.