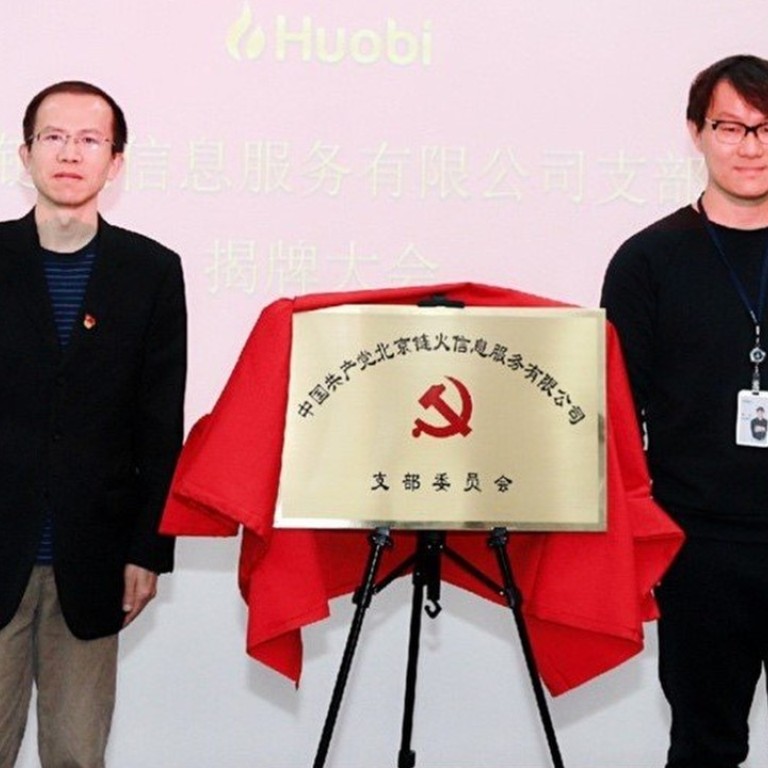 World's third largest cryptocurrency exchange Huobi creates Communist Party committee
Huobi subsidiary sets up a party branch in a move its founder hailed as a 'milestone' for the five-year-old company
Company survived China's crackdown on cryptocurrency trading by moving its exchange business to Singapore
Huobi Group, operator of one of the world's largest digital asset exchanges, has set up a Communist Party committee, in a first for any cryptocurrency and blockchain-focused company in China.
A Huobi subsidiary called Beijing Lianhuo Information Service established its party branch on Friday, according to a statement from Huobi posted on the microblogging site Weibo. Founded in 2013, Huobi is the world's third largest cryptocurrency exchange with a daily trading volume of US$560 million, according to data from CoinMarketCap.
Beijing Lianhuo was established in April with a registered capital of 20 million yuan (US$2.9 million), according to public company register records. Huobi founder and chief executive Li Lin has a 99 per cent stake in the company.
The Communist Party's charter stipulates that any enterprise in China having at least three party members as employees shall establish its own party branch responsible for promoting the official party line. While such an organ has long played a central role in state-owned companies, private firms in China only began setting up party committees in recent years as they seek closer ties with the government.
In the technology industry, big names with party committees include gaming giant Tencent Holdings, search engine operator Baidu, smartphone supplier Xiaomi and e-commerce company Alibaba Group Holding, owner of the South China Morning Post. Newer tech start-ups like live-streaming platform operator Douyu and bike-sharing service provider Ofo are among the latest to join the foray.
In Huobi's case, it is the first known Chinese blockchain company to set up its own party branch. Li hailed the move as a "milestone" for the company, according to local media reports that quoted a press release from Huobi. Li said the key reason for Huobi's success is because of the party's policies promoting the blockchain industry.
Li and more than 50 party members from Huobi attended the ceremony on establishing the party committee, according to the press release.
Huobi did not immediately respond to a request for comment.
"We must enhance the party's political leadership, and carry out the party's principles and policies in private enterprises," Cao Zhou, a party official with Beijing's Haidian district where Huobi is based, was paraphrased as saying in Huobi's Weibo statement.
While Chinese governments at all levels have ratcheted up their efforts to adopt blockchain in areas from accounting and supply chains to data management, Beijing has made it clear it does not want retail investors to get involved in cryptocurrency trading amid fears of financial chaos. In September last year the central government shut down all domestic cryptocurrency exchanges, spurring companies like Huobi and OKCoin to move their exchange businesses to friendlier overseas jurisdictions.
Huobi now operates its main exchange service from Singapore but has kept most of its businesses – from venture funding to cryptocurrency mining pools – within mainland China. Earlier this year the company moved its research unit from Beijing to Hainan after president Xi Jinping promised to turn the southern tourist island into a pilot free-trade zone.
This article appeared in the South China Morning Post print edition as: Huobi establishes Communist Party panel