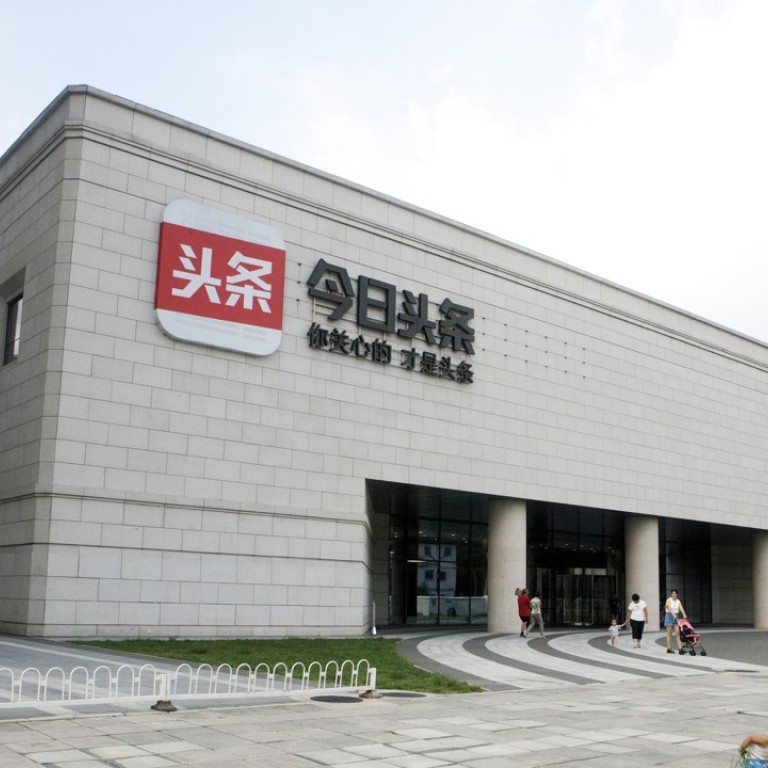 Popular Chinese news app Jinri Toutiao offers rewards to stories that quash rumours amid government campaign to 'clean up' online content
The '100' project will reward 100 best stories at quashing rumours, according to Toutiao
Jinri Toutiao, the popular Chinese news aggregator, is offering cash rewards of up to 3,000 yuan (US$432) for articles that refute rumours.
Dubbed "100", the project was launched on Monday and will reward 100 best articles that debunk rumours, Toutiao said. The app is operated by Beijing-based Bytedance, one of the most highly valued start-ups in the world.
"We would like to invite the whole society and users of the platform to be supervisors and together participate in the governance of online platforms!" Toutiao said in the official anti-rumour account on its site. The news aggregator's new initiative came amid Beijing's broad "clean-up" campaign to tighten control over online content.
The "clean-up" campaign is aimed at any content deemed inappropriate, including sensitive political news, celebrity gossip, reporting of violent incidents and off-colour jokes.
Earlier this month, Chinese media regulator said people can be rewarded with up to 600,000 yuan for reporting pornographic and "illegal content," online or print, starting December 1.
People's Daily, the official mouthpiece of China's ruling Communist Party, warned content providers last month that "rumours cannot possess peoples' minds," and called upon all internet participants not to create rumours or believe in speculation.
Jinri Toutiao, meaning "today's headlines", was launched in 2012 as China's first news app that is based on AI algorithms to recommend different news stories to different readers.
The popular news app, however, did not escape from the "clean-up" campaign as it was ordered to be removed from all app platforms for two weeks over "obscene content" during April.
At the time, ByteDance founder and chief executive Zhang Yiming wrote a public apology promising "self-refection."
"We let our users down by over emphasising growth and scale over quality and responsibility," Zhang wrote in the open letter.
Toutiao bounced back to the fourth most downloaded app in the Chinese iOS app store last month, according to the mobile app research firm App Annie.
The government campaign to crack down on online content has put more pressure on platform operators to hire more people to monitor and remove content real-time. Zhang pledged to enlarge its censorship team from 6000 people to 10,000 people in April.
Toutiao said it has intercepted more than 500,000 articles containing rumours and banned 9,026 accounts that had spread rumours since May, through the use of both human censors and artificial intelligence technology. The company also said it has teamed up with the University of Michigan to employ AI technologies like natural language processing to fight against rumours.