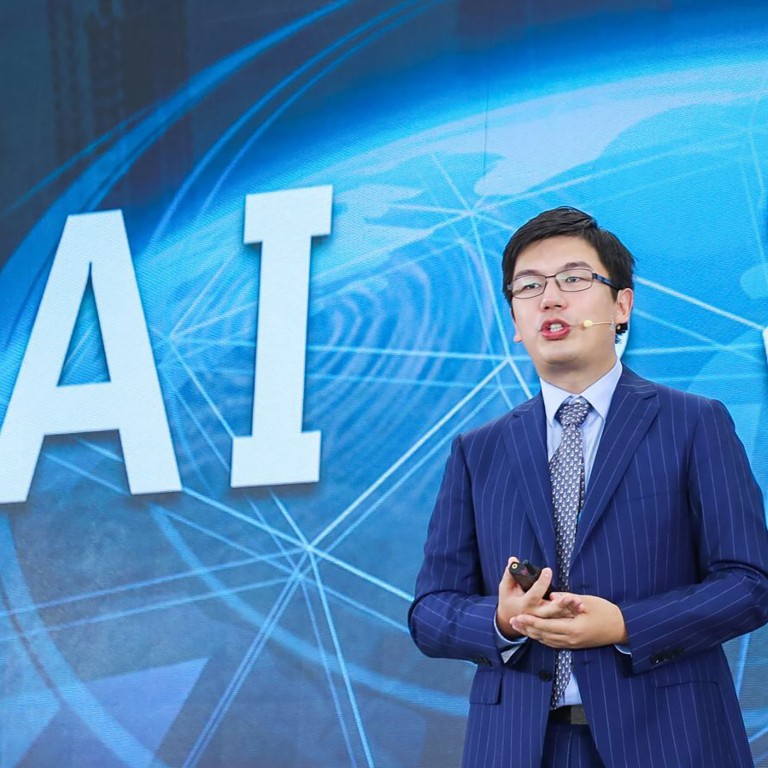 China is home to more than half of world's top AI unicorns as battle for supremacy with US heats up
Chinese AI start-ups raised US$4.9 billion in 2017, nudging out their US counterparts which had US$4.4 billion in funding
China is home to the most number of artificial intelligence start-ups valued at US$1 billion or above, according to CB Insights, a research firm that tracks venture capital activity.
Six of the 11 so-called unicorns in the annual compilation of top AI start-ups are from China, with SenseTime taking top spot with a valuation of US$4.5 billion.
Two Chinese facial recognition companies on the list, SenseTime and Face++, also received the most equity funding among all AI start-ups, raising US$1.6 billion and US$608 million respectively, according to CB Insights.
Other top AI unicorns from China include Yitu Technology, 4Paradigm, and autonomous driving companies Pony.ai and Momenta.
The rankings highlight China's efforts in developing technology that has been dubbed the fourth industrial revolution. In an ambitious three-step blueprint, China wants to catch up with the US in AI technology and applications by 2020, see major breakthroughs by 2025, and become a global leader in the field by 2030.
The US has become increasingly wary about China's ambitions to lead in these technologies and taken steps to check the expansion of companies such as Huawei Technologies in areas, such as 5G mobile networks, that will underpin the rollout of these applications.
Around one-fifth of the top 500 applicants, ranked by number of patents, are from universities and public research organisations from China.
Since 2014, China has led the world in the number of first patent filings in AI, followed by the US, according to the study.
The Chinese government has hand-picked five companies to spearhead national research efforts, including search giant Baidu focusing on autonomous driving, e-commerce leader Alibaba Group Holding working on smart cities, and social media and gaming powerhouse Tencent Holdings, specialising in computer vision for medical diagnosis. Smaller start-up iFlytek was designated national champion in voice intelligence while SenseTime's focus is on intelligent vision.
Alibaba is the parent company of the South China Morning Post.
Chinese organisations make up 17 of the top 20 academic players in AI patenting, as well as 10 of the top 20 in AI-related scientific publications, according to a study released last month by the World Intellectual Property Organization.
The Chinese Academy of Sciences led the list with more than 2,500 patent families and over 20,000 scientific papers published on AI.
The list of most valuable AI companies comes after several years of robust funding in the sector. Overall global investments in AI start-ups rose 1.5 times year on year to US$10.7 billion in 2017 from US$4 billion the year before, according to ABI Research. Chinese AI start-ups raised US$4.9 billion in 2017, nudging out their US counterparts which had US$4.4 billion in funding.
Still, the majority of top AI start-ups – regardless of their size – are domiciled in the US, according to CB Insights. Among the top 100, only 23 are headquartered outside the US, including six each from China, Israel and the United Kingdom.
Last September, a joint study by the Massachusetts Institute of Technology and Boston Consulting Group found that Chinese companies were "aggressively investing" in AI applications and showed more thirst for talent.
The study found that Chinese AI pioneers put greater focus on business model transformation and were particularly good at "centralising the housing and governance of data for their AI engines", compared to European and US peers.
This article appeared in the South China Morning Post print edition as: mainland domin ates ai start-up rankings