Bitcoin
Get more with myNEWS
A personalised news feed of stories that matter to you
Learn more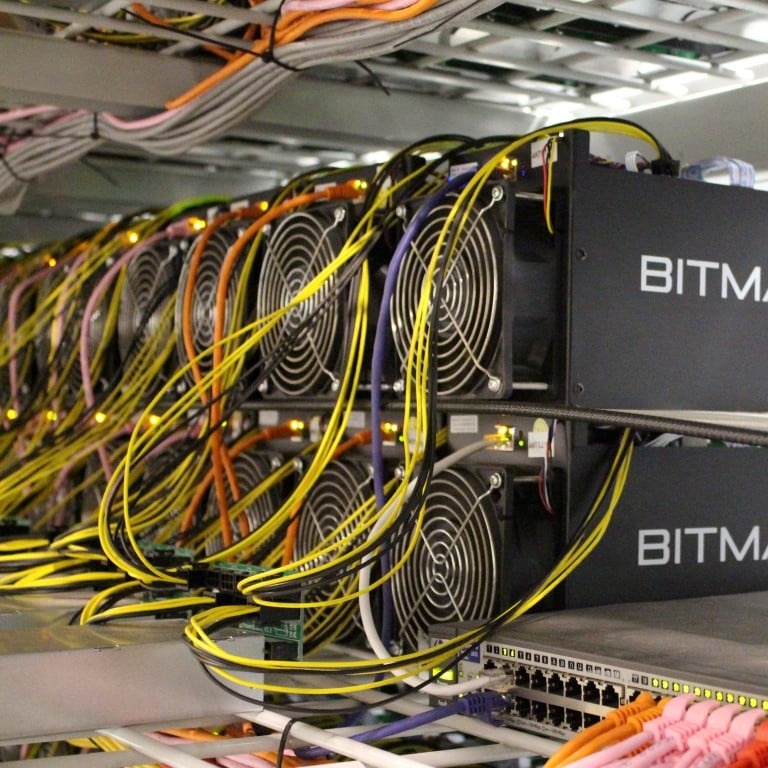 Cryptocurrency giant Bitmain gives up on Hong Kong IPO amid lay-offs, leadership reshuffle
In the first half of 2018, Bitmain booked US$740 million in profit, up 795 per cent from a year earlier
Bitmain Technologies, the world's biggest producer of bitcoin mining rigs, has given up on its plan to go public in Hong Kong, after the company struggled through mass lay-offs and a leadership reshuffle amid a prolonged bear market in cryptocurrencies.
The Beijing-based company on Tuesday published a statement acknowledging that its IPO application – filed in Hong Kong on September 26 – had reached its six-month expiration date. "We will restart the listing application work at an appropriate time in the future," the statement said.
There were high hopes for five-year-old Bitmain to raise billions of US dollars in what could have been the world's largest crypto-related IPO. But things took a turn for the worse after bitcoin price plunged 70 per cent and nearly US$500 billion was wiped off in the total market value of cryptocurrencies over the past year.
One major reason Hong Kong regulators are unlikely to approve IPOs for any crypto-related business is due to a lack of regulatory framework in the industry, people familiar with the situation told the South China Morning Post previously. Chinese crypto miner makers Canaan Creative and Ebang International Holdings also applied to go public in the city. While Canaan let its application lapse in November, Ebang updated its filings in December days before it expires.
At its peak in 2017, Bitmain controlled an estimated 75 per cent of the market for crypto mining rigs – the specialised computers used by individuals or businesses to validate transactions and earn new coins. In the first half of 2018, Bitmain booked US$740 million in profit, up 795 per cent from a year earlier, according to its IPO prospectus. Its two co-founders, Wu Jihan and Micree Zhan Ketuan, were among the richest crypto entrepreneurs, with a combined net worth of 46 billion yuan (US$6.8 billion), according to an estimate from the annual Hurun Report last year.
In Tuesday's statement, Bitmain announced that its two co-founders have stepped down from their roles as co-CEOs, replaced by Wang Haihao, a chip designer who had headed multiple departments at the company previously. The leadership swap was reported in January by the Post.
Before Bitmain, Wang worked at Beijing-based semiconductor design house Availink from 2010 to 2017, in roles that included software programmer and product manager, according to Chinese media. He graduated from Beijing's Tsinghua University, considered to be the Massachusetts Institute of Technology of China.
Bitmain said in the statement that Wu and Zhan will continue to guide the company's "strategic development".
In fact, Zhan's role will be the chairman of the board, whereas Wu is a director, according to an internal letter obtained by the Post. Bitmain didn't immediately comment on the internal letter.
Zhan has a 37 per cent stake in Bitmain, compared to Wu's 21 per cent, according to the IPO filing.
Bitmain said in the statement that the company went through personnel adjustments at the end of last year to focus on its core businesses of cryptocurrency and artificial intelligence chips.
Bitmain dominated the market with its flagship product the Antminer S9, which was launched in 2016 and accounted for around 60 per cent of shipments among all bitcoin mining hardware in the following year, according to data from Frost & Sullivan.
In November, Bitmain launched two new Antminer models known as the S15 and T15 – the first major update to the product line in nearly 2.5 years after smaller Chinese rivals including Canaan Creative and Innosilicon caught up.
Meanwhile, Bitmain's foray into AI chips remains a question mark. In 2017 the company launched its first AI chip under the brand Sophon, which is sold as part of a developer board or server for clients who want to train neural networks for specific tasks like facial recognition. Still, non crypto-related business only accounted for 0.1 per cent of the company's US$2.8 billion revenue for the first half of last year, according to the IPO prospectus.
"The real driver to Bitmain's recovery will be their renewed focus on the core business of designing and producing leading edge mining hardware and also the ongoing institutional investment in crypto and blockchain," said Jehan Chu, co-founder of Kenetic Capital, a crypto investment firm based in Hong Kong.
"Like many others, 2017/18 was full of false opportunity and distractions, and 2019 will see Bitmain retrench and regroup to drive clear value for their customers and shareholders."