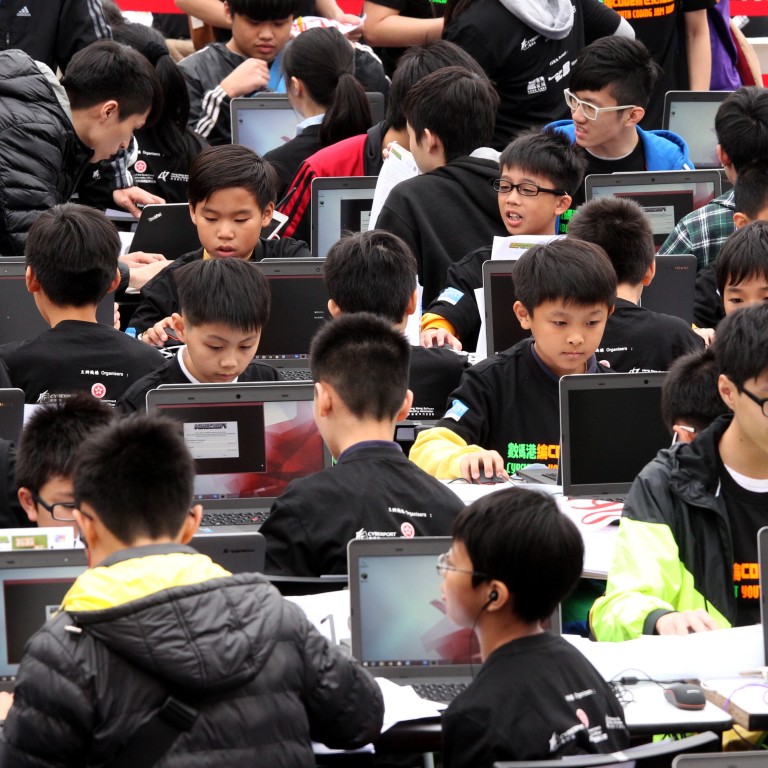 Around 1,000 young coders attempt to set a new world record of "The Most Youngsters Perform Coding" in Hong Kong, 2015. Photo: SCMP
Women in tech: CEO of coding school for kids says she wants to empower the next generation
Founder Michelle Sun says she is happy to be a teacher and a better role model for girls in the world of technology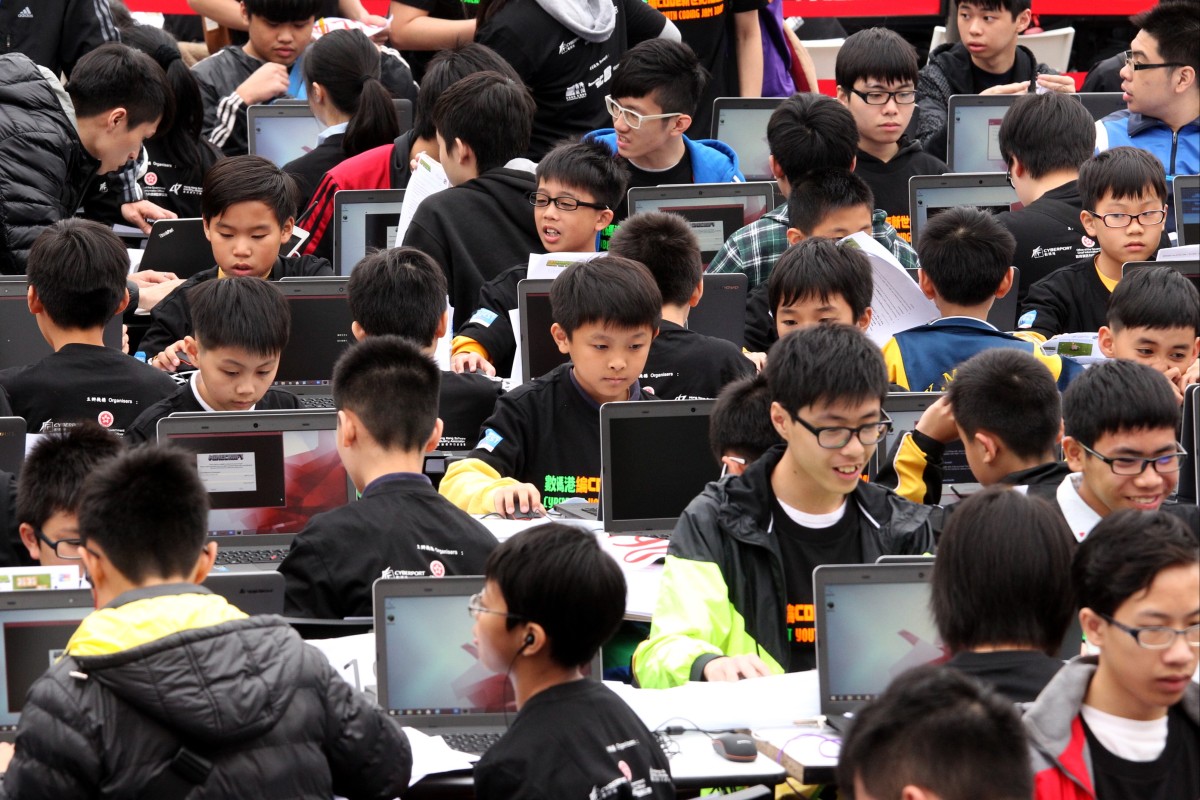 Around 1,000 young coders attempt to set a new world record of "The Most Youngsters Perform Coding" in Hong Kong, 2015. Photo: SCMP
Michelle Sun is CEO of First Code Academy, a coding school for young people that she started in Hong Kong in 2013 and which now spans Macau, Shanghai, Shenzhen, Singapore and Taiwan. She recently visited the South China Morning Post to explain how kids as young as four years' old can learn how to code and create mobile applications. Coding is the computer language employed to build the software, websites and apps that people use on their smart devices everyday.
Here's what you need to know about Sun's First Code Academy:
Q: Why aim your business at children?
A: Sun says she wants to empower the next generation to become creators with technology.
Kids today interact with technology like no other generation before, says Sun, and many of them can unlock an iPad before they start learning how to write. "Coding to me and this generation of students is just like learning Mandarin – it is like a whole new second language that they need to know to be a world citizen."
Suns says the aim is to inspire kids to form a lifelong interest in interacting with technology in a creative way. "Coding is one way for kids to bring their ideas to life," says Sun, whether that is a robot, website or game.
Q: What was the inspiration for starting your business?
A: Sun says her previous career path in both finance [she worked at Goldman Sachs as a financial research analyst in the telecoms, media and internet team] and technology prompted her to be an entrepreneur. She says it was "hugely inspiring" for a person fresh out of college to visit companies such as Alibaba and Tencent and seeing some of the biggest leaders in the Chinese technology sector rise from humble beginnings to "changing the lives of billions of people".
The light-bulb moment though was during a period of illness [she contracted swine flu] and being bedridden for three weeks during 2010. She thought for a moment she might not make it through and wanted to do something more meaningful – it was then that she plucked up the courage to leave corporate life behind.
Q: How did you first get into coding?
A: Sun says she learned coding at first at a women's only camp. She is happy to be a teacher and a better role model for girls. Sun says the landscape is shifting and even super models like Karly Kloss are promoting coding these days.
"I think that this is very important because as a young child growing up – you just need the right kind of vision in your head so you make choices going through life and you think that it is possible," says Sun. "I would be very flattered to be part of that shift in society."
Q: What find of advice would you give young people thinking about a career in technology?
A: Sun says that people need to be OK with not doing things perfectly, and should not put themselves under too much stress. "There's a lot of pressure to appear to be doing everything perfectly and get everything right," says Sun. "When we give ourselves the leeway to experiment and try new things, sometimes we can actually open up a lot of possibilities."
Q: How would you like your students to remember you in 10 years' time?  
A: Sun says she would like her students to remember the time when they first stated coding as when "they really opened up a whole new world".
"I hope that they look at coding as something that is creative and expressive," says Sun. "And even if they don't work in technology as an engineer or even as a product designer, it can be something that changes the way they act with technology in their daily lives."